This One Little Detail Could Explain Everything In 'Bodyguard' & I'm Shook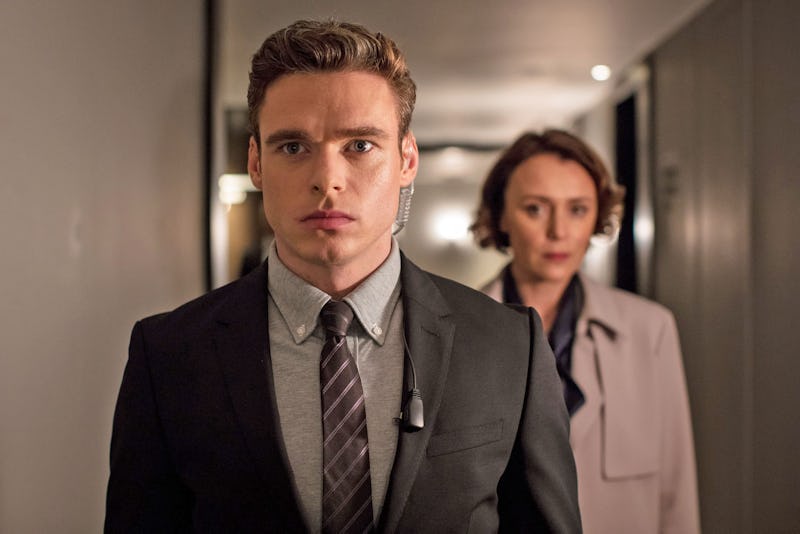 BBC
While I was initially very disappointed Richard Madden would not be starring in a reboot of Whitney Houston's film The Bodyguard, his new political thriller Bodyguard on BBC has more than made up for it. In recent weeks, it's been a total ride, and if you're a stan but haven't caught up - you'll want to leave as I'm about to spoil some of the show's (cray, unbelievable, and wild) developments. If you're still with me, then buckle up. I'm about to deep dive into one of the show's biggest mysteries; namely, what's on the USB in Bodyguard?
The penultimate episode, which aired on Sunday, was full of revelations, including the fact that the origin of the bomb that killed Julia Montague (Keeley Hawes) was under the stage and not in a briefcase belonging to her aide Tahir Mahmood (Shubham Saraf), as the police initially thought. (There's still no word on who was actually behind it though, which is eating me up inside.) However, it did bring up one step closer to figuring out what's on the secret USB that David's been so desperate to hide.
The USB first came to light two episodes ago, after David removed his gun from its secret hiding spot above a light fixture in the ceiling. Even though I was mostly distracted — screaming at my television screen and David to not do what I thought he was going to do — I did wind up noticing that there was a tiny memory stick hidden beside the gun. The show didn't really leave anybody time to fixate on it, as the most harrowing scene of the BBC series then took place: David's attempted suicide.
But now, I've had some time away and both David and I have recovered. So I've been wondering, what's on that bloomin' USB stick anyway and how did David end up with it?
Well, Sunday night's episode finally answered that question. Turns out, the USB wasn't planted in David's home after all (there was a theory that the same person who unloaded the bullets from his gun planted it to incriminate him). As a matter of fact, David hid it there himself.
And as for what's on that the USB? Well, it holds a secret recording of the late home secretary having a conversation with Richard Longcross in her hotel room. Suspiciously, MI5 director Stephen Hunter-Dunn can also be heard. However, the exact details of what is said has not yet been revealed. Judging by the great lengths David is going to in order to hide the USB however, I'm guessing the contents of the recording could change everything.
David was last seen listening in on Julia's conversation with Richard in episode 3, after he was asked to spy on her by high-ranking members of the police. Despite his initial reservations, he eventually wound up doing it and caught snatches of a conversation between her and another man — who he later confronted in the hallway and was revealed to be Richard Longcross.
The final episode of Bodyguard will air on BBC this Sunday and I'm really not ready for it. I am, however, low-key prepared to be furious that the USB is a total red herring, since this show is determined to pull the rug out from under viewers every chance it gets.
Watch this space.