After 'Grey's Anatomy,' Sarah Drew Is Starring In A Film With A Ton Of Her Former Co-Stars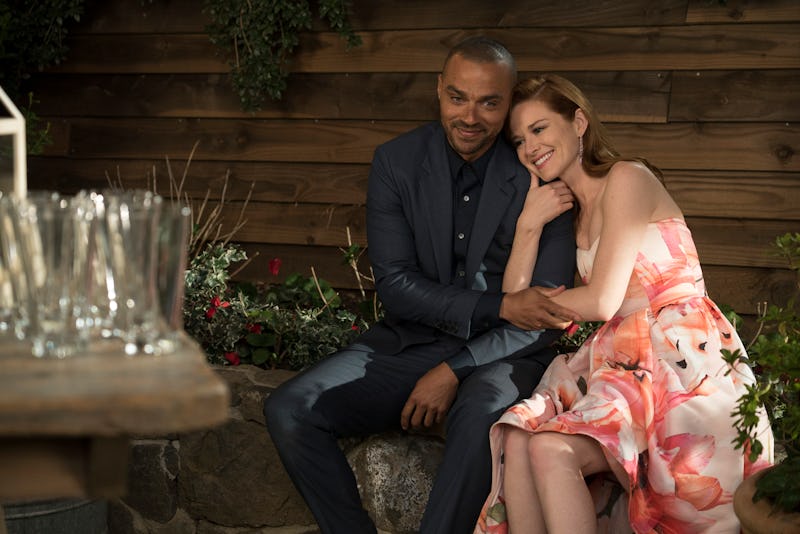 ABC/Eric McCandless
After Thursday's Grey's Anatomy season finale, Sarah Drew will sadly be absent from the show from here on out. She's proven time and time again that her acting chops are out of this world, and with April, she's cultivated a character so loved and iconic that her exit will leave a noticeable hole in the fabric of the show. So what is Sarah Drew doing after Grey's Anatomy?
She had seemingly nabbed a role on a reboot of Cagney and Lacey, but according to TV Guide, CBS passed on the series, so Drew won't be appearing back on our televisions in that capacity. But the actor did divulge that she has another project on the horizon. Indivisible, a film hitting theaters in October, stars both Drew and some other familiar Grey's Anatomy faces. The film appears to center on an Army chaplain who struggles to balance his faith in God, his duties to his fellow soldiers, and his family and marriage at home. The biggest twist — that soldier is played by Justin Bruening, a.k.a. Matthew the paramedic.
He and Drew team up as a couple once again, with Drew playing his wife who tries to convince him that she needs him at home just as much as his troops need him in the field. Michael O'Neill also shows up in the trailer — for anyone who miraculously forgot, he played Mr. Gary Clark on Grey's Anatomy, the man who lost his wife and went on a shooting rampage through the hospital. And, as if the movie wasn't already enough of a Grey's reunion, Jason George — good old Ben Warren — is credited with a role as well.
Drew stated in her tweet that not only is she starring in Indivisible, she's also producing it as well. She also directed all six episodes of Grey's Anatomy's intern-focused webseries, signaling that this isn't the last of the work we'll see of hers from behind the camera. In an interview with Shondaland.com, months before her exit was announced, Drew talked about her goals in the industry aside from acting. "I want to do more producing and directing. I think I still have a lot to learn," she said. "I'd like to shadow more on our show and on other shows too, maybe shadow a film director sometime."
She also talked in the interview about wanting to direct an episode of Grey's one day, which unfortunately didn't end up happening before Drew was asked to leave the show. That's a shame — plenty of Grey's Anatomy stars have directed episodes of the show, and something tells me Drew would've had a lot to offer in that arena, especially given the love she obviously has for the characters.
"It's just been really exciting and fun. I feel like I'm in school again, where my brain is on overload, but in a really good way," Drew said of directing and producing in the same interview. "It's a new and exciting way to interact with a medium that I've been interacting with for 15 years, so it's keeping it alive and fresh for me. But I would like to direct a feature. I think that would probably be the next thing that I'd be excited to do."
Regardless of what her next project after Indivisible is, there is a dedicated fanbase waiting to see what she'll do. "I'm not expecting anyone to be happy about her departure, but there might be a silver lining," wrote Reddit user loverink. "Her talent will be exposed to a whole new set of showrunners, actors, and fans." "I am confident that Sarah will find something again soon," sheherselfandher wrote in another thread. "I would not be surprised due to her incredible talent." In a post discussing CBS's passing of Cagney and Lacey, fans remained positive that Drew's going to be just fine. "It's OK. She is such a talented actress I don't think it will be long before we see her in other things," Dublin16 wrote. "I hope to see both her and Jessica Capshaw on the screen again soon and often."
So, though her first pilot post-Grey's didn't fly right off the bat, don't worry. With her years on the show, Drew has proven time and time again that she's wielding undeniable talent, and the consensus among fans seems to be that we won't be missing her for long.