How The Most Selfless 'Queer Eye' Hero Yet Is Treating Herself After Her Big Makeover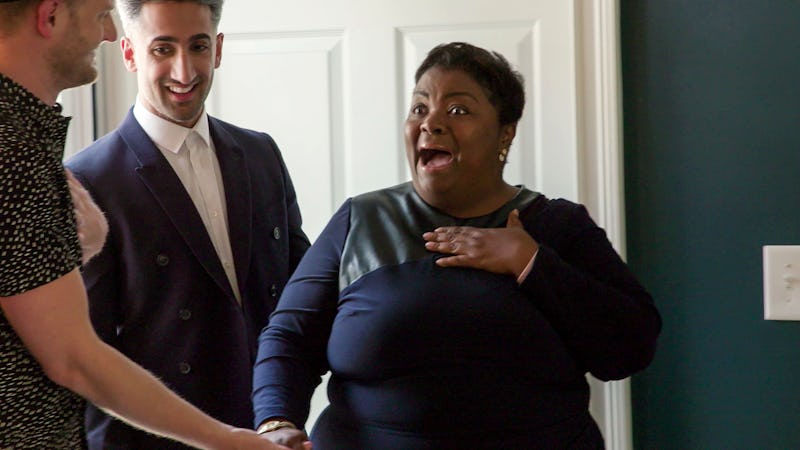 Netflix
Spoilers ahead for the first episode of Queer Eye Season 2. The Season 2 premiere of Queer Eye takes the Fab Five into some unchartered territory. For the first time in the revival, the guys help a woman — Tammye Hicks. During the episode, she's shown to be a teacher and a church volunteer, but where is Tammye from Queer Eye now? The first female hero is an inspiring figure as a breast cancer survivor who passionately cares about her family and her community. And while none of that has changed, it looks like she has had a big career change since she first met with Bobby Berk, Karamo Brown, Tan France, Antoni Porowski, and Jonathan Van Ness.
Tammye's episode takes place in Gay, Georgia — a town with a population of only 89 people. And while Bobby, Karamo, Tan, Antoni, and Jonathan are familiar with all things self-care, they've never used their design, culture, fashion, food, and grooming skills on a woman before. But Tammye's friend and neighbor Gene nominated her because of her selfless personality. Their mission? Turn Tammye "from hot mess to Sunday best" while also renovating her church's community center.
The Fab Five seems to end up learning even more from Tammye than perhaps Tammye learned from them. "It's not necessarily teaching, because it's someone who has spent her whole life as a teacher, a mother, an integral part of her church," Antoni told Bustle about Tammye's episode at Netflix's Queer Eye Season 2 event in Los Angeles. "So for us to show up and just be helpers and to have someone show us such unconditional love... it was really showing up for the hero."
The episode is unique also in that there's a big focus on faith. But in addition to being religious, Tammye has a big and caring personality. Like the true teacher she is, she leaves each individual member of the Fab Five with individualized words of wisdom. Then she tells the group, "All you guys, the gifts that you have — you're using it for the good of humanity."
As Jonathan notes, it's like she's talking into a mirror since Tammye's generosity has made her a beloved member of her community over the years — and especially in the school system where she teaches.
Tammye teaches 7th-grade literature at Smokey Road Middle School in Newnan, Georgia, which is part of the Coweta County School System. As her bio on the school system's website notes, she was Smokey Road's Teacher of the Year in 2002. More recently, the principal of Smokey Road, Dr. Keafer Triplett, tweeted about how she received their Golden Apple Award in March. Dr. Triplett called Tammye "simply phenomenal."
One of her former students, educator Dr. Josh Boyd, tweeted in reply, "I am who I am today, in part, because of the Mrs. @TammyeHicks." Tammye, who has her own Twitter account, responded, "Thank you @DrTsWildcats for the opportunity to serve humanity! At the end of the day, we are our gift and our gift to the world is us!!!!" Tammye joined Twitter back in 2013 (she also has a personal Facebook page), but she's only tweeted three times. But now that she's a celebrity, she may be inspired to become more active on Twitter.
Beyond the awards she has won, Dr. Triplett also tweeted about a big change for Smokey Roads' Mrs. Hicks. On May 30, he tweeted that Tammye is one of the teachers retiring this year. Dr. Triplett shared two photos from her retirement celebration, so that might mean the end of Tammye's classroom days.
But just because Tammye has retired from her Coweta County school district job doesn't mean she is finished with teaching others. She notes in her Queer Eye episode that she also teaches through the Hospital/Homebound program for children who are sick. Based on social media, it's unclear if she'll be continuing that now that she has retired. She'll still reach others through the church that her grandmother helped to found — St. Paul Holiness Church. She is an usher there and was instrumental in creating the community center that Bobby renovated.
Tammye will also stay busy with her husband and three children. Her son Myles is prominently featured in her episode, since he's gay and Tammye initially struggled to accept that due to her religious beliefs. Before the Queer Eye guys show up, Tammye had already realized she should love her son unconditionally and now she's focused on spreading that message of acceptance and love to her church. So no matter what Mama Tammye chooses to do now that she's retired from teaching, she undoubtedly will continue to change hearts and minds for the better.