The New 'Grinch' Is A Whole Lot Nicer Than The One You Remember — For Better Or Worse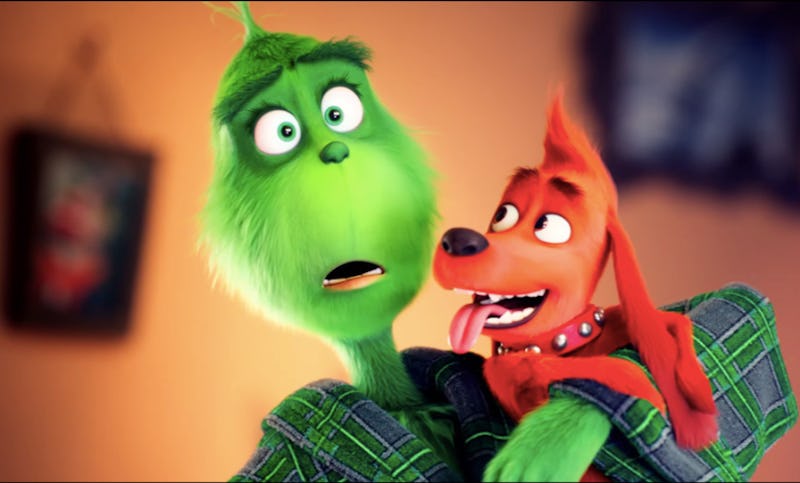 Universal Pictures
This Christmas will feel extra nostalgic with the arrival of The Grinch, hitting theaters Friday, Nov. 9. Unlike Ron Howard's live-action version from 2000 starring Jim Carrey, this one is made by Illumination Entertainment, the same studio that brought us the Despicable Me and Minions flicks. With this one becoming the third version of the classic story, it's important to know how the new Grinch movie compares to the others. Rather than being a direct remake or a sequel, it's actually a fresh spin on the iconic Dr. Seuss antihero.
Similarly to the live-action version, this one delves into the Grinch's (voiced by Benedict Cumberbatch) origin story, showing that he spent most of his childhood in a Whoville orphanage with nobody to celebrate Christmas with. But this one doesn't carry on the dark, heartbreaking story of him being intensely bullied for being different. He's also not completely exiled from Whoville, either. Unlike the previous versions, he actually interacts with the Whoville townsfolks whenever he has to go buy groceries, so they're used to seeing him around and don't actually fear him. They do, however, see him as a bitter meanie.
The Grinch isn't a big fan of his neighbors, either. When the town sets out to make Christmas three times bigger this year, the Grinch comes up with a plan to not have to deal with the festivities: steal Christmas. This part of the story is centered around the original, with the Grinch posing as Santa Claus and carrying out his plan until he crosses paths with Cindy Lou.
Unlike he does in its darker predecessor, How The Grinch Stole Christmas, this Grinch more like a cuddly green furry creature who could use a hug than a scary monster. And while he is introduced as a villain, Despicable Me fans might think of him as being similar to Gru. He tries very hard to be evil and carry out his nefarious plans, but deep down inside he's a softie.
You can also expect some lighthearted humor akin to Despicable Me and Minions, too, making this a more family-friendly version than the live-action one. Plus, we get to see that the Grinch is not that evil from the beginning. He's actually a doting dog dad to Max, and also practices proper hygiene. Instead of living in cave that's dark and dirty, he lives in a cave that actually looks like a dream home. It's bright, spacious, and adorned with colorful furniture.
The new take on the classic Christmas tale also has plenty of huge names attached. The Grinch actually has a similar persona to Cumberbatch's iconic TV character, Sherlock Holmes. Then there's Rashida Jones as Cindy Lou's mom, Donna Lou; Kenan Thompson as Whoville citizen Bricklebaum; Angela Lansbury as the mayor of Whoville; and Pharrell Williams as the narrator.
There's plenty to look forward to with this new film version of the story. The live-action feature film might've felt too scary for children and far too dark to become a Christmas tradition, but 2018's contribution is more more accessible.