A Charlie Sheen 9/11 Movie Is Here & Twitter Is Not Pleased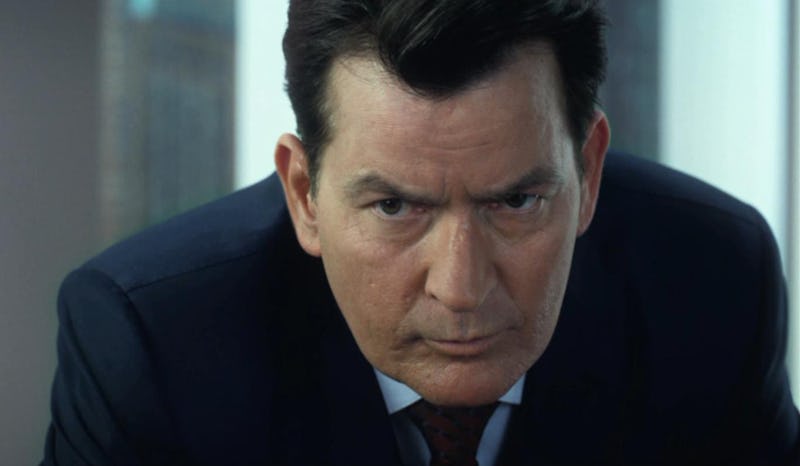 Atlas Distribution
Hollywood has shown time and time again that there's no such thing as sacred ground, and there have already been a few movies made about 9/11. But a new fictionalized account of the tragedy starring Charlie Sheen is really raising eyebrows because it looks so insane. Seriously, what's up with Charlie Sheen's crazy 9/11 movie? As soon as the first trailer came out, many people expressed bewilderment and outrage at the film — partly because Sheen has espoused 9/11 truther views in the past — but where on Earth did it come from?
The movie is simply called 9/11, and along with Sheen, it features other familiar faces like Luis Guzmán, Gina Gershon, Jacqueline Bisset, and even Whoopi Goldberg, who is one of only 12 EGOT winners in history. So the film has some legitimate star power involved, but how did that come to be? It's not being distributed or produced by a major studio, but by Atlas Distribution Company, which doesn't even have a Wikipedia page as of this writing. The company was founded in 2010 in an effort to adapt Ayn Rand's novel Atlas Shrugged for the big screen. So 9/11 has no big studio backing, and it isn't directed by a famous or accomplished filmmaker, either. Its director is Martin Guigui, who's biggest film to date was probably 2011's Beneath the Darkness, an indie thriller starring Dennis Quaid that grossed just $9,600 at the box office, according to By the Numbers.
9/11 is an adaptation of a stage play called Elevator, which had a run in Tucson, Arizona in 2011. Written by Patrick Carson, the play imagines what it would have been like for five fictional characters trapped in a World Trade Center elevator on 9/11. After Guigui's friend, actor Courtney Gains, brought the play to his attention, the director thought it would make a good film and decided to pursue it, with producer Warren Ostergard eventually greenlighting the film. It was then that Guigui decided to bring his friend Sheen on board as star.
"[Sheen] was looking for the right vehicle to come back to serious filmmaking," the director told The Hollywood Reporter. Guigui was aware of Sheen's controversial past statements regarding 9/11, which he made to conspiracy theorist and radio host Alex Jones in 2006, but ultimately didn't think they should preclude the actor from starring in the film. "He made it clear to me that there's a time for everything and that presently his thoughts and feelings about 9/11 are that it was a horrible tragedy," he said. "More than anything, he wanted to make the movie because he thought this was a legacy piece, something that he would love to be remembered by." So what exactly did Sheen say in the past about 9/11?
Well, in his decade-old interview with Jones, Sheen implied that people who believe 9/11 was the work of Osama Bin Laden are the real conspiracy theorists. "It seems to me like 19 amateurs with box cutters taking over four commercial airlines and hitting 75 percent of their targets — that feels like a conspiracy theory," he said at the time, according to The Los Angeles Times. He also claimed that the towers were taken down by a "controlled explosion," not by the impact of the airplanes.
It's these statements that have largely ignited the controversy surrounding the film, with a number of people voicing their displeasure regarding the movie. SNL star Pete Davidson, whose father was killed on 9/11, was especially angered by the production. In a since-deleted Instagram post, Davidson wrote of the film, "Spoiler alert: I know how it ends... I would respect this movie more if it had Vin Diesel driving a Lambo out of Tower 2 at the last second. F—k this movie. NOT ONLY THAT BUT YOUR STAR OF THE MOVIE CHARLIE SHEEN IS A 9/11 CONSPIRACY THEORIST. YOU F—K." And Davidson was hardly the only person to express outrage at the film when its trailer premiered in July; just take a look at the sampling of angry tweets below.
After Sheen joined — but before the controversy set in — the rest of the film's cast filled out thanks to the efforts of Guigui and Sheen himself, who basically just asked their friends to be in the movie (Sheen courted Goldberg and Gershon while Guigui convinced Guzman), according to THR. The production also brought on producer and longtime Sheen friend Steven Golebiowski to rework the script with Guigui. "You have to get your audience to fall in love with the characters on the screen the old fashioned way through dialogue and through relationships," Golebiowski told The Beach Reporter. "We don't have the backing of a major studio. It's always a challenge to get these types of movies off the ground because they're passion pieces. They are not the typical blockbusters the studios look for."
The lack of studio backing meant the movie didn't have a ton of resources, and it almost didn't get made. After the film lost a tax credit and became strapped for cash, producer Martin Sprock decided to finance the rest of the production personally. "I had invested in a few films, but mostly have been investing in developing my own projects. When I read 9/11 I knew it was unique. And I believed in Charlie Sheen, Guigui and the cast to deliver the story," he told THR.
That's how the crazy-looking movie 9/11 came to be. It's been a long, strange road, but the Charlie Sheen-led drama has made it to theaters, meaning people can see it for themselves and decide just how controversial a film it really is.