Everything 'Big Brother' Fans Need To Know About Jess & Cody's Wedding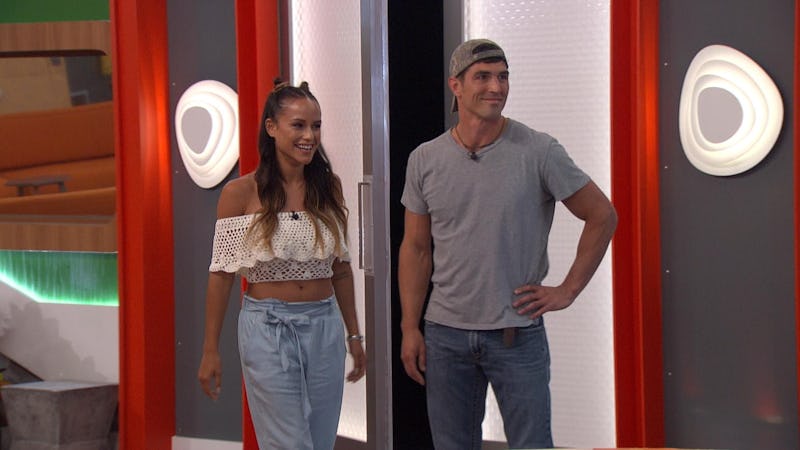 CBS
Jess and Cody may not have won Big Brother when they competed on Season 19, but they got something even longer lasting than a $500,000 prize — love. Yes, yes, cheesy. But also not, because Jess and Cody were ganged up on by everyone else in the house and had a pretty miserable game time. So, it warms my fellow fans' hearts to know that they still got something amazing out of the experience. After falling in love in the midst of BB house drama, they're now engaged and planning their big ceremony. Jess and Cody's wedding date is near, Big Brother fans, and they're inviting us along every step of the way.
It makes sense that a couple who met while being watched by a national audience would be OK sharing the private side of their life, and that's exactly what Jess and Cody have done throughout their wedding planning. The couple is big into YouTube now, often documenting their lives together. It's actually on the video sharing site where they revealed their wedding date in a sweet "save the date" video.
Shortly after getting engaged, the pair told Us Weekly in February that they wanted a fall wedding. And, their save the date proves they followed through on that plan. The 90 second video is a whimsical journey around various serene areas of Texas, which they call home. After posing together and kissing and looking super in love (fair warning, it's very mushy), they reveal they're walking down the aisle on Oct. 14, 2018.
That's so soon! With only eight months between when Cody surprised her with a beautiful ring on a mountain top to when they're saying, "I do," they've been busy planning.
In April, Jess revealed on Instagram that she'd picked out a dress after visiting four stores and trying on so many dresses that she initially missed her dream one. "Something brought me back to @bridalreflectionsny for a second visit and I'm so glad," she wrote on Instagram. "I found a dress that had escaped my attention the first time around due to the insane amount of G.O.R.G.E.O.U.S gowns! I found myself falling in love with so many amazing dresses, but in the end, I feel like I chose perfectly!"
The couple also spilled some details to Us Weekly, where they confirmed that Cody's young daughter would be their flower girl and that BB19's Mark and Elena were invited. (They're also still dating post-show, according to CBS.) Cody also joked (maybe?) that his only request was that Texas Roadhouse cater the event. Jess apparently agreed. This couple is meant to be.
With just a few months before the big day, there's still a lot for them to do. Jess recently took to Instagram to crowdsource some vendor ideas for the cake, photography, DJ, beauty services, and more. In her post she revealed that the couple will be tying the knot in California. In that Us Weekly interview, Jess had said, "I would love to have the wedding on a vineyard somewhere here in Los Angeles." So, it seems that dream may be coming true for her too.
It may seem extraordinary that a year ago Jess and Cody only just met and now here they are planning a wedding, but being locked in a house 24/7 for weeks means you get to know each other very quickly. It's sort of like a sped-up version of The Bachelor, which Big Brother host Julie Chen loves to joke about. "We've had more marriages come out of Big Brother than The Bachelor," Chen told Entertainment Tonight after the start of Season 20. Technically, she's right, since only Bachelor Sean Lowe tied the knot with his actual winner. (Jason Mesnick changed his mind and married his runner-up.) But, if we include The Bachelorette and Bachelor in Paradise, the ABC franchise has six marriages to Big Brother's three.
Still, three marriages from a reality competition show not focused on love is pretty impressive. And, come October, Jess and Cody will help bump that up to lucky number four.