Kat Von D Is Already Teasing Her Holiday Palettes & Is It Christmas Yet?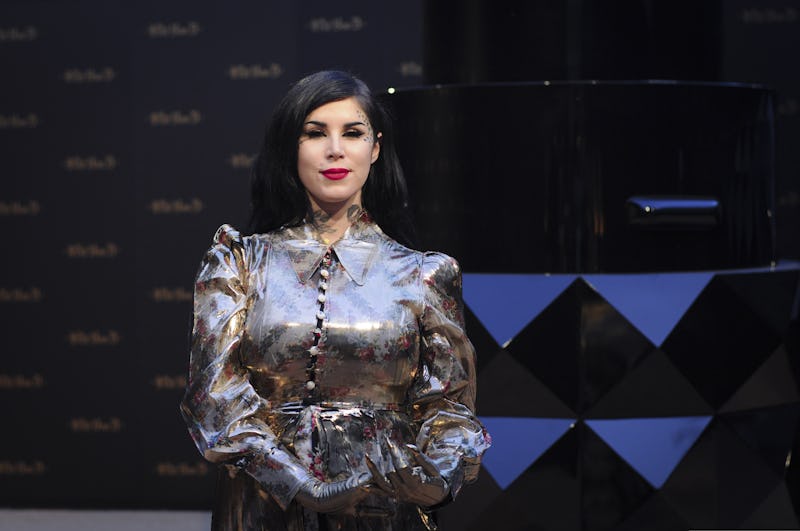 Vivien Killilea/Getty Images Entertainment/Getty Images
Beauty brands keep the attention of fans, both diehard and casual, by frequently releasing exciting new products. Kat Von D Beauty understands this concept and continues to crush with innovative cosmetics drops — the rainbow-colored brow pomades are its latest hit. Kat Von D teased the brand's Fetish holiday palettes on her personal Instagram — and OMG is it Christmas yet?! Hurry up and get here, holiday shopping season, because these look to die for. They are "coming soon."
The makeup mogul and mom-to-be, who swapped vows with her musician fiance last month and even gifted guests with a custom lipstick that won't be produced commercially, shared the oval-shaped outer shells and packaging design of the Fetishes. There is a white palette and a black one. Both have red accents.
While these "sexy beasts," which is what their creator called them in the caption of the Instagram post, are part of the brand's upcoming holiday collection, you won't have to wait too, too long. Seasonal and holiday items usually start lining Sephora shelves and digital stores as soon as late August and early September and into October. So yes, you will need to exercise some patience and accept that you have to wait for them. But it might not be as long as it seems.
The white palette is smaller and hold six circular pans of blush and highlighter. There are three large pans and three smaller pans.
We know this because Von D flipped the packaging over and it states "Blush & Highlighter Palette" at the top.
The products are named Roseshock, Magick, Telepathy, Bathory, Salem, and Coven.
The black palette is larger. It has rectangular pans and shades with names like "Safe Word," "Bondage," "Stiletto," "Submissive," and "Dominatrix." Those are in keeping with the fetish theme.
It looks like an eyeshadow palette, since the shapes of the pans are similar to other KVD shadow sets.
There appears to be 24 shades in the palette. Both cases are glossy, with latex-looking material.
The packaging aesthetic is firmly festish-like and totally KVD and will look amazing in your makeup bag, kit, or wherever it is that you store your palettes. We've not seen a swatch or a shade of the shadow palette and we're already coveting it. Kat Von D-evotees undoubtedly feel the same.
In a sea of holiday products that nod to the sounds, colors, and vibe of the season, it's a refreshing, neo goth, and darkly romantic take on the most wonderful time of the year.
The palettes aren't the only new products the brand has teased, though. Kat Von D Beauty is adding to its black eyeliner arsenal with three, inky (not kinky!) new products — all of which have release dates.
The Lash Liner is coming. The applicator/packaging resembles a stiletto, while the wand itself looks cushiony. The product is designed to adhere to the waterline. It arrives on July 20 at Sephora stores and via the Sephora site, as well as the KVDB site.
The Lash Liner is already listed on the sites, but it is not yet available for purchase.
That tip, though!
The Dagger version of the best-selling, hero product Trooper Tattoo Liner is coming, as well. It has an expertly cut, 30-degree angle edge for expert cat eye drawing. If you've struggled with doing a cat eye flick — well, in this case, a "Kat eye" flick — this liner is designed to solve all of your problems. It'll arrive in August.
The Ink Well Long-Wear Matte Liner is coming, as well. It promises 24-hour wear and it's matter than matte. It's coming in September.
All three new KVDB liners will be $20.
Whew. That's a lot of amazing makeup on deck from Kat Von D Beauty. Start saving now. While the palette prices are TBA and the swatches are yet-to-be-seen, you know you want 'em. And the liners are affordable and will satisfy your quest for an awesome, darkly-rimmed eye!
Kat Von D Beauty is operating in full-on slay mode.