When 'black-ish' Season 4 Returns In 2018, Dre Will Deal With Some Health Issues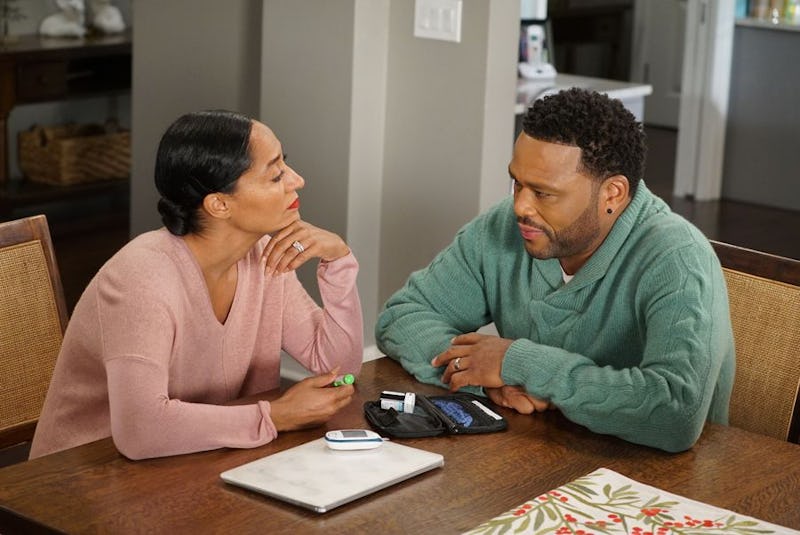 Eric McCandless/ABC
When it comes to mixing social issues and heart, there are few comedies that can do what black-ish does in just 22 minutes per week. But after its fall finale on Dec. 12, when will black-ish Season 4 return with more adventures from the Johnson family? ABC has yet to announce winter premiere dates for their Tuesday or Wednesday night comedies. But it's actually pretty easy to predict when the show will return based on the previous three winter hiatuses black-ish has taken.
UPDATE: black-ish will return on Jan. 2, 2018.
EARLIER: The show's temporary break has ended in the first week of January in the previous three seasons, and there's no reason to think that this year will be different... unless ABC is planning a multiple-night premiere for The Bachelor, which will be debuting on New Year's Day 2018 (a Monday night). Barring that, it should be just a couple of weeks until the comedy returns.
But until ABC announces return dates for black-ish and the rest of their half-hour comedies, there are plenty of other places to see and hear from the show's cast. The series was nominated for two Golden Globes, Best Original Series — Comedy and Best Performance by an Actor in a Comedy Series for star Anthony Anderson. However, fans were surprised to see that Tracee Ellis Ross was not nominated after winning the Golden Globe for her role 2017. Her outstanding performance in "Mother Nature," where Bow revealed that she's been suffering from postpartum depression, was certainly an early Season 4 highlight. The Globes will air on Jan. 7, 2018, right around the time black-ish should return.
And before the Globes, black-ish is also premiering its very first spinoff series, grown-ish, which follows Zoey Johnson (Yara Shahidi) throughout her first year of college and explains why the eldest Johnson been absent for much of Season 4. Instead of mentoring her younger siblings, making fun of her mom, and bonding with her dad, she's been away at college, in a series that should be in the same vein as the backdoor pilot that aired during black-ish Season 3. Grown-ish will debut on Freeform on Jan. 3 with two back-to-back episodes, so black-ish fans can find out what Zoey's college experience has been like while she's been missing from the Johnson home.
When black-ish Season 4 resumes, there are still plenty more episodes in store. In the midseason finale, Dre will find out he has diabetes — something that Anthony Anderson told Parade has a real-life inspiration. "The show is pulled from our lives," Anderson said. "I've had diabetes for 16 years and we've joked about my character, Dre Johnson, being diabetic." That sounds like a development that will affect Dre in future episodes, since he's a chronically irresponsible emotional eater. And sure enough, Anderson said, "It's a story about how he's going to deal with this and how he's going to change his lifestyle." The show tends to respect how issues continue to pop up in new and different ways as the characters get older.
And, of course, there are always guest stars. Anderson told HollywoodLife that the number one Season 4 guest star he's hoping for is none other than Oprah Winfrey. So far, there's no indication that the queen of daytime TV is planning to appear on the show, but she is costarring in A Wrinkle in Time, produced by Disney, which also owns ABC, so... it could happen. And Ross told The Hollywood Reporter that her request for Season 4 is to have Bow make some friends. "It's hilarious when I say that because she really doesn't have any friends," Ross said, and with Bow's mental health a big focus of the first half of Season 4, maybe the season will close out with more of a support system in place for the Johnson matriarch.
But as for specific episode concepts, the cast and crew are staying tight-lipped, for now — that just means there's even more reason to tune in when black-ish Season 4 returns next year.