KVD Rock Candy Studded Kiss Minis Are Coming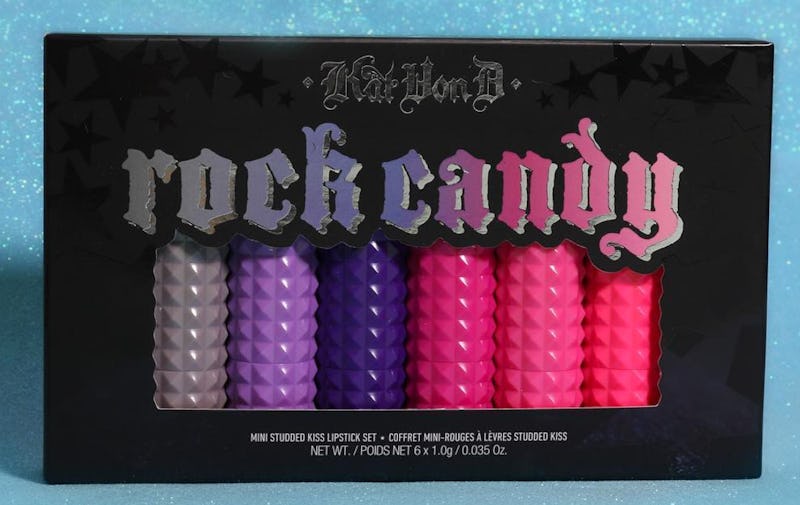 Last April, Kat Von D teased new Studded Kiss lipsticks that would be unusual shades and would feature caps matched to the shade in the bullet. Well, the Kat Von D Rock Candy Studded Kiss mini lipsticks are coming soon! I know, Kat Von D-evotees. That's a lot to take in, especially since the brand is smack dab in the middle of the expansion of the Everlasting Liquid Lipstick range, where 25 new shades are landing. The Studded Kiss lippies come in a set of six and will be available at Sephora.com. But when can you buy them? That's critical intel, since you need to plan your purchase, from budgeting to thinking about what other makeup to pair these hues with.
The Kat Von D Rock Candy Studded Kiss Lipsticks arrive on Tuesday, April 4. So a year after KVD first shared the news that she was creating these lippies, they will cruise onto the Sephora site, just in time for spring.
The Rock Candy lippies come in brand new, bright, and adventurous shades, from gray (!!!) to to several variations of purple and pink. I love that the cases and caps are color-matched. That makes it incredibly convenient when you are picking out your lipstick for the day.
Rock Candy Studded Kiss Lipstick Set, $45, Sephora
You don't need to fumble with a bunch of black or nondescript tubes, checking the name on the bottom or pulling off the cap to check the bullet with these lippies. They are super fun.
This caption, which was posted with the photo above, reveals all the details regarding this set.
When Kat teased these new shades via the packaging nearly a year ago, she indicated they would be limited edition and would launch at the end of 2016. Obviously, release dates can change due to manufacturing and production issues or due to marketing initiatives.
Here is the caption that accompanied the long-ago tease, noting the LE status and the color-matching. I personally think these poppin' shades are better suited for spring.
Mark those calendars for April 4 because the Rock Candy set is coming.
Images: Kat Von D Beauty/Instagram (2); Kat Von D/Instagram (1)