This Is When Paris Hilton & Kim Kardashian Stopped Being Friends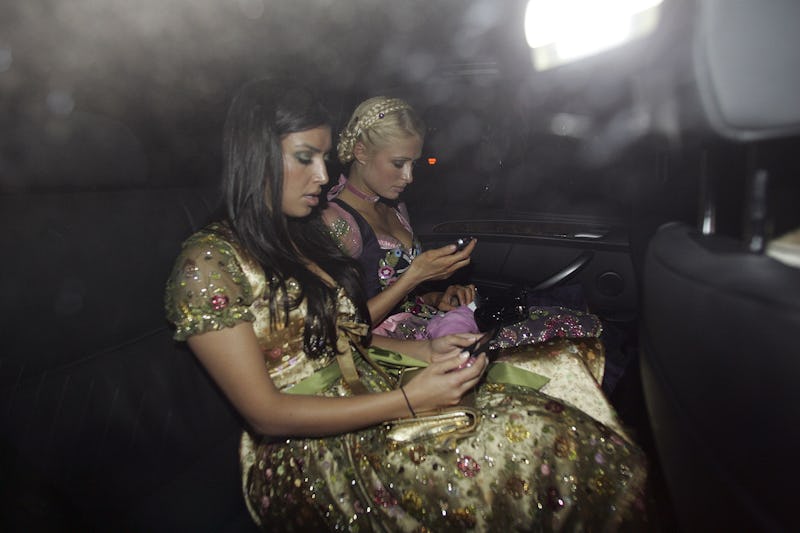 Thomas Niedermueller/Getty Images Entertainment/Getty Images
Paris Hilton and Kim Kardashian aren't exactly BFFs anymore, but recent events have given fans hope that the former besties will eventually rekindle their friendship and continue on being the peas-in-a-pod we knew and loved over a decade ago. The saga between the two reality stars appears to be never-ending, and the spotlight that's being put back on their friendship might have a lot of fans questioning when Paris Hilton and Kim Kardashian stopped being friends in the first place. The timeline of their friendship is a bit shaky, which makes it a bit hard for anyone to really pin down when things officially came to an end.
Both reality stars began their friendship as kids and, according to The Huffington Post, Paris and Kim's friendship officially ended around August 2009. But it's still important to note that friendships that last this long don't always end overnight, so it's not easy to put an exact date on who put the final nail in the coffin and when since it's a little more complicated than that. A whole lot of drama took place between the two over the course of a few years, and it's probably all because of a pesky little thing called fame.
For a decade now, Kim and her family have been some of the most famous and talked about celebrities in the world. But if someone were to tell you that, at one point, that same thing could be said about Paris Hilton, would you believe them? After rising to fame following the release of her sex tape and the start of her hilarious, Nicole Richie-assisted reality show, The Simple Life, Paris Hilton was pretty much the socialite queen, and not a day went by when her name wasn't in the tabloids. (Sound familiar?) Essentially, the Kim Kardashian that fans love so much today is what Paris Hilton was in the early 2000s. Meanwhile, Kim was her right hand man, aka her part-time personal assistant and full-time bestie that Paris made multiple red carpet appearances with.
Kim's rapid rise to fame after Keeping Up With the Kardashians debuted on E! in 2007 signaled the beginning of the end for the famous friends. As The Huffington Post notes in its investigation of when exactly the duo's friendship ended, people began to tire of seeing and hearing Hilton's name in the news around that same time and Kim's star was on the rise. The following year, Kim and Paris were photographed with each other at a Fashion Week event, which marked the last time they were seen together publicly for years. That said, it might be safe to assume that the final straw between the ladies was likely drawn in 2009.
Given the complicated history of their relationship, it's hard to determine if Paris and Kim are actually friends again, or if both stars are just playing nice for the cameras. In the same way that their friendship couldn't have just ended overnight, it's also not like the two can just easily pick up right back where they left off ten years ago, even if they both agreed to leave all the drama behind.
Still, it'd be nice to see the former best-friends-turned-not-friends reunite and become friends again. They both have grown a lot over the past decade, and there's no denying that Paris is mature enough to handle the fact that her friend has built an empire just as large and iconic as her own since then. Only time will tell how this will pan out, but at least they both have since put the drama that ruined their friendship behind them.