Everything You NEED To Know About The Spice Girls Reunion Tour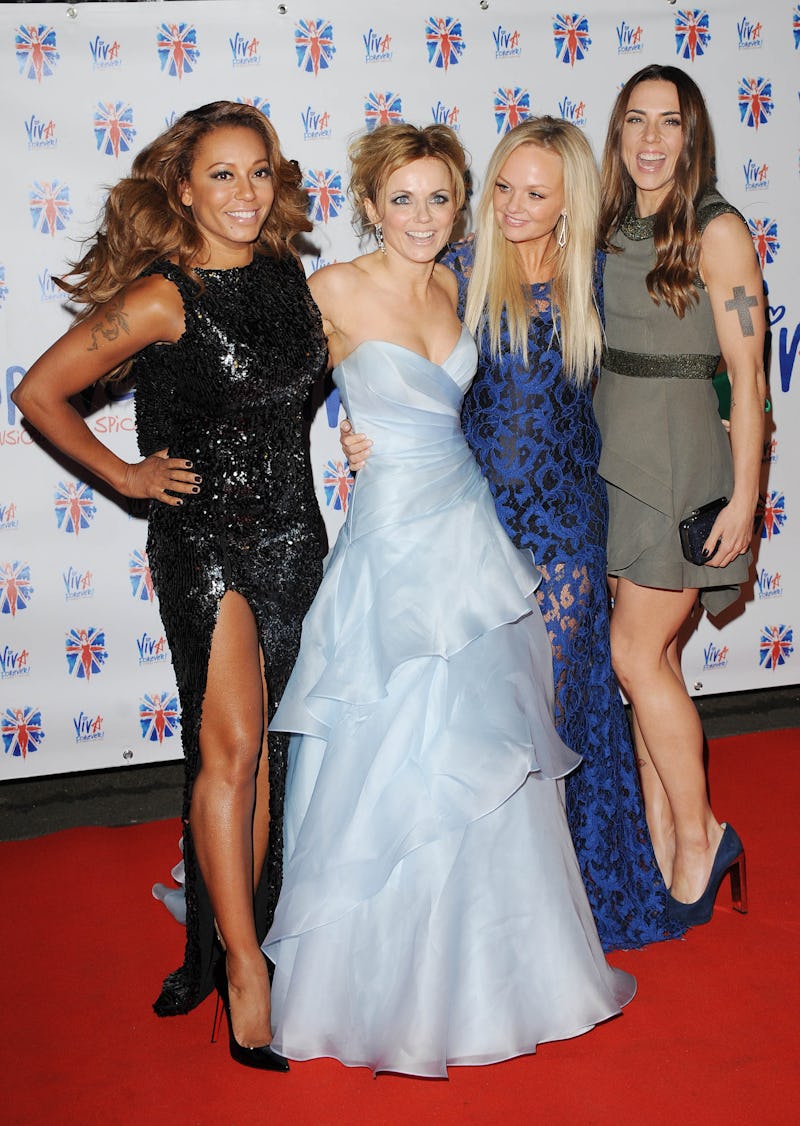 Stuart C. Wilson/Getty Images Entertainment/Getty Images
In news that will make '90s kids everywhere freak out: a Spice Girls reunion tour is happening, according to TMZ. And naturally, the first question on your mind will be: When do Spice Girls tickets go on sale and how can you get them immediately? Well, you'll have to catch your breath for a minute, because not all details have been revealed just yet. But based on TMZ's initial report, there's still enough for fans to get excited about. (Bustle reached out to the Spice Girls' manager for comment, but did not receive an immediate response.)
According to TMZ's sources, the "world tour" will begin in England and then head over to the States. And as far as when this all starts, they're guesstimating late summer as the "goal." If you keep that in mind, it would likely be fall or early 2019 that the band could make their way to the U.S. Of course, this is purely speculation, but seems plausible, if taking travel time into account. If considering their 1998 Spiceworld Tour, the band spent time in Europe in February before heading to the U.S. for 40 stops, starting in June of that year. There was about a four-month gap between the two continents.
Suffice to say, if the rumors are true and the tour is starting by the end of the summer, that would mean they'd have to give fans time to purchase tickets. And if that's the case, they would likely go on sale in early spring, if not sooner.
Just last week, rumors spread that the Spice Girls were reuniting, and within a day of those rumors, Victoria Beckham — aka Posh Spice herself — confirmed the chatter with an Instagram photo of the band back together with huge grins. She wrote,
"Love my girls!!! So many kisses!!! X Exciting x #friendshipneverends #girlpower"
Then, later that same day, the five of them took another photo with their manager Simon Fuller. Beckham caption that snapshot: "Love u all so much!!! X Such a great day!! Thank u Simon! X VB." It's easy to figure that they were getting together last week to get the ball rolling on tour details. But again, TMZ notes that they're in the "rough planning" stage.
Since the band is likely still nailing down details and planning, you'll have to stay tuned to find out when exactly the tour is coming to a city near you, and how to snag tickets as fast as possible. But the good thing about the band being so transparent about the process and updating fans with photos is that they'll likely be confirming the news themselves in no time.
And in the meantime, it gives you a chance to reacquaint yourself with their old lyrics. Because according to TMZ, they also reported that the band is not recording new music. That means it'll likely be "Wannabe," "Stop," and all their other '90s jams making a comeback — and honestly, what more could fans want?
While it's not a concrete answer, if you look at the Spice Girls' Ticketmaster page, there is an option to sign up to "Get Ticket Alerts" via email whenever any Spice Girls tickets do go on sale. However, the site notes, "We currently do not have any tickets on-sale for Spice Girls."
Still, the tour news feels like a long time coming. The band last performed together publicly at the 2012 Olympics closing ceremony in London. And those five-plus years have felt like an eternity for fans, who have been eager to see them reunite in all their girl power glory.
So while you may have to wait a teensy bit longer for any official details, knowing that they're on the way is enough to make fans burst into a singalong of joy.