Why Netflix Is Splitting 'Arrested Development' Season 5 In Half & When You Can Expect Part 2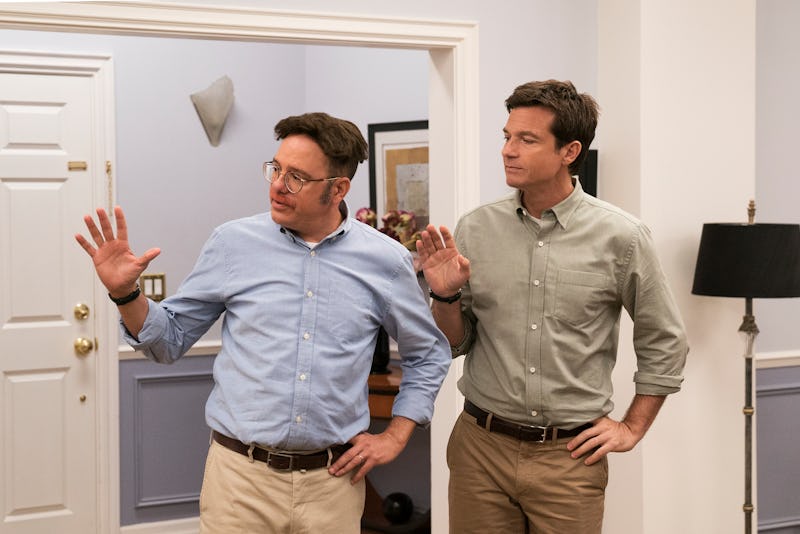 Saeed Adyani/Netflix
The premiere of Arrested Development Season 5 brings a welcome dose of new Bluth family antics to Netflix after a five year hiatus. However, fans looking forward to marathoning the new season will discover that only eight episodes of Arrested Development Season 5 are premiering on May 29. It turns out that Netflix has opted to release the new season in two parts. So when exactly will Arrested Development Season 5 Part 2 premiere?
A spokesperson for Netflix told The Wrap that the show's second batch of eight episodes will be coming to the service "at a later date." But while the conclusion of the new season isn't going to be available for a while, the episodes themselves are likely already completely finished. Alia Shawkat, who plays Maeby on the series, confirmed on a November 2017 episode of The Late Show With Stephen Colbert that the filming of the season had completed. So why not drop the full season all at once? Entertainment Weekly suggests that the separation of Arrested Development Part 1 and Part 2 has little to do with the actual production of the episodes but a lot to do with possible Emmy consideration for the acclaimed series.
As EW points out, the deadline for consideration for the 2018 Emmys is May 31, meaning that Arrested Development will be just barely squeaking in with its partial premiere, followed the next day by the partial premiere of the reported final season of Unbreakable Kimmy Schmidt. This is one of the downfalls of the all-at-once season release method that Netflix pioneered, as shows would previously have to have their entire season available for release before awards deadlines, or risk skipping a year's worth of consideration.
This partial-release method could help Arrested Development and Unbreakable Kimmy Schmidt make big splashes at the Emmys when they roll around, without waiting so long that the cultural excitement and hype surrounding their seasons has died down long before voting begins. It also solves one of the other major issues with streaming shows, which is that they can often be ephemeral experiences. Marathoning a new season of a show — especially one with half hour episodes — can be a fun evening's worth of entertainment, but its pleasures may be forgotten once the next major release hits Netflix, Hulu, Amazon, or any number of other streaming services. Arrested Development Season 5's two-part release structure could help the show's return be a dominating conversation topic this year instead of just another rock in a quarry of quality streaming content, as fans will be discussing each new batch of episodes as they release.
While not getting all of Arrested Development Season 5 at once may be a bummer for fans, it will make the arrival of the show's second half that much sweeter. It stretches out the content, and gives audiences a chance to dissect and discuss the first half for at a few months at least. It'll also provide the opportunity to rewatch the episodes to look for background jokes, references, and clues. The show is famous for its puzzle-like approach to joke construction, often sneaking in gags that aren't fully understood until the second or third watch. Face it — there are probably jokes in first three four seasons of the series that even the most passionate Bluth family fans haven't clocked yet. And Netflix just released a "remix" version of the much-debated Season 4, recut to resemble the more traditional format of the show's early days. So there's a lot to keep Arrested Development devotees busy.
The midseason hiatus will continue for an indeterminate amount of time, but it seems at least that Arrested viewers can rest assured that they're getting the rest of the season before 2018 is out.
Editor's note: Season 5 is controversial due to the presence of Jeffrey Tambor, who was fired from Transparent after being accused of sexual harassment by two co-stars (he denies these claims); he also admitted to and apologized for verbally harassing Jessica Walter on the Arrested Development set in a recent New York Times piece. Co-stars Jason Bateman, David Cross, Will Arnett and Tony Hale were criticized for seeming to defend Tambor and minimize Walter's experience, in the same interview. Bateman, Cross, and Hale have since apologized.