Why Stephen Amell Is "Fired Up" About What's Coming In 'Arrow' Season 7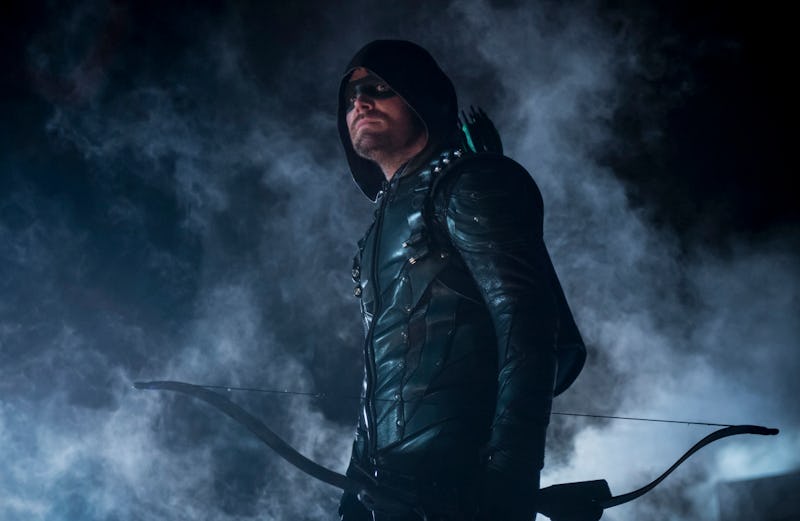 Diyah Pera/The CW
Oliver Queen's latest foe is shaking things up in a major way leading into the Arrow Season 6 finale on May 17. In the penultimate episode, Team Arrow's reconciliation is interrupted by villain Ricardo Diaz (Kirk Acevedo), who sent his goons out to wreak havoc on their lives. Diaz's determination to take out Team Arrow has resulted in Oliver's apartment and the team bunker being severely damaged by targeted attacks. He also gained full control of Quadrant and nearly killed Oliver is an ambush, which led to a key piece of information about Diaz's operations. The Season 6 finale is sure to be filled with consequences, after Oliver revealed his secret identity to Agent Watson. Fans may have to wait until Arrow Season 7 premieres in the fall to find out how the team will rebuild. (The CW has yet to announced the specific premiere date, but previous seasons have debuted in early October.)
Variety reported in April that Arrow was renewed, along with nine other CW series. At that point, the creative team had already long been preparing for the next step. According to Slash Film, showrunner Marc Guggenheim gave a Season 6 preview during a Television Critics Association panel last August and revealed that writers already had ideas in mind for the next season. "This is the earliest we've ever had an idea for a season that far ahead, but it's come out of our conversations about season six," Guggenheim said.
During the same panel, Guggenheim also spoke about a potential end point of the series and said it was not tied to a specific season at that point. Fans haven't been told yet when or how it'll all end, but the Arrowverse has obviously grown far beyond the initial series. CW superhero shows Supergirl, The Flash, and Legends of Tomorrow are a part of the Arrowverse and still going strong, all renewed for new seasons. Black Lightning had an acclaimed debut this season and is in the same universe, but it is not technically an Arrowverse series, so a crossover is unlikely at this point.
Details about Season 7 are scarce, but there is one returning character who is guaranteed to make an appearance. TV Line reported that actor Colton Haynes will return to Arrow as a regular cast member. Roy Harper, Oliver's one-time protégé, was a regular character until the end of Season 3 and made a guest star appearance this season. There's no word on how this could affect the storyline going forward, but Arsenal's skills are going to be an asset for sure.
And longtime cast member David Ramsey, a.k.a. John Diggle, will get a shot behind the scenes as a Season 7 director. Ramsey confirmed on his Twitter that he will direct the eleventh episode of the season. Stephen Amell (Oliver) also tweeted about Season 7 after getting a briefing on the plot and said that the upcoming episodes had him "so incredibly fired up."
Arrow fans are excited for another season, but some are also clamoring for more Olicity. The romantic pairing of Oliver and Felicity (Emily Bett Rickards) finally lived up to shippers' expectations when the pair tied the knot during the crossover. Now, they are ready for an Olicity baby, even though Stephen Amell revealed to TV Guide that the finale will complicate any potential baby plans. "I think the possibilities are limited," Rickards said in the same piece, "But I wouldn't say they're excluded completely."
Whatever the family plans are, the Arrowverse's flagship show keeps fans guessing. And now that the masked archer's secret identity is out of the bag, the stakes are even higher.