Danny Dyer's New TV Show Has The BEST Connection To The Actor's Family History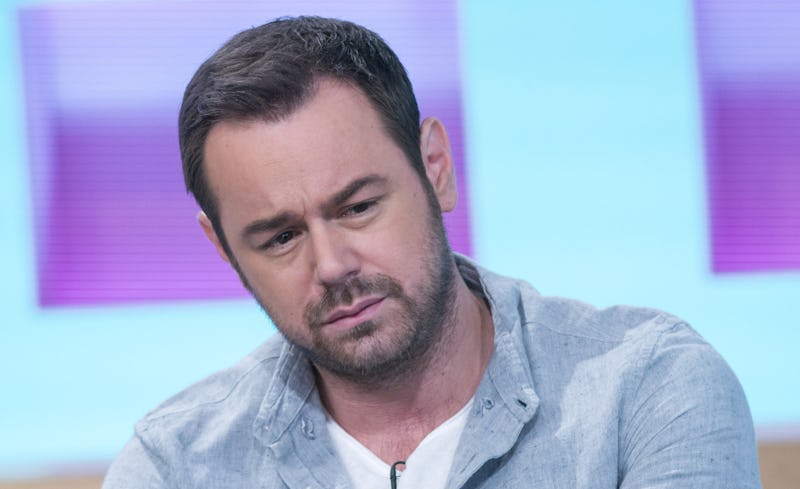 Steve Meddle/Shutterstock
The Dyer family have been all over our television screens recently, with family patriarch Danny Dyer's continued role in Eastenders, as well as daughter Dani Dyer's triumphant appearance on ITV's Love Island. And it seems Dyer Senior isn't going anywhere soon as he is embarking on yet another BBC series, but when does Danny Dyer's Right Royal Family start on BBC One? Well, the new two-part series, which will see him explore 800 years of British history, is yet to be given an official airdate by the BBC. However, I have reached out to the broadcaster for further information and will update with any details when available.
In the upcoming new series, Dyer will eat, dress, and live exactly how our ancestors did back in the day. Viewers can expect to see the Eastenders tough guy feast on sheep's tongue, learn how to hunt, and wear classic Elizabethan costumes, reports Digital Spy. When discussing the new show, Simon Young, the BBC's history commissioner said: "Danny is just an incredible talent and he has an amazing history in his family tree. What better way to get people to look at and understand that royal history than through his eyes? It injects fun and I think we need that".
The Dyer family tree was first researched back in 2016, when Dyer discovered on the BBC show Who Do You Think You Are? that he is in fact royalty. Yes, like actual royalty. Whilst delving into his family history, Dyer discovered to his surprise that he is a direct descendant of Thomas Cromwell, King Edward III, and William the Conqueror.
When commenting on his unexpected royal connections, Dyer said: "I'm still in shock at the fact that I'm related to such important people", and continued "I've had a ball getting to know them. It was a nutty experience", reports the Express. Throughout Danny Dyer's Right Royal Family, viewers will also see the Football Factory star engage in the lifestyles of some of his own royal descendants, including learning to hunt just like his 30x great-grandfather William the Conqueror, and wear 14th Century armour, which is similar to what his 19x great-grandfather Henry Hotspur Percy would have worn. According to Digital Spy, a BBC spokeswoman stated "his journey is a retelling of 800 years of British history, which is all there in his extraordinary bloodline."
As well as the new BBC history series, the 41 year-old is also set to star in a brand new reality TV show — and it sounds like it's going to be quite the family affair. It was confirmed that the new reality show, which Dani described as similar to The Osbournes as opposed to the Keeping up with the Kardashians, began filming in September and will star the entire Dyer clan. According to the Mirror, the cast will also include Dani's grandad known as Bruv, as well as the newest addition to the Dyer family circle, Love Island's Jack Fincham.
So it appears we won't be able to escape the Dyer family in the coming months, and with Danny's blunt sense of humour and genuinely lovely family, I for one can't wait to see more of them.