'Fear The Walking Dead' Should Be Back Once Another Gory AMC Series Airs Its Episodes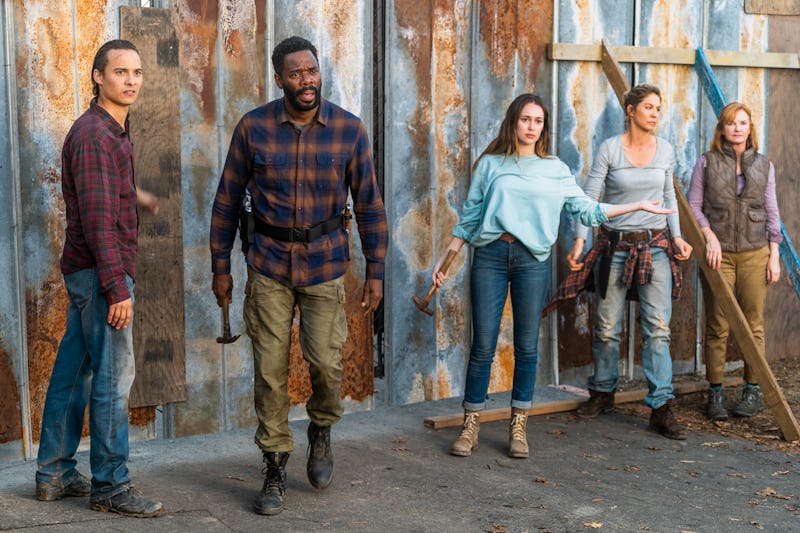 AMC
Just as Fear The Walking Dead finally reveals the answer to Season 4's big "what happened to Madison" mystery, the show is taking a little break. When will Fear The Walking Dead Season 4 return? AMC has not made a midseason premiere announcement yet, but if the network follows patterns from previous years, the wait shouldn't be long at all.
UPDATE: AMC announced that Fear The Walking Dead Season 4 will return on Aug. 12 at 9:00 p.m. ET.
EARLIER: Like HBO's, the majority of AMC's original scripted programming airs on Sunday, so it kind of feels like each series takes and waits it turn. After Fear's midseason finale on June 10, AMC's primetime Sunday 10 p.m. slot will go to Preacher for 10 episodes and on Aug. 9, Better Call Saul will take over the 9 p.m. time slot. Also, Season 9 of The Walking Dead is set to premiere in the fall of 2018.
Historically (meaning for Season 2 and Season 3, at least) the second half of Fear airs right before the season premiere of the original series serving as a lead up, from August or September through late October, so the zombie action keeps going through the spooky chilly months. The best guess, especially since Season 4 got a bit of a late start compared to Season 2 and since Better Call Saul has late summer locked down, Fear will most likely return around September 2018 to finish out its fourth season.
What will happen in the second half? A lot of that hinges on what happened to Madison in the stadium showdown. Has she joined the Vultures? Is she recovering in an undisclosed location? Is she dead? This won't just explain why the show's heroes, who have always been slightly more optimistic than their counterparts on The Walking Dead, have become hardened to the point of antagonism. It affects what happens next.
The way that Coleman Domingo described the June 10 episode in an interview with Entertainment Weekly certainly makes it seem like it's going to be an eventful evening to say the least:
"It's phenomenal. It is a groundbreaking episode. A lot has been going on with all of the time jumps and now we're going to come to a culmination of all the reasons why the story had to be told in that way — why Alicia, Luciana, and I are as vicious as we are. All the reasons will come to the light. This one is really going to blow your mind. I watched it yesterday in my hotel room and I had an ugly cry. There are some disastrous things that will happen and it's going to be gripping and it's going to change the course of the show forever."
Based on the stakes and the unanswered questions about Madison's fate and loyalty, that ominous warning does not bode well for her safety and her future on the series. It definitely alludes that someone major is going to die, right?
One thing fans do know is that the flashbacks are a thing of the past. According to the co-showrunners Andrew Chambliss and Ian Goldberg, the two timelines on Fear will merge past and present and the story will be linear for the remainder of the season — but it seems unlikely that a new character or a new location will suddenly pop up and shape the second half. "We are trying to tell one big story this season across 16 episodes, both emotionally and in terms of who our characters are, where they start and where they end the season," Chambliss said.
Lucky for fans, Fear The Walking Dead hiatuses don't tend to be that long, just a few short months. Take the time to process, maybe rewatch the season with all of the newfound revelations about the timeline, or just have an ugly cry of your own. Before you know it, Fear will be back.