Spring Break Is Going To Get Even Messier In 'Floribama Shore' Season 2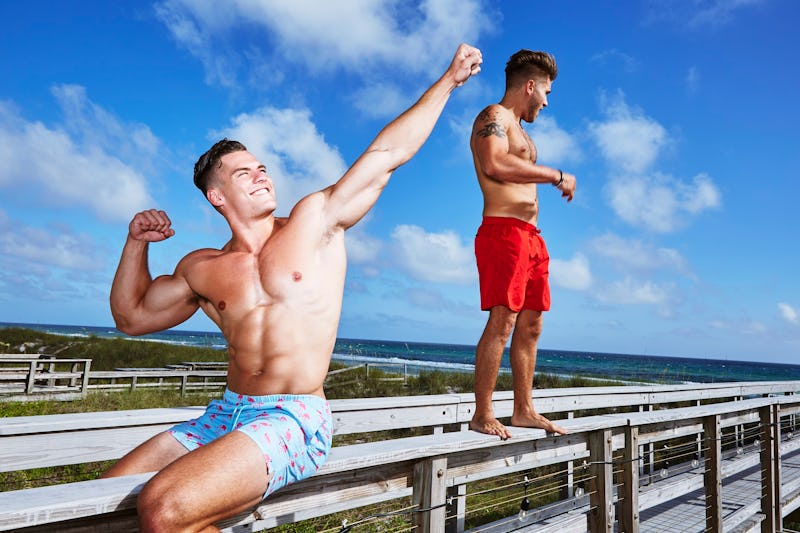 MTV
As MTV's newest reality non-stop party Floribama Shore says goodbye to its first season on Jan. 8, fans of the dramatic show want to know: when will Floribama Shore return for Season 2? Just hours away from the finale, MTV announced that it had officially picked up the show for another season, per Deadline, to the delight of fans everywhere — not to mention stars Jeremiah Buoni, Codi Butts, Kortni Gilson, Aimee Hall, Kirk Medas, Nilsa Prowant, Candace Rice, and Gus Smyrnios — who were hoping for a second season of Floribama Shore (supervising producer: Liz Chapetta).
Looking back at Floribama Shore's first season, it's not hard to see why MTV ordered a Season 2. Season only had eight episodes and left fans wanting more. (This might sound ominously short until you remember that the first season of Jersey Shore, the show that paved the way for Floribama, only had 11 episodes.) And when the show premiered in November, MTV released a press release affirming that Floribama Shore was their "highest rated series premiere in three years" with a total of 846,000 viewers. Ratings, according to Deadline, which reported the news of the renewal, have been holding strong with an average 1.43 rating in live viewers aged 18 to 34. Strong ratings didn't just deliver a Season 2, it delivered almost double the episodes. Floribama Shore Season 2 will have a reported 20 episodes and is set to premiere this summer. An official premiere date has yet to be announced, but assuming MTV follows their Jersey Shore time table, fans can expect Season 2 to premiere sometime in July (the same month as Jersey Shore Season 2's first episode).
News of the Floribama Shore's renewal follows the network's announcement of a Jersey Shore reunion. Floribama is, in many ways, the spiritual sequel of Jersey Shore (the show even has it's own Snooki in Kortni). And though Floribama has failed to make the same cultural impact as Jersey Shore, the show was parodied on Saturday Night Live just one week after its premiere — so, make of that what you will.
Floribama Shore Season 2 might not return for another six or seven months, but now that we know that it's actually happening, here are some of the things we need from the coming episodes.
More Aimee & Nilsa
A reality show is only as strong as their best female friendship. Following in the footsteps of Jersey Shore's Snooki (Nicole Polizzi) and Jwoww (Jenni Farley), Aimee and Nilsa quickly formed one of the closest bonds in the Floribama house. Through all of the ups and downs, Aimee and Nilsa have kept each other strong and given us a new battle cry: "Chichis up!"
The Inevitable Codi Trainwreck
Yes, it was sad when his grandfather died, but other than his few displays of real emotion, Codi has been the absolute worst this season. His crimes this season include: lying about betting that Jeremiah would hook up with Katrina before Gus, essentially telling Aimee she's ugly, insulting Nilsa, and wearing an absurd amount of American flag clothing. It can only go down from here, and if fans of reality TV love anything, it's a good villain.
More Candace
Candace showed up for Floribama Shore determined to find a man, and she found a few. Though her adventures of the heart were mostly unlucky, Candace did show viewers that she was determined, knew what she wanted, and wasn't about to deal with the nonsense her roommates came up with. And a reality TV star who is over everybody's shenanigans is the best kind of reality TV star.
More Inter-House Relationship Dramz
Every reality show better look like one incestuous mess by the time it's over, otherwise what was even the point? For that to happen on Floribama Shore, fans are going to need to see way more hookups between cast members and a fair amount of backstabbing brawls.
Long live Floribama Shore!