A Doctor On How To Prepare For This Year's Potentially Severe Flu Season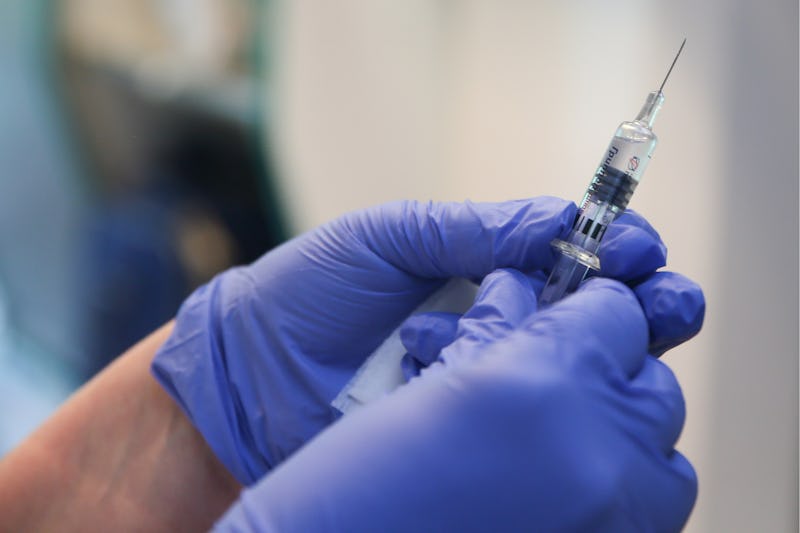 Vladimir Gerdo/TASS/Getty Images
Regardless of how warm and humid it still is outside, that doesn't mean it's too early to prepare for the most un-wonderful time of the year — flu season. If you're wondering when flu season 2019 starts, it's already upon us. According to a news release from Riverside University Health System in California, a child has died from the flu this season.
While the child reportedly had other health issues that may have made them more susceptible to the flu, Dr. Cameron Kaiser, Riverside County Public Health Officer, said it's an important reminder to protect yourself from influenza, especially if you have a weakened immune system. "We should never forget that the flu still kills," Kaiser said. "I always recommend people get their flu shots every year, but a death so early in the flu season suggests this year may be worse than usual."
What's more, a new report analyzing the past flu season in Australia shows that the 2019-2020 season may be intense in the U.S. Because Australia's winter takes place over our summer, flu activity in the southern hemisphere can sometimes forecast how the flu will impact us come September or October.
"It's too early to tell for sure, because sometimes Australia is predictive and sometimes it's not," Dr. Daniel B. Jernigan, director of the influenza division of the Centers for Disease Control and Prevention, told The New York Times. "But the best move is to get the vaccine right now."
Dr. Niket Sonpal, MD, a New York City-based internist and gastroenterologist and adjunct professor at Touro College, tells Bustle that vaccinations save lives, adding: "A yearly flu shot can help prevent missed days from work or school, prolonged illness, and possible hospitalization for flu-related complications."
I got the flu for the first time in January 2019, and it was absolutely horrible. My fever was so high that the doctor made me drink ice water and put ice packs on my face to bring it down before they allowed me to leave. If this doesn't sound like fun to you, here's how to prepare for flu season.
This article was originally published on