Glow Recipe's Super Popular Watermelon Line Is Adding Yet Another AMAZING Item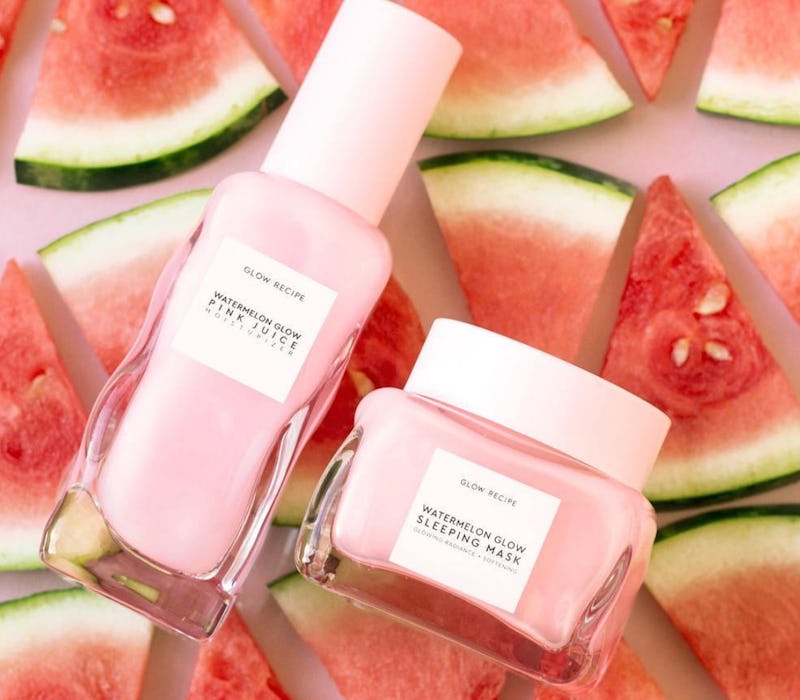 Christine Hahn/ Glow Recipe
Your fave millennial pink skincare collection is getting an upgrade. Glow Recipe is launching a Watermelon Glow Jelly Sheet Mask that is unlike anything you've ever seen. It's super moisturizing, see-through, and has a barely detectable pink tint — it's also the latest addition to the K-Beauty brand's mega popular Watermelon Glow Range.
The Watermelon Glow collection includes the Sleeping Mask, which is a gel-textured night moisturizer that sinks into skin and offers maximum hydration. It also features the Watermelon Glow Pink Juice Moisturizer, which is just as pink but has a lighter formula. It's best for daytime wear.
The new jelly mask completes the set and ensures that your skin is living its best life. It's also totally Instagrammable because your face is still visible despite the mask.
Glow Recipe founder Sarah Lee appeared to tease the mask on her personal Instagram earlier this spring. She posted an image of herself testing out a new product without revealing exactly what it was. That's pretty much standard operating procedure for her — her amazing Insta feed is full of 'Grammable skincare and sheet masks.
The Watermelon Glow Jelly Sheet Mask, which Glow Recipe describes as "so clear and soothing," will drop on Friday, June 1 via Sephora.
It nixes gimmicks like glitter, materials like lace, rubber, and metallics, and trendy ingredients in favor of pampering your skin.
The Watermelon Jelly Sheet Mask is a "jellified combo of fermented watermelon and soybean extracts," according to Allure. Ultimately, it will let your true and natural beauty shine through.
It focuses on simple, minimal, and impactful sheet masking. Glow Recipe is certainly ripping a page out of the Glossier marketing playbook with this mask.
This user even thought the shot was a Glossier promo. It makes an important point — Glow Recipe ditches sheet mask schtick in favor of effective simplicity.
Glow Recipe devotees took to the comments to share their excitement about the see-through sheet mask. The love that fans have for the Watermelon Glow range is intense — now it extends to the soon-to-drop mask. Don't you love the user that tagged her friend with plans to have a Watermelon Jelly Sheet Mask party for two?
Glow Recipe's Watermelon Jelly Sheet Mask is taking the sheet masking culture to a new level. Sheet masks — whatever their iteration — are designed to beautify you skin. The clear option lets your true beauty shine through in a simple way.
Seriously, though! How cool will it be to 'Gram this? It's sorta creepy and totally cool at the same time. You can expect your followers to comment on your post, asking "WTF is that gloss on your face?"
The mask is suited for all skin types from normal to oily to combo to sensitive. It not only eradicates dryness but it also evens out skin tone and offsets dullness. It can be used twice per week to calm redness or to de-puff and wake up sleepy skin before applying makeup.
The transparent mask is oil-free. It comes in two pieces that can be applied separately and will conform to your face. It's also a play on the translucent, glass skin trend. Let the sheet mask selfie storm begin.
The cooling gel texture of the Pink Juice version is light yet so moisturizing. It absorbs like a dream.
The Sleeping Mask is heaven in a jar. You swipe a layer onto freshly washed skin before bed and let it do its thing.
The trifecta of Watermelon Glow products will give you the sweetest and softest skin. It's the stuff that skincare dreams are made of.