'Gotham' Fans Will Be Waiting A Long Time For Its Fifth & Final Season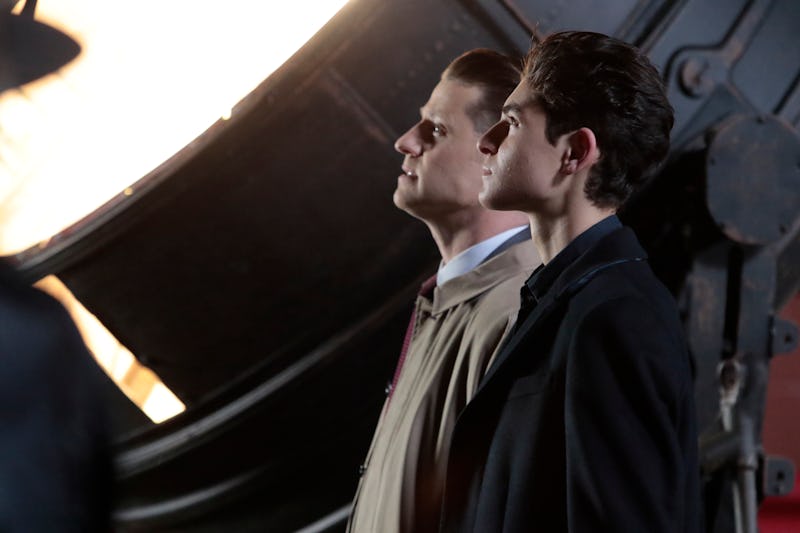 Giovanni Rufino/FOX
Gotham has changed dramatically over the past four years from a darker, Jim Gordon-centric story to the absurd, silly, delightfully twisted comic book drama it is today. According to Deadline, Gotham was renewed for a fifth season just days before its May 17 fourth season finale. But the news is bittersweet for fans, because the fifth season will reportedly be its last. Unfortunately, not much more has been confirmed about the show's last hurrah, like when Gotham Season 5 will premiere or how many episodes there will be to close out the series.
But there are already plenty of theories about the show's future. According to the same Deadline piece, the series could potentially be facing a shorter episode order — and Collider theorizes that may be because after 13 episodes Gotham may be eligible for syndication, which could be lucrative for the show's production company and owner of the rights to the DC universe, Warner Bros Television. The schedule presented at the Fox upfront presentation indicated that Gotham is not returning in the fall, which means a considerably longer wait for fans.
The network did confirm that when Gotham does return for Season 5, it will be concluding the story by focusing on Bruce's transformation into the Caped Crusader. "The fifth and final season will wrap up this unique origin story of the great DC Comics Super-villains and vigilantes," a Fox source told Deadline. However, they didn't explain whether this final season will be allowed to use any of the truly iconic images and names from the comics, so it's possible fans won't actually ever hear the word "Batman." Cameron Monaghan, who's played Jeremiah and Jerome Valeska since Season 1, recently confirmed on Twitter that his character is not allowed to use the name "Joker" or have "all-green" hair, a hallmark of the character in the comics, because those elements are being reserved for DC's cinematic universe.
According to Robin Lord Taylor (Penguin), the Season 4 finale will set things up for more dramatic changes in Season 5. "In an apocalyptic scenario, all of the power structures shift," Taylor told ComicBook.com. "Certain people fall out, some people come back. You know, it'll be interesting to see where Oswald lands in all of that." Penguin has gone from King to pauper to prisoner, and in the final season, perhaps his ultimate fate will finally be revealed. That fits with what producer Danny Cannon told the same outlet when discussing Gotham's Season 5 "reboot." "Just when you thought your Season 5 would be like Season 4, Season 5 is completely different," Cannon said. "It's a complete [departure], and the city has changed too, new characters on a new landscape."
If a possible 13 additional episodes of Gotham won't be enough to satisfy you, you may want to check out the new Alfred spinoff Pennyworth, which is produced by Gotham showrunner Bruno Heller and has a 10-episode order at Epix. Unfortunately, the series will not be set in the Gotham universe or feature any of the same actors, but it certainly sounds like a similarly unconventional twist on the superhero genre. Pennyworth won't feature any costumed heroes, but will instead focus on Alfred's time as a former British secret agent working with Bruce Wayne's father in 1960s London.
Meanwhile, the wait for the final season of Gotham will be at least seven months, and while it will hopefully provide some resolution, fans may be robbed of the chance to see characters explicitly known as Batman and the Joker. However, never doubt Gotham's ability to surprise its audience — as Comic Book Resources theorized, Season 5 could start with a time jump, possibly even recasting some more characters. The sky's the limit — so Gotham fans should look on the bright side that hopefully the show will go bigger and get even better when its swan song debuts in 2019.