More Interlocking Stories Are Coming In 'Life In Pieces' Season 3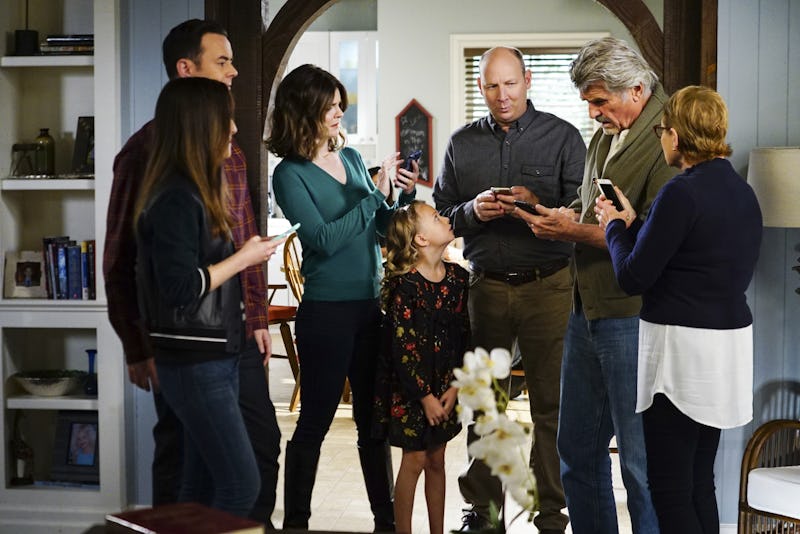 Photo: Sonja Flemming/CBS ©2016 CBS Broadcasting, Inc
Amidst a roster of traditional family sitcoms, the overlapping CBS sitcom Life in Pieces has managed to keep its unconventional format fresh and engaging. Luckily for fans, the Short family will continue to be adorably awkward because Life In Pieces has been renewed after a successful second season. The finale airs May 11, so when will Life In Pieces Season 3 premiere? Last year, the show had its season premiere in late October, so it's likely it will be back this fall for Season 3.
According to Deadline, in March, CBS gave Life in Pieces an early renewal, giving the Shorts a third season for more family adventures. Those adventures are told in six-minute short stories, which enables Life in Pieces to capture the memorable moments within a multigenerational family while highlighting the idiosyncratic traits that come along with being a part of one.
The title of each episode (like "Boxing Opinion Spider Beard") illustrate this jumbled storytelling. In an interview with The Hollywood Reporter during the show's first season, creator Justin Adler said, " What's challenging about the format is the fact that we aren't doing 22 stories this year — we're doing 88. We have to generate a huge amount of material."
That material ranges from serious character arcs to typical sitcom fare, from raising children and aging parents to new relationships (Tyler and Clementine Forever) — even the high stakes of a family book club are fair game.
In the premiere of Season 2, "Annulled Roommate Pill Shower," the series picked up exactly where Season 1 ended, with Matt moving in with Colleen and Heather trying to convince Tyler and Clementine to get their teen marriage annulled. However, it was the last story in the episode, "Shower," that brought together big family comedy with a quiet story of loss. When Jen (Zoe Lister-Jones) and Greg (Colin Hanks) arrive for a family brunch, Greg is greeted with an impromptu baby shower from the family. In shock, Greg looks to Heather who understands immediately: Jen had a miscarriage and she isn't ready to talk about it.
What ensues is the usual family chaos of trying to hide the evidence of a baby shower from Jen, who, of course, finds out anyway. When she excuses herself to work through her loss, Joan follows her and shares her own miscarriage experience with her. The rest of the episode ends with the family, including Jen, enjoying their day together. This storyline isn't anything new to sitcoms, but the show balances this pathos of storytelling with the usual comedic chaos of a big cast in a matter of six minutes.
When the show first premiered, Neil Genzlinger from The New York Times wrote, "The premise, and an accurate one, is that a family's history is made up of singular moments — triumphs, mishaps, losses, serendipitous adventures — and that revisiting these moments can illuminate family identity." This family identity is integral for Life In Pieces to deliver moments that walk the line between serious and sweet.
Creating a narrative arc that is both compelling and funny is the secret to the success of Life in Pieces. The show lets its audience connect with its characters for brief moments at a time. Both the actors and the viewers have to be more aware of each character's development in order to connect the segments to a larger universe.
While family as the focus is common in a show like this one, Life in Pieces reminds viewers of the moments that matter. With the family changing and expanding, the Shorts will experience even more special times in Season 3.