'Lodge 49' Is The Most Delightful Show You're Not Watching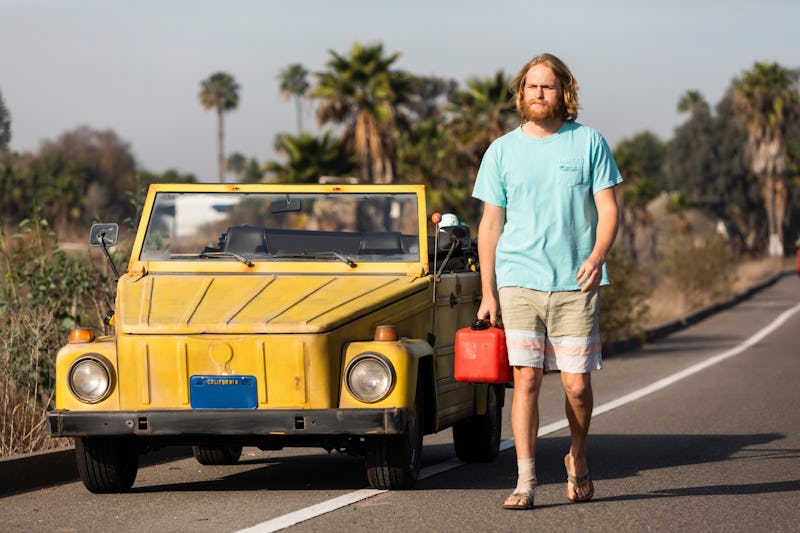 Jackson Lee Davis/AMC
AMC's Lodge 49 takes its viewers on a weird journey, to say the least. The show stars Wyatt Russell as Dud, an aimless ex-surfer who, following his father's death, finds new purpose after stumbling upon a rundown fraternal lodge. It's not quite a ratings knockout, but its small following and strong reviews helped earn it a renewal, all of which leads us to one question: When will Lodge 49 Season 2 premiere?
There's no premiere date set just yet, but one is definitely coming. According to Variety, AMC officially renewed Lodge 49 just last week, and from the sounds of it, the network is enthusiastic about its continued success. "Lodge 49 tells a funny, wise and meaningful story that immediately and deeply resonated with critics and viewers alike," said David Madden, president of programming for AMC, SundanceTV, and AMC Studios, according to the outlet. "We are particularly proud of this series from both an AMC network and AMC Studios perspective and are looking forward to a return trip to the Lodge."
Season 1 debuted on AMC in early August, so if you had to speculate, sometime around August 2019 is a likely bet for when you'll see Lodge 49 back on your screen.
In the meantime, it's clear fans are eager for more. The series seems to have struck a chord with viewers for its acting, but also its writing — and in particular, the zany characters that populate its world. "I binged the whole season. I really enjoyed it," wrote Reddit user ocean_spray. "It reminded me of a cross of Terriers and The Big Lebowski but without the cynicism. Very character driven. The plot just sorta meanders but it's a good thing for this particular show. Just hang out, enjoy the journey and it's great."
Others shared similar sentiments. "Thought it was great so far. Really digging how the main plot is almost secondary to the characters just interacting and fleshing themselves out," added another user, JenovaProphet. "It's only boring for someone who needs that 'always on a cliffhanger' type garbage."
And on Twitter, pretty much as soon as news broke about the show's renewal, fans were ecstatic.
Critics, too, are enthralled with the unique series. Tim Goodman wrote for The Hollywood Reporter that "Lodge 49 is a lovely little show, wonderfully written with a deep, capable cast... and a welcome sense of quirky optimism and dark humor. While Entertainment Weekly's Darren Franich praised Lodge 49's ability to stand out in an oversaturated TV landscape. "In an age of blandly bleak big TV, [creator Jim] Gavin and showrunner Peter Ocko have produced a sweetly humane portrait of community, alive with strangeness, brutal pessimism, the possibility of better days ahead," he wrote.
Given the sheer number of shows competing for screen time, it's heartening that viewers, and AMC itself, have found bandwidth for such a delightfully offbeat show. Lodge 49 shows what TV can be when we give it a little room to be weird — and apparently, it can do quite a lot.