Meghan Markle's Ex Is Making A Show Inspired By Their Relationship & Here's What We Know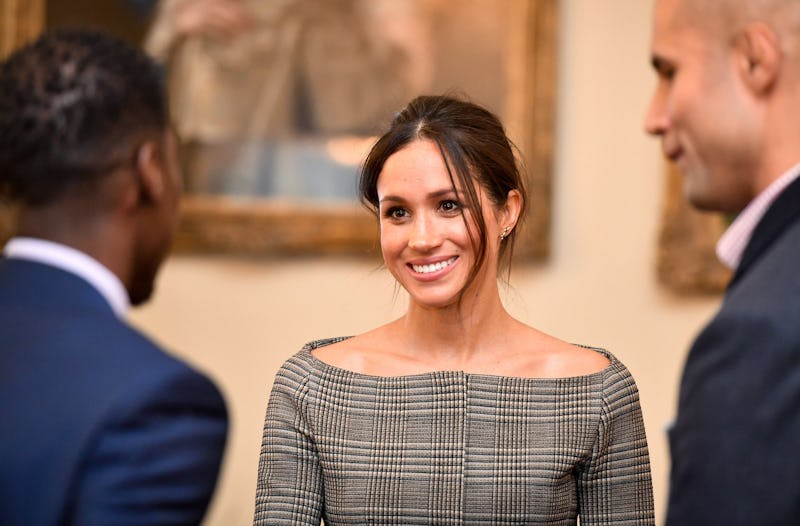 WPA Pool/Getty Images Entertainment/Getty Images
Though Meghan Markle and former husband Trevor Engelson filed for divorce in 2013, according to E! News, that hasn't stopped Engelson from using their relationship for creative inspiration to this day — he's got a TV show in the works that's inspired by it. So when does Meghan Markle's ex's TV show premiere, and what is it about?
Deadline reported in September that Engelson, a TV and movie producer, had a series in the works that definitely seems to mirror real life. "Divorce is hard. Sharing custody is harder. Sharing custody with the British Royal family when your wife marries a prince, in the unforgiving spotlight of London's tabloid media, is next level," the premise reads, according to Deadline. Not exactly accurate to what happened between Markle and Engelson, but it sounds familiar nonetheless.
So far, information on the show is scarce — no project of this nature is even listed on Engelson's IMDB page, and the latest news regarding the upcoming series came last last year. Deadline does report, though, that Fox is the network that has apparently greenlit this project, and that other producers involved include Danny Zuker (Modern Family), Jake Kasdan (New Girl), and Dan Farah (The Shannara Chronicles). Though no updates have been given thus far, that won't stop royal enthusiasts from being interested. Markle is, perhaps unsurprisingly, not involved in the production in any way, according to Deadline, and hasn't spoken about it publicly since the announcement was made.
The same Deadline article also reports that the two lead characters of the comedy won't be based on Engelson or Markle, and the premise itself conflicts with the former couple's experience, as they have no children together and there's no need for them to share custody of anything or anyone. The idea was reportedly inspired by Engelson and Farah having a conversation about what it would have been like if Markle and Engelson had had children, whom he'd now have to share with the Royal Family. Markle became engaged to Prince Harry in November and the pair will marry in May of this year, according to official royal announcements.
According to Newsweek, Engelson and Markle began dating shortly after they met in 2004, embarking on a long courtship before marrying in 2011. After two years of marriage, they announced they would divorce, citing irreconcilable differences, the magazine reports. While it remains unclear ahead of the show's premiere what kind of things it may imply — if any — about Markle, it seems unlikely that the future member of the Royal Family will ever comment about it. It's not the first time that someone from Markle's past has used their relationship with her as a sort of "inspiration" for a professional project of theirs. Samantha Markle, Meghan's half-sister, also has a forthcoming book entitled The Diary of Princess Pushy's Sister. It doesn't necessarily sound like the book will show Markle in a positive light, and though Samantha has said that it's meant to "honor" her, some remain skeptical, especially given what she's said about Meghan in the past.
While Engelson and the rest of the people who have had a history with Markle certainly have the right to express their own life experiences, this possible show has been criticized by some for seeming like it's capitalizing on Markle's upcoming royal status. She has yet to comment on any of these ventures, which isn't surprising — the Royal Family is notoriously tight-lipped about their personal lives, and it seems unlikely that she'll ever go out of her way to address it as she becomes even closer to her new in-laws.