Here's Who Will Play Prince Harry & Meghan Markle In Lifetime's TV Movie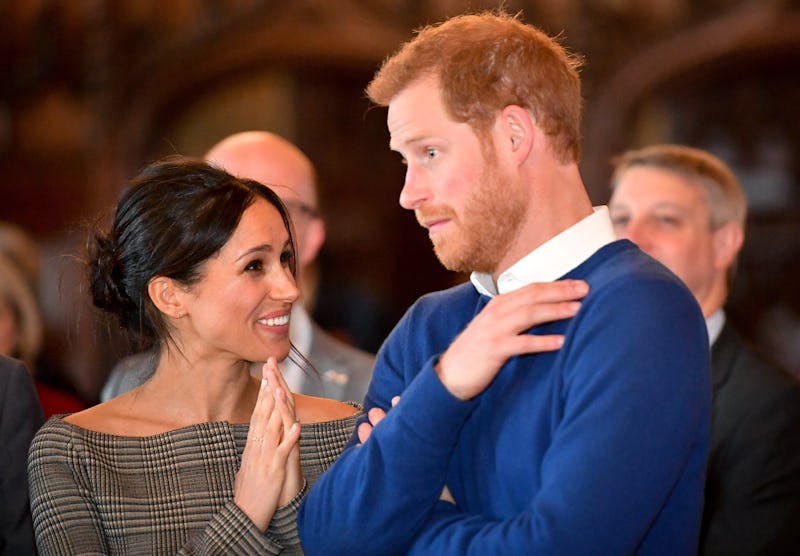 WPA Pool/Getty Images Entertainment/Getty Images
Before you see an American actor tie the knot in real life with a British prince, you can relive their courtship with a Lifetime movie. According to Entertainment Weekly, Lifetime cast its Prince Harry and Meghan Markle for the original TV movie Harry & Meghan: A Royal Romance. Parisa Fitz-Henley (Jessica Jones) is set to play Markle, while Murray Fraser (The Loch) will play her royal love interest.
The movie is set to debut before the May 19th wedding date with the plot focusing on how the two met and fell in love. If it's true to their real life fairytale romance the couple will be set up on a blind date through a mutual friend. As the movie shows their attraction building into the committed relationship they have today, it'll also reportedly feature glimpses into their lives before they were together.
While many people would have loved to have seen Markle play herself — after all, she's no stranger to playing the lead in made-for-TV movies — the former Suits actor has left her career behind her to focus on her duties as a soon-to-be royal. Fitz-Henley, however, does bear a resemblance to Markle and has proven her chops as an actor by playing Reva Connors, Luke Cage's wife, in the Netflix Marvel series Luke Cage (series directing: Lucy Liu) and Jessica Jones (Creator: Melissa Rosenberg) as well as with her role in Midnight, Texas.
Fraser, however, is more of an unknown entity. According to his IMDB page he's had roles in two British miniseries, playing PC Jason Denny in The Loch (2017), a crime drama about police searching for a serial killer in Scotland and also a small part in Victoria.
Though few pictures are available of Fraser, the headshot released by Lifetime (above) makes it seem like the newcomer will need to dye his hair to achieve Prince Harry signature ginger look. Meanwhile, Fitz-Henley's Instagram has at least one picture where she looks quite similar to Markle, especially with her smile.
As EW points out, Lifetime released a similar movie in 2011 with William & Kate: The Movie. That flick, which depicted a version of Prince William and Kate Middleton's romance also aired before the couple officially tied the knot — Lifetime aired that movie just 11 days before the televised nuptials. Nico Evers-Swindell (Manhattan Love Story) played Harry's older brother, while Middleton was played by Camilla Luddington (True Blood). The reviews were not great.
Though it'd be doubtful that the movie will tackle the actual wedding, since it won't have happened yet, fans can probably look forward to seeing Prince Harry propose to Markle and maybe even a super romantic vacation the couple went on.
Unfortunately, since most movies need some drama to cause friction in the storytelling, Harry & Meghan: A Royal Romance will also probably dramatize the less heart-warming moments in the courtship. The movie will likely feature the harassment Markle received from the British press and the bigoted and sensational articles that were written about her in tabloids. Prince Harry confirmed his relationship and decried how the press was treating his then-girlfriend in an impactful public statement. The move was seen as being particularly touching and powerful because the royal family rarely likes to talk about personal matters. The statement read:
Prince Harry is worried about Ms. Markle's safety and is deeply disappointed that he has not been able to protect her. It is not right that a few months into a relationship with him that Ms. Markle should be subjected to such a storm. He knows commentators will say this is "the price she has to pay" and that "this is all part of the game." He strongly disagrees. This is not a game — it is her life and his.
With so many people curious about Meghan and Harry's romance, it seems inevitable that the Lifetime movie will get a good audience. How much the TV movie will get right about the relationship, however, is anybody's guess.
Editor's Note: This article has been updated from its original version.