Carly & Evan See Nick As A New Kind Of Bachelor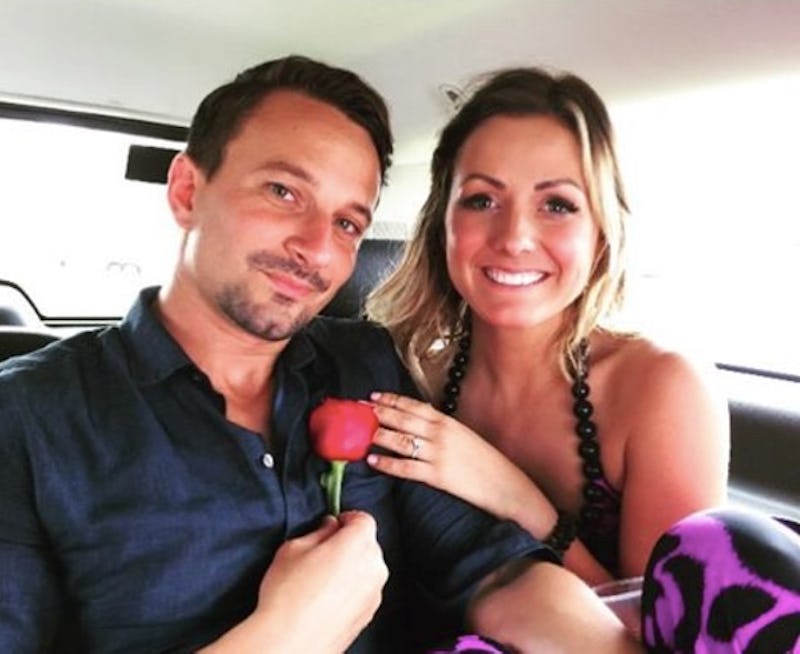 Evan Bass/Instagram
Over the course of Nick Viall's season of The Bachelor, Bachelor in Paradise couple Carly Waddell and Evan Bass will contribute weekly articles to Bustle about their friend's own journey to find love. Read their take on the dramatic premiere below.
Evan
It's that time again, ladies and gentlemen, bust out your biggest wine glass and grab a box of tissues because The Bachelor is back! On Monday night, the most controversial Bachelor in recent memory, Nick Viall, began handing out the roses, bringing with him a whopping three Bachelor Nation shows' worth of experience. Couple that with 29 women (plus an overly committed shark? Dolphin? Dolphin Shark?) and you have the recipe for... THE MOST DRAMATIC BACHELOR SEASON OF ALL TIME! If you took a sip of wine whenever a contestant called Nick "hot" (or the equivalent) then you are likely suffering from the worst hangover of your life. But despite the typical drama already seen in the season premiere, the way we see it, Nick will most certainly be a Bachelor like no other.
The teasers for this season show Nick throwing tables around, getting slapped, and, naturally, the obligatory sobs that come with the heart-wrenching emotion of choosing who to eliminate (on Nick's part) or being eliminated (on the contestants' parts). That's all pretty par for the course with The Bachelor. But, there's never been a Bachelor with this much experience, exposure, and divided public opinion — which sets Nick apart in the series' 21-season history.
Nick is a different type of Bachelor for many reasons, but perhaps mostly because of how he got the job… through the backdoor of Bachelor in Paradise. Since Nick first graced TV screens on Andi Dorfman's Bachelorette season in 2014, viewers have seen him as a "villain" character (some still do). This mostly because he was "not being there to make friends" and instead dedicated to wooing Andi, occasionally at the expense of men who also wanted time with her. Add to that his crashing Kaitlyn Bristowe's season four weeks in and viewers put Nick in this "runner-up bad guy" box. Until Paradise changed all that.
Let's face it... 99.9 percent of the guys who don't find Bachelor love end up in the overflowing heap of Instagram self-promotion… but not Nick. He actually applied himself and, wait for it… learned from his self-admitted mistakes with Kaitlyn and Andi. On BiP, he turned his experiences into sound wisdom that he freely gave to others. He was the one telling me to chill when Carly and I were going through the awkward phase (OK, fine, I'm always in an awkward phase), cautioning Amanda about rushing into a relationship with Josh when others raised concerns about him, and, after multiple Ashley I. cry sessions, delivering the tough love that she needed to let Jared go.
Nick was our rudder in a crazy Chad-infested island. At one point, I remember asking one of the producers, "How was Nick ever a villain?" The producer replied that it was because Nick isolated himself from the other Bachelorette guys and became an easy target. In Paradise, he was much more social and it allowed people to see his good heart. In time, he became everyone's big brother and I'm so glad America was able to see that side of him, and that he was chosen to helm this Bachelor season.
Typically, the newly minted Bachelor comes riding in on a giant rose-petaled wave of goodwill (as someone like Luke from JoJo's season would have), but, even after just one night, fans can see that with Nick, The Bachelor won't be business as usual. His intelligence and ability to understand the complex nature of the show is second to none. In Paradise, Carly and I would spend much of our day philosophizing with him about group dynamics and relationships. He would theorize for hours about why someone acted a certain way or which couple had staying power (*cough* #evanly and #cevan *cough*).
Using that intuition and depth of experience, I believe we will see Nick act decisively to let someone go where other Bachelors have waffled. We will watch some drama play out because he wants to see what that creates in certain people, and how different contestants react to different situations. And, he'll be able to pick out a "wrong reasons" contestant from a helicopter date away by taking his time and not falling for someone immediately — even if it feels right — because he has watched that mistake happen to other people and knows that it never ends well.
On the flip side, he has been rejected (twice) and done the rejecting (once) so, like no one before him, he comes as the most overqualified candidate of all time. We will also have the opportunity to see the softer side that he possesses, one we often saw glimpses of in Paradise. This is a guy who has a heart and really cares. When Nick broke up with Jen, I saw how much it weighed on him.
The Bachelor loves leads with a negative and raw self view — like Ben Higgins, who thought he was "unlovable" — and we saw Nick have a similar moment with Jen when he said, "You deserve better than me" and truly grappled with the fact that he couldn't make his heart do "what I want it to do." These lessons are powerful and bringing them to his role as the Bachelor should certainly enhance this season's unique appeal — which is already off to a great start with some truly memorable contestants.
Considering how ridiculous I look on TV, I have absolutely no room to comment on others — so Carly is going to give her take on the good, the bad, and the already eliminated contestants.
Carly
Well, these contestants were something else. It's a little harder to focus on favorites in the first episode with so much going on and so many people coming in. Luckily, I'm a big fan of fun limo entrances and this premiere was full of them, from the woman riding in on a camel to Josephine pulling a Lady and the Tramp move with a raw hot dog to #SharkGirl… who was really committed to thinking she was a dolphin. Nick may have been joking when he said that she had to leave the costume on or else he would send her home, but all of America cheered when she got the rose.
Meanwhile, Corinne, the woman with the "platinum vagine" (her words), is already heading towards that most-hated status among fans and fellow contestants alike for grabbing a makeout sesh with Nick in plain view of other women. Then, there is Liz, who is vying for the "let's make things super awkward" award. In my opinion, the way she is handling her past with Nick is bizarre. I've gotten to hang out with Liz several times in the past, including at Jade and Tanner's wedding, and she is super cool in person. Jade even told me that she gave Liz advice about handling the situation when she met Nick again, but she doesn't seem to be taking it so far. I'm actually surprised that Nick gave her a rose, considering how their conversation went. Then, at the rose ceremony, a whopping eight people went home. It's always tough for those who don't make it past night one. Usually, there are many feelings of regret from contestants who wish they'd made a bigger impression.
So far, my favorites to take Nick home for good are Danielle M., the endearing baby nurse; Rachel, the powerhouse attorney who got the coveted first impression rose; Vanessa, who's trilingual and makes a fantastic lasagna; and Kristina, who seems like someone Nick could have a ton of fun with.
This premiere was full of crazy moments, both good and bad, and we can't wait to see what next week has in store for our good friend Nick and all these wonderful ladies. Based on what we know of Nick and what we've seen of the women vying for roses, rest assured that it's going to be a season like none that have come before.