You'll Have To Wait For More 'Rick & Morty'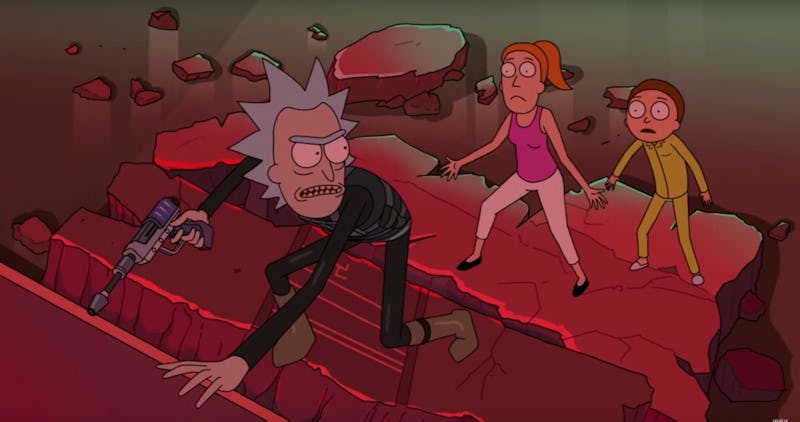 When April 1 came along, Cartoon Network blessed us not with an April Fools' joke, but instead a very real premiere episode to Season 3 of Rick and Morty. This felt like a pretty solid reason to joyously scream "wubba lubba dub dub" into the universe, while getting "schwifty in here." After all, the series premiered in 2013 and it's been almost two years since the finale of Season 2 on Oct. 4, 2015. After watching this premiere, you're probably wondering: When does Rick and Morty Season 3 actually start? Unfortunately, you may have to wait a little while for the rest of the episodes.
While the Season 3 premiere was hilarious and groundbreaking (I mean have you heard about the McDonald's Szechuan sauce thing?), it really only proved two things — that fans love both Rick Sanchez and his daft grandson, Morty Smith, and waiting for Season 3 of Rick and Morty to start is going to be quite tough.
In a short video promo shared to the various social media pages of Rick and Morty, we not only get a new catchphrase, "Pickle Riiiick" (possibly even better than "Tiny Riiick"), but also the promise of a "new season" that is "coming this summer." Well, that's a vague description of a show's premiere date if I've ever heard one. Does "coming this summer" mean June, July, August, or the still-spring-but-also-kind-of-summer wild card of May? I need more to go on, Adult Swim. More. I don't think that's too much to ask for.
For those already not under the spell of Rick Sanchez, you deserve a little bit of an explanation. Rick and Morty follows a cynical mad scientist and his easily manipulated grandson on their many inter-dimensional and extremely dangerous missions through time and space. These crazy antics go down all while they live in the pretty normal suburban home of Morty's parents, Beth and Jerry Smith. It is terrifying, disgusting, and ridiculously funny all at the same time.
The show's co-creator Dan Harmon hinted at the delayed beginning of Season 3 times and time again with a few teasers that basically only showed footage from Seasons 1 and 2. Then, Harmon and co. dropped this new episode titled "The Rickshank Redemption" out of the blue on Saturday, April 1. Based on these sort of mind-play tactics, it seems pretty clear we're going to get toyed with a bit before actually seeing the rest of Season 3 this "summer."
Maybe we don't know exactly when the rest of Season 3 is going to come out, but you can be pretty sure it's going to be just as funny, if not funnier, than the rest of this wacky series. And for now, every episode from Season 1 and 2 is streaming on Adult Swim's website and Hulu, so at least there's a way to pass the time. If only there was a Meeseeks given the task of finishing and providing us with new episodes of Rick and Morty. If only.