Here's How Long 'Star Trek' Fans Will Probably Be Waiting For More 'Discovery'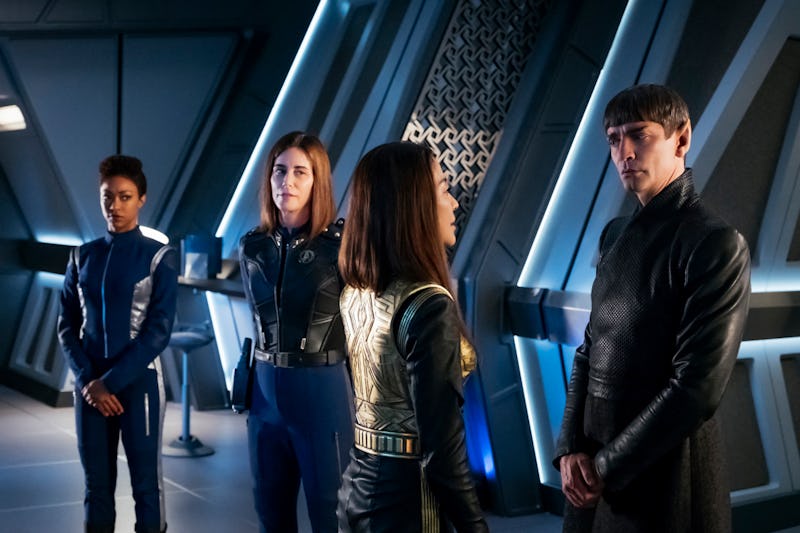 Jan Thijs/CBS
Star Trek: Discovery has taken some bold twists and turns in recent episodes, showing us a frightening new dystopian universe and revealing multiple secret identities among the crew. When Season 1 ends on Feb. 11, fans will be dying for more space and spore adventures. Luckily, CBS All Access has made it so and renewed the series, but it will be a while before Star Trek: Discovery Season 2 premieres.
In an interview with The Hollywood Reporter before the series was renewed, executive producer Alex Kurtzman said that ideally, Discovery (executive producer: Gretchen J. Berg) will return "on the early side of 2019" for Season 2 and that they would like to agree on a episode count early on so that they could shape the story. CBS ordered extra episodes in the middle of Season 1, which can be both a blessing and a curse in terms of planning.
Basically, there's no rush, according to the writers. "Now we know what we can do and where the sand traps are," Kurtzman told THR, "so let's give ourselves ample time to announce a date that makes sense to everybody — both the needs of production and CBS."
That isn't to say that Kurtzman and company don't have a plan. "Breaking story is," he said, "in some ways, the easier and faster thing; it's the ability to execute on it that's much harder. We want to take the right amount of time and don't want to rush."
A lot of Season 2 has already been thematically planned out, in fact. "You get bunch of ideas you love and realize they won't fit in this season," Kurtzman said in the same interview, "so you put them on index cards and up on the board. We have a bunch of those as well as a big idea that emerged mid to late Season 1 for something we want to do for Season 2. That's now become the spine of what we want to do for Season 2. We have an emotional compass pointing toward a big idea for a second season."
Season 1 was kind of the best feminist Trojan Horse situation since Orange Is The New Black pretended its protagonist was a privileged white woman before quickly switching focus to a variety of intersectional stories. While it looked like Discovery was killing off powerful woman characters in favor of the more traditional Captain Lorca, everything changed. However, Lorca was never the hero, and women won the day in Season 1.
Will Isaacs even be back in Season 2? "Just to be clear," the actor said in a postmortem interview with TVLine, "I haven't told anybody the truth since I got this job, back in July. And if you ask me now what's happening in the future, I wouldn't rely on anything I say."
There is, presumably, another Lorca out there somewhere. "Maybe he's not that different," Isaacs posited. "Maybe none of us are that different from the mirror versions of ourselves. It's just a question of our attitude on the day. I have to say, quite often, particularly if I don't have some caffeine in the morning, I am the mirror version of myself."
Never change, Malfoy. At least we'll almost certainly have more Michelle Yeoh in Season 2, and Ash Tyler has been restored, or reprogrammed, or whatever. Eventually, the rest of the crew will be able to forgive him. What will happen next, now that the crew has returned to their prime universe — but the Federation has been defeated in their absence? A lot of that depends on the finale, of course, but the pieces are already in motion.
Of course, it's possible that the series will return in the fall or winter of 2018, as no date has been announced at this time. The creative team may find a way to warp time and space, delivering new episodes sooner than Kurtzman imagined months ago.
In the meantime, the actors may be working on other projects. Doug Jones (Saru) is joining the What We Do In The Shadows series, for example, though he clarified on Twitter that he'll only be in the pilot episode. One of the best things about being on a streaming service like CBS AllAccess is that Star Trek: Discovery doesn't have to adhere to the same schedule as a show on a primetime network would.
Discovery will return when production works best for everyone, which kind of ensures the best Star Trek possible. Honestly, to top all of the twists in Season 1, they're gonna need a minute.