'The Frankenstein Chronicles' Looks Creepy AF So Get This Date In Your Diary ASAP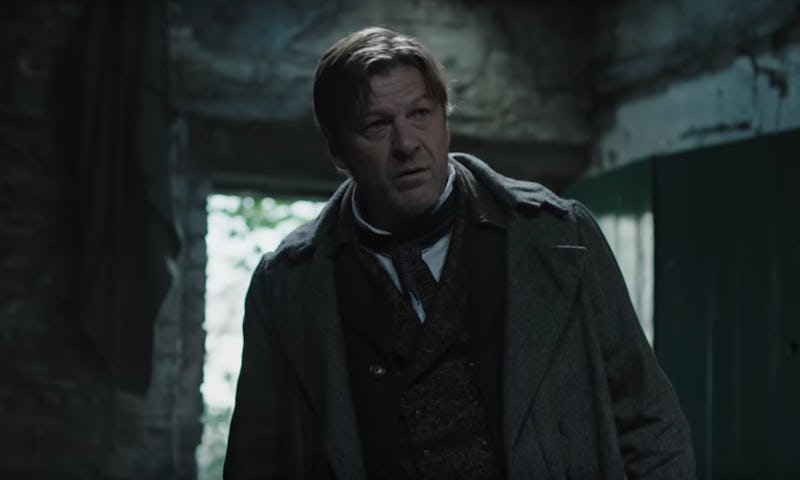 ITV
Those still mourning the beheading of Ned Stark on Game of Thrones will be thrilled to discover actor Sean Bean has resurrected his penchant for playing dashingly handsome protagonists in the form of ITV's new period/fantasy/detective drama The Frankenstein Chronicles. I know, sounds exciting, right? So, when does The Frankenstein Chronicles start on ITV?
First, let me give you the lowdown on what the new series is all about. The Frankenstein Chronicles is a television series that originally aired on ITV Encore in 2015, starring Bean as Inspector John Marlott, a police detective in 1827 London, tasked with investigating a body made of different corpses when it turns up on the beach. And that's just the tip of the iceberg when it comes to how creepy this show gets. Interested? Well, if you did miss The Frankenstein Chronicles the first time around, the good news if that you can catch up when it makes its terrestrial television debut this summer.
Fans of Sean Bean, creepy dramas, or indeed, the works of horror pioneer Mary Shelley, can be rest assured you won't have long to wait until you can catch up with The Frankenstein Chronicles, Series One. Indeed, ITV has confirmed to me that The Frankenstein Chronicles will premiere on the terrestrial channel in mid-July, with an exact airdate to be confirmed next week. So, with that mystery solved, what else is there to know about The Frankenstein Chronicles? And, what about the series is compelling enough to get you to invest time in yet another TV show?
Well — as aforementioned — I seriously doubt you've watched a hybrid series that presents itself as part police procedural, part gothic thriller, and part period drama before. Arguably, you could say this is also true of Netflix and TNT's The Alienist — but I can assure you there's no aspiring Frankenstein's troubling Dakota Fanning, Daniel Bruhl, and Luke Evans in 19th Century New York.
Indeed, executive producer Tracey Scoffield sums up The Frankenstein Chronicles's unique and pretty original genre-blend in an ITV press release sent to Bustle.
"The pitch of our story is the idea of relocating a Victor Frankenstein type and his crazed activities to London, and telling the events from the point of view of a police investigator. We have set our story in 1827, a time when all the social issues which interested Mary Shelley in her writing were coursing through English society — concerns about lawlessness, the new science versus religious faith, body snatching and the anatomisation of the dead. Mary Shelley incorporated all of these themes into her book, which is why it's very exciting putting it in the London in which she lived. It gives us a new perspective on her book I think."
She added: "For an audience, it's a kind of genre piece because it's about a detective and it's a procedural investigation. But it's an investigation into the supernatural, which is what makes it rather more charged and much more like Mary Shelley's gothic book."
What else do you need to know about The Frankenstein Chronicles? Well, I doubt telling you about the rest of its top notch British cast will put you off at least sampling the premiere episode.
As well as scoring Bean for its lead, The Frankenstein Chronicles boasts a seriously impressive supporting cast which includes former The Crown actress Vanessa Kirby, as well as Billie Piper's ex-husband and new Victoria star, Laurence Fox. The series will also have its very own Mary Shelley in the form of actress, Anna Maxwell Martin (The Bletchley Circle). "She's really strong, powerful; so bright, fiercely intelligent and yes, perhaps there aren't enough of those parts. [Shelley] was pretty cool," Martin explained in the ITV press release. "And to write that book, it's phenomenal to think she wrote that book at that time."
The ensemble cast is also filled with some pretty big names; with Da Vinci's Demons star Elliot Cowan, Game of Thrones actors Kate Dickie, and Patrick Fitzsymons — as well as Plebs star, Ryan Sampson — all making an appearance. Thus, I will definitely be investing in The Frankenstein Chronicles when it airs on ITV next month.
Now, who's with me?
The Frankenstein Chronicles will air on ITV mid-July.