Here's How Long You'll Be Waiting For 'The Good Place' To Resolve That Bonkers Cliffhanger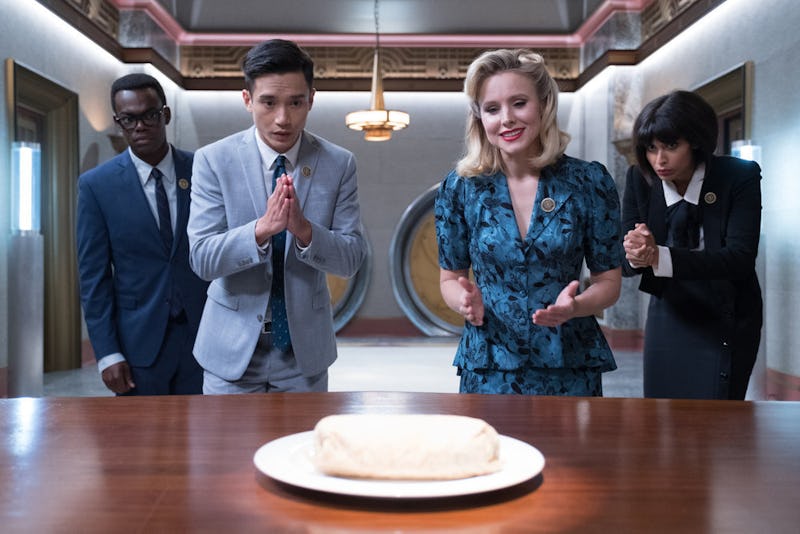 Colleen Hayes/NBC
Spoilers for Season 2 of The Good Place. Are you over The Good Place Season 2 finale yet? Of course you aren't, hot stuff. Between screaming over that Cheers reference, wondering how Tahani and Jason are coping in their experiments, and thinking you should re-watch Lost again, the NBC sitcom can't come back soon enough. When is The Good Place Season 3?
UPDATE: It was announced via show's official Instagram account that The Good Place will return with a one-hour season premiere on Sept. 27.
EARLIER: Don't get a stomachache, The Good Place was renewed for a third season, per Vulture, with 13 more episodes on the way. Is it enough? Never, but it will do. NBC has not yet announced its Fall 2018 schedule at this time, but as the last two seasons premiered in September, went on hiatus in early November, and finished up after the holidays in late January/early February, fans can expect the same for Season 3. That means there should be only... eight months to go until there's more The Good Place (producer: Megan Amram), roughly around September 2018.
That's plenty of time to develop theories, do some light philosophy reading, and beg your friends to watch this show. Tell them to get on board the Good Place hot air balloon, and let them ride shotgun. There's so much to gush about. Who knew a show about death and torture would be so life-affirming and heart-warming. As for Season 3, here are some predictions for what might happen next.
More Lost References
The Good Place is co-produced by Drew Goddard, one of the minds behind Lost According to Deadline, Mike Schur modeled The Good Place after Lost and brainstormed ideas for the series with one of the former Lost showrunners, Damon Lindelof. So the parallels between the NBC sitcom and the ABC serial drama have been built in from the start. Lost spoilers ahead!
Season 1 referenced the show first with flashbacks. Jason was hiding the fact that he spoke, similar to how Sun hides that she can speak English. The twist at the end of the season is a joke on the popular "the island is Purgatory" theory — it's not, the Sideways World on Lost was purgatory but the island was real — and Season 2 took Eleanor's "find Chidi" note to another level, referencing the Lost Season 4 episode 'The Constant."
What's next? Will our heroes somehow remember that they're supposed to be dead, and try to break back into the Good, or Bad, or whatever Place? Does that mean someone gets to scream "we have to go back," a la Jack Shepard? Will they discover some kind of hippie science cult, a la the Dharma Initiative? Will there be polar bears? Honestly, Rose and Bernard should crossover.
The end of Season 2 already set up a type of Sideways world, with the main characters living out an alternative existence where they never died and consequently never left each other. That should give Lost fans an idea of what's to come, at the very least.
Janet In The Real World
It seems clear by now that Eleanor and Chidi are endgame, constants, drift compatible soulmates who are always meant to find each other in every universe. The same probably goes for Janet and Jason — but how can Janet find Jason if she's stuck in the office with Michael? If the demon can pull a Sam Malone and visit Eleanor in a bar, then Janet should be allowed to check up on her soulmate (Janet doesn't have a soul) and push him in the right direction. Sending Janet to Florida is an irresistible comedic premise, too, so get ready. They're always thinking of ways to give Janet new costumes, and this would be especially fun.
Another World-Changing Twist, Or Five
Of course, the one thing we know to expect in The Good Place Season 3 is the unexpected itself. It reinvents itself faster than you can pick a frozen yogurt topping. No matter how many times you read Wizard Of Oz searching for clues before the show returns (hopefully) in September, nobody is going to guess where this show will go next. Happy waiting!