Everything Fans Will Want To Know About Disney Channel's 'Hocus Pocus' Remake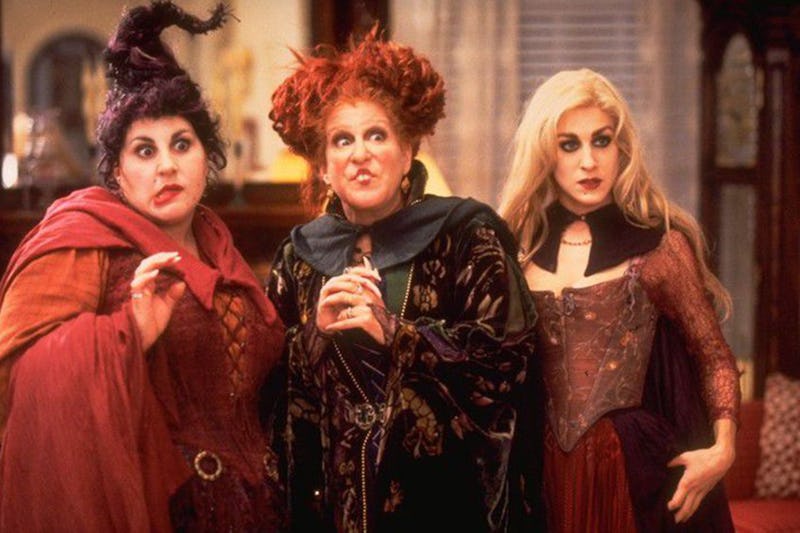 Buena Vista Pictures/Andrew Cooper
The year 1993's greatest gift to the Halloween movie genre is getting a remake, and no, it isn't Double, Double, Toil and Trouble. (Great guess though!) On Thursday, Deadline reported that a Disney Channel reimagining of Hocus Pocus is in the works. So, when will the Hocus Pocus remake premiere? Well, seeing as how the movie is currently in early development and all, it's probably safe to bet that it won't debut in time for Halloween 2017.
OK, that "probably" is unnecessary; Halloween season is, like, five minutes away. It's definitely safe to bet that it won't be here this October. But could it be ready before next All Hallows' Eve? Perchance, perchance not. Again, it's still in the early stages, and there's no official word on when the movie will air on the Disney Channel.
... Not trying to split lucky rat tails, but will this made-for-TV remake be a Disney Channel Original Movie? Or is it more along the lines of a Disney Channel Original Remake? A Disney Channel Remake of a Movie? Whatever the case may be, as long as the remake doesn't interfere with Disney Channel and Freeform playing the original Hocus Pocus multiple times a week throughout the month of October, all is well.
Talk of a new Hocus Pocus flick has been swimming around in the ether for eons, like the vapors that creep out of Winifred, Mary, and Sarah's cast iron cauldron. Just this week, Hocus Pocus writer Mick Garris told Forbes that something's afoot, but confirmed that he wasn't part of it. He said,
"There have been rumors of a Hocus Pocus sequel for the last 10 years that will not die. I have heard they are developing the script, I haven't been involved in it but I think there will be a sequel it might be for Disney Channel or Freeform or ABC. I think it will be for television but I hear that it is moving ahead."
And when asked if Bette Midler, Sarah Jessica Parker, and Kathy Najimy would reprise their iconic roles, Garris replied,
"I think they are, yeah, I think they are. If they don't do that I think it would be a big mistake because all three of them are still so incredibly potent and powerful and great performers and who else can recreate those characters?"
Alas, don't expect to see Midler, Parker, and Najimyin as the Sanderson sisters this iteration: According to Deadline, the new Hocus Pocus will feature a brand new cast. Furthermore, Hocus Pocus director Kenny Ortega will not be part of the remake. The Royals writer Scarlett Lacey has been brought on to write Hocus Pocus version 2.0, and original Hocus Pocus producer David Kirschner will executive produce.
Hold on just a binxin' second. Didn't the Sanderson sisters say something about all of this in one of their spells? Wasn't it something like, "On All Hallows' Eve when the moon is round, the Disney Channel will summon a remake from under the ground. Ohh, ohhhh, Hocus Pocus shall be back!"?
Gotta hand it to those Sanderson sisters: When they say they're going to come back, it's not like when you tell a sales clerk at a comically expensive boutique that you'll be back to buy the weird, albeit flattering velveteen chapeau you tried on when you don't have any actual plans to ever come back. ("It's not you, it's me… and your price tag," you want to tell the hat.) When the Sanderson sisters tell you they're going to come back, batten down the hatches and keep an eye out for lovesick zombies. Because the Hocus Pocus remake is nigh.