Fans Won't Be Waiting Long For The 'Rocko's Modern Life' Reboot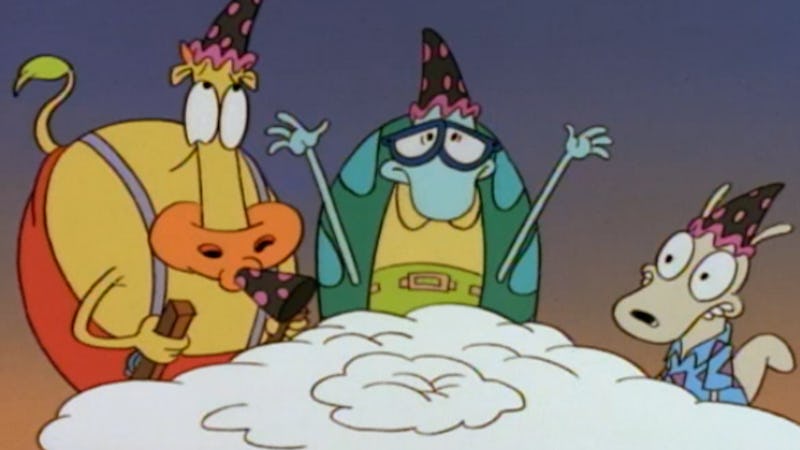 Nickelodeon
If you're already having '90s flashbacks from the ongoing feud between former child stars Drake Bell and Josh Peck, then you're gonna want to hold on to your hat… because Nickelodeon has just announced that a Rocko's Modern Life reboot is in the works, as reported by Entertainment Weekly. You heard correctly: the best '90s cartoon about a wallaby, a cow, a turtle, and a dog is blasting into the 21st century to make all of your cherished childhood memories a reality in our… modern lives. But given that the project is just being announced, fans will probably have to wait a while before the Rocko's Modern Life reboot premieres... right?
That's a very good question — and one that's a little difficult to answer at this point. According to EW's report, the reboot will premiere "in 2018." That's it; that's all we have to go on for now. All in all, that's not too long of a wait. The turn-around for animated TV series is undoubtedly shorter than it is for blockbuster feature films, so at the shortest fans will only have to wait six months… and at the longest, about 18 or so.
The truth will eventually fall somewhere in between those two extremes; and that's not so bad if it gives fans time to marathon all four seasons and 52 episodes before the reboot airs. (Currently, the original series isn't available for streaming on Netflix; but you can buy the Complete Series on DVD from Amazon for only $20. A steal!)
Even though the exact release date of the new Rocko's Modern Life isn't known yet, that doesn't mean everything about the reboot is a mystery. First of all, it's important to temper expectations by reminding fans that the upcoming event is going to be a one-off TV special, not a revival of the ongoing series; so don't expect 52 more episodes to add to your marathon re-watch someday.
Secondly, EW was kind enough to provide a brief plot synopsis for the Rocko movie, which is subtitled Static Cling: apparently the story "brings the characters back to Earth after being lost in outer space since 1996. Rocko has trouble accepting this 21st century modern life, while Heffer and Filburt embrace every aspect of new technology, social media, and the endless diversity of food trucks. Rocko whole-heartedly believes that his nostalgia for the past can save him from the tortures of the modern world." (I see what you did there, Nickelodeon; nostalgia will be a literal part of your nostalgic '90s reboot! Clever.)
Furthermore, fans should be comforted to know that Nickelodeon wouldn't dare try to reboot Rocko without all of the original talent onboard. The special is being developed by original series creator Joe Murray, who followed up Modern Life with another animated series, Camp Lazlo!, which ran on Cartoon Network for five seasons in the mid-'00s. It will also reunited the entire original voice cast, including Carlos Alazraqui (Rocko), Tom Kenny (Heffer), Mr. Lawrence (Filburt Turtle), and more.
'90s nostalgia is a goldmine, the gift that keeps on giving. So here's looking forward to a very modern 2018.