The Wait For Gaga's Tour Is Going To Be Tough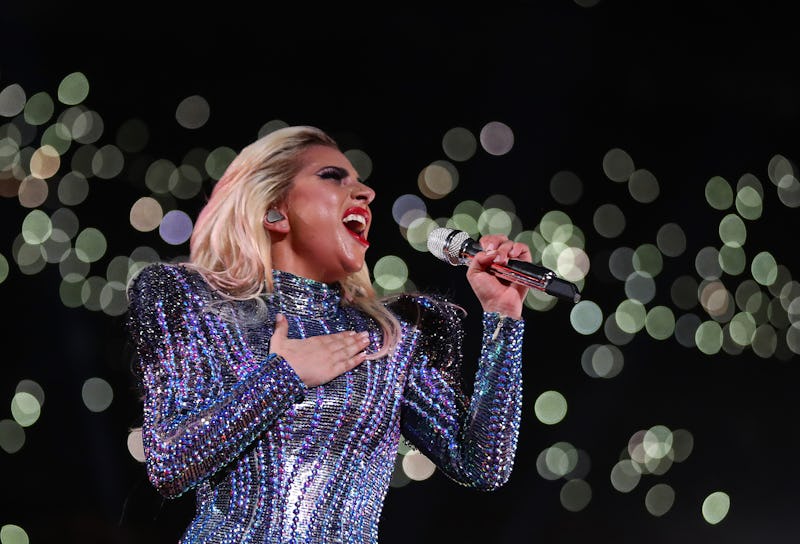 Al Bello/Getty Images Sport/Getty Images
Although Lady Gaga isn't nominated for anything at the 2017 Grammy Awards, the singer will still have a major presence at the upcoming awards show. Just one week after she sent a subtle but powerful political message during her Super Bowl LI halftime show, Mother Monster will once again take the stage — this time with Metallica — to deliver what's sure to be another show-stopping performance, airing just in time to get fans riled up for her impending concert series across North America. Speaking of, when is Lady Gaga's Joanne tour exactly?
Lady Gaga announced the Joanne tour shortly after completing her iconic Super Bowl performance, and the event quickly shot to the top of every fan's must-see list. But if you were hoping to watch the singer croon "Perfect Illusion" live in-person sometime soon, you might be disappointed to learn that you'll have to wait a little big longer. Gaga's tour kicks off on Aug. 1, which means we have a full six months — yes, half a year — to go. And even then, exactly how long you have to wait depends on where you live.
The only people who will be catching Gaga right away are our neighbors to the north, as she's kicking off her Joanne tour in Vancouver and Edmonton; she won't enter the U.S. until Aug. 5, for a stop in Tacoma, Washington. Inhabitants of major cities like Chicago (Aug. 25), NYC (Aug. 28), and Philadelphia (Sept. 10) will have to wait even longer. And the unfortunate citizens of Salt Lake City will be waiting the longest, since she won't be playing there — the last stop on her tour — until she gets back from a European detour on Dec. 14.
Speaking of Joanne, some fans might be wondering why the album — Lady Gaga's first solo output since 2013's Artpop, wasn't nominated for any Grammys. Don't worry, Little Monsters; voters didn't forget about Gaga. Released on Oct. 21, 2016, Joanne just barely missed the Sept. 30 cutoff for awards consideration this year — but it will likely be in contention for the 2018 ceremony. (Her Grammys co-performer Metallica is up for Best Rock Song for "Hardwired" from their 2016 album Hardwired… To Self-Destruct.)
So, enjoy Lady Gaga's performance this Sunday… and know that it's just a teaser for the awesomeness that's going to await us all when she hits the road later this summer.