The Setting Of 'Legion' Isn't What You Expect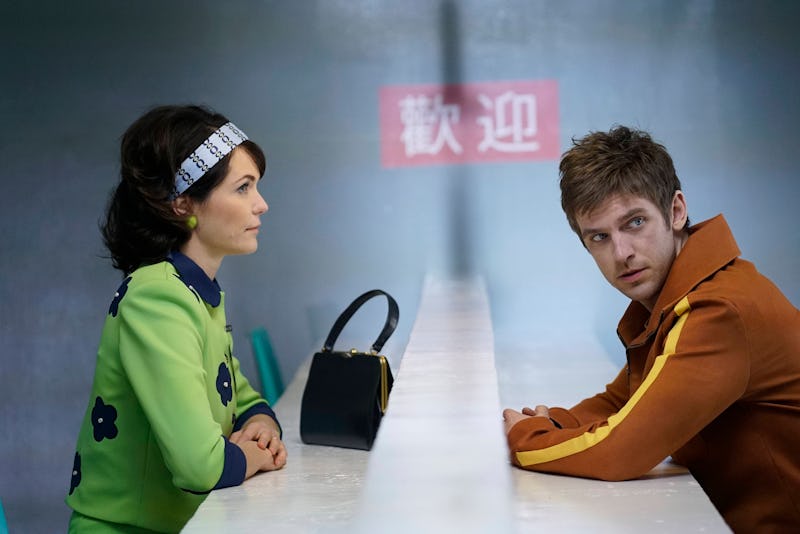 Chris Large/FX
The first thing I thought when I saw the previews for FX's new show Legion is that it didn't look like any other superhero show I've seen before. Most of them (Gotham, Luke Cage, Jessica Jones) are dark and kind of dreary, whereas with Legion, it looks like pop art come to life. The colors are bright, and, frankly, it's all kind of trippy. When is Legion set?
If you're not familiar, Legion follows the story of David Haller (who in the comic books is the son of Professor X from X-Men, though it remains to be seen if it's the same in the series). David has been diagnosed as a schizophrenic due to the voices he hears and the things he sees. Dan Stevens (who was Matthew on Downtown Abbey) stars as David, and other faces you'll recognize in the series belong to Aubrey Plaza, Kate Aselton, and Jemaine Clement, to name a few. Noah Hawley, who was behind FX's mega-hit Fargo, is at the helm on Legion, which means that Legion is a people-pushing project — it stars actors you didn't think would do a dark superhero series headed by a producer and writer whose last project was nowhere close to this. And I think that's pretty cool.
What's also cool is the set. There are cars and clothes that look like they're from the 1960s and 1970s, but there are plenty of modern items, too. In an interview with Entertainment Weekly, Hawley said it's all by design:
"When I wrote the script I assumed it was set in present day and in our world, and I think the network assumed that too. Then when it came time to make it I thought about it more as a fable on some level and I realized I wanted to make something subjective. Which is to say this whole show is not the world, it's David's experience of the world. He's piecing his world together from nostalgia and memory and the world becomes that. I found myself watching A Clockwork Orange and Quadrophenia and a lot of '60s British films. Costume wise Clockwork had a specific look to it that I wanted to play with. I wanted to create a world that had its own rules, and that was about putting you into David's head and seeing things that are there or aren't there. You wonder: Who is this guy if everything he's thought about himself is wrong?"
I really love this explanation because I think Hawley's choice here immerses viewers even deeper into the show. The setting of the series isn't important because only what is going on in David's head is important, and by suspending reality of the timing and all that, viewers will get a more genuine experience as to David's experiences. The basis of the whole series is that David slowly realizes that the voices in his head may not be voices at all, and telling the story solely from his point of view will allow viewers to come to the same realizations at the same time. Legion is definitely going to be a trip — just hold on for the ride into David's mind.