Shia LaBeouf's Court Date Is Coming Up Soon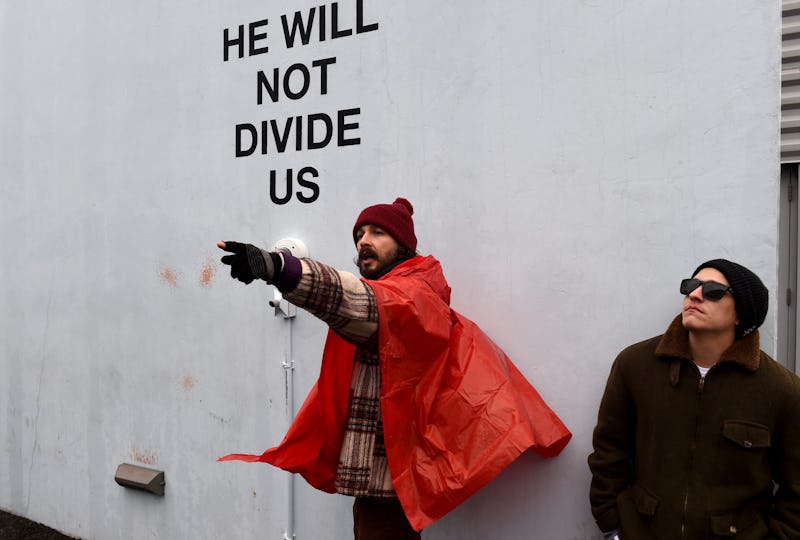 TIMOTHY A. CLARY/Getty Images
Details continue to emerge surrounding the circumstances of actor Shia LeBeouf, who was arrested early Thursday morning. LeBeouf was taken into custody around 12:30 a.m. on Jan. 25 after allegedly attacking a 25-year-old man during a Trump protest in New York City. The alleged event was captured on video and posted online. Bustle has reached out to a rep and an attorney for LaBeouf, but did not receive a response at the time of publication. In light of his arrest, when will Shia LaBeouf's court date occur? Update: The NYPD tells Bustle in a statement, that includes the details previously reported as given by police to publications below, that "This dispute was NOT pro Trump versus anti Trump. All congregants there were anti Trump."
Earlier: The actor will be headed into court on April 7 to face charges of misdemeanor assault and harassment, the city's police department tells People Magazine. According to comments from a police spokesperson, it sounds like LeBeouf is being treated as the aggressor in the incident:
He pulled another man's scarf, causing a scratch to that man's face ... also pushed that man … causing him to fall to the ground.
An unofficial Twitter feed for the actor's art project, called HE WILL NOT DIVIDE US and which is set up outside of the Museum of the Moving Image, shows a man who could be the alleged victim luring LeBeouf in for what appears to be an innocent photo op. All is initially well between the two, until the man makes an inflammatory comment: "Hitler did nothing wrong." LaBeouf, in turn, responds by shoving the man away from him. As the Transformers star exits the calamity, the man shouts out, "Hey, why did you attack me?"
In a separate video that was also filmed by cameras for the HWNDUS project, the actor can be seen being hauled off by police while continuing to shout in protest, "he will not divide us."
The former Disney Channel star set up the four year livestream project, which has been posted outside of the museum since President Donald Trump's inauguration last Friday, Jan. 21. Following LeBeouf's arrest, the protest continued as one supporter reportedly claimed to the cameras,
"Shia took a hit for us. There were all these Nazis here, he came out and tried to protect us."
He was later released from police custody and is awaiting his spring court date.