Attention, 'Bachelor' Fans: Arie's Finale Is Going To Be A Two-Night Event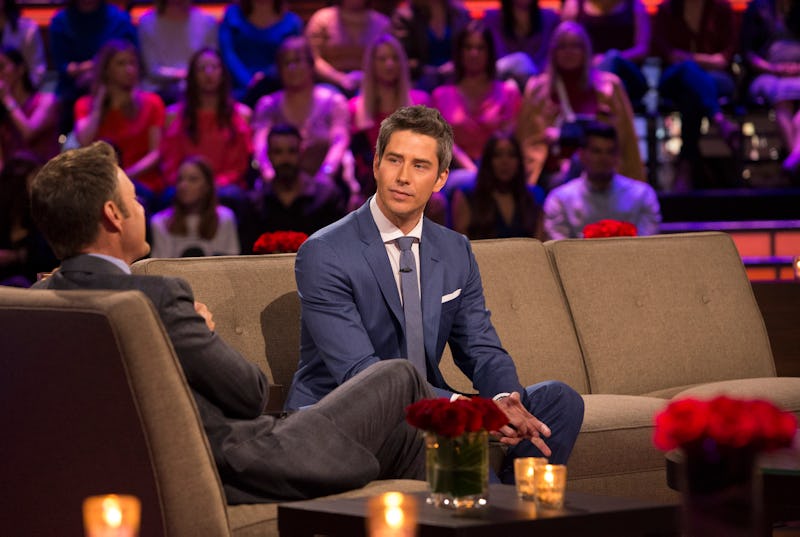 Paul Hebert/ABC
With the 22nd season of The Bachelor coming to a close on ABC, things are getting more serious between Arie Luyendyk Jr. and the remaining eligible contestants. Today on the official Bachelor Twitter, Arie announced The Bachelor finale will air on two nights. "I have a surprise for you," Arie told viewers via a video tweet, before revealing the finale dates: Monday, March 5 and Tuesday, March 6. The reality show is breaking from its traditional one-night extra-long final episode in a move that seems to signal that this season's end is going to be packed with an extra dose of romance and, more importantly to some fans, extra drama.
The season began back on New Year's day, Jan. 1, and it's been a long two-month journey of romance and drama. The season has involved various dates (of course), fraught debates over the age gap between Bekah M. and Arie, and the term "sociopath" being applied to at least one contestant during Women Tell All. Now, the former race car driver-turn-bachelor has narrowed down the field of 29 bachelorettes to just three. Only Becca K., Kendall and Lauren B. remain in the running going into the Feb. 26 episode. With the penultimate (or in this case the pen-penultimate) episode, it's time for the all-important trip to the Fantasy Suites, amd a preview for the episode already seems to give a hint at the potential drama.
In the sneak peak video posted on People, Arie not only tells Kendall that he's "falling for her," he also says "I love you" to two of the contestants, Lauren and Becca. While he is not the first bachelor to tell two separate women those three special words — Ben Higgins made the same move just two years ago with Lauren Bushnell and JoJo — it does seem like a recipe for disaster. It's hard not to feel terrible for any woman who is broken up with just days after hearing the magic phrase and for the woman who is expected to keep dating the guy who just told another woman he loved her on national television at the same time. Who wouldn't develop some sort of complex after that? (Indeed, Lauren B. admitted she had trouble keeping her relationship with Ben going after watching him with JoJo on the show, and the two eventually split).
Considering Arie says "I love you" to Lauren and Becca, it seems likely that Kendall will not being making it to the finale. Luckily, based on Kendall's social media posts, it seems like she's having a very busy, taxidermy-filled life that has been keeping her positive and down to Earth post filming, regardless of her love life.
The people behind The Bachelor are also gearing fans up for quite a showdown in the finale episodes. Despite some fans and media outlets calling this season "boring," the host Chris Harrison promised the good stuff is yet to come. "If you are a critic of Arie's season, I would tell you to wait. Just wait," he told The Hollywood Reporter, "and prepare to have your mind blown. It will be a phenomenal finish."
Co-showrunner Bennett Graebner seemed to echo Harrison's opinion in his interview with The Hollywood Reporter. He explained,
"I've worked on the show for 10 years. The finale will be something people haven't seen before. And even if they are reading spoilers and think they know? They don't know."
Even former contestant Caroline hinted that it was a doozy of a finale when she appeared on The Bachelor: Women Tell All. Caroline confronted Arie about his decision and she did not seem happy with the Bachelor for making his choice, or how he made it.
It's unclear just how the two-night finale will work. In year's past, an After the Final Rose special aired immediately after the finale, but ABC hasn't updated its website to reflect a different schedule. Bachelor expert Reality Steve claims that Monday's night of Bachelor will include a two-hour finale and a one hour After the Final Rose with an additional hour of the special on Tuesday. That's a whole lot of time to relive any dramatic moments of the finale in excruciating detail. Better buckle up, Arie.