Krystal Reacted To Being Called A Sociopath On 'Women Tell All' & Honestly, She's Cool With It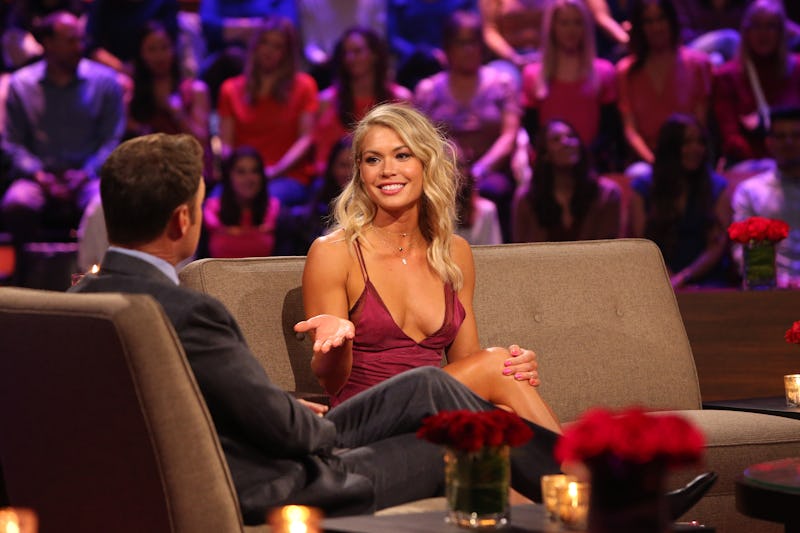 Paul Hebert/ABC
Much of Sunday's episode of The Bachelor was spent rehashing footage that audiences had already seen, but there were some shocking moments. Like when Krystal Nielson was called a sociopath on The Women Tell All — but don't worry. She has a surprisingly good attitude about the whole incident. Things got heated between the fitness coach and fellow contestant Caroline Lunny, and words were exchanged. (One word in particular.) But even after having her mental wellness called into question, Krystal insists that she has no hard feelings about what went down on the Feb. 26 episode.
"People were upset and I feel and understand," the 29-year-old shared with E! Online after the taping. "I said sh*tty things when I was heated and upset. Like, I get it... I'm a rainbow of emotions, I'll own it!" It's a refreshingly self-aware statement from the Montana-native, who has drawn criticism for hurtful commentary all season long, including on Sunday night's episode. During that broadcast, footage was aired that showed her referring to Arie as a "needle d*ck," and to the women as c*nts. It was her use of the misogynistic slur, in fact, that caused Caroline's outburst in return.
So Krystal says she understands the passion that night, because tensions were high and people had just been through an intense experience together. What she's still bummed about, though, is the audience reaction to the season overall:
"I've never been put in this position to be so publicly criticized for my actions and my character, and it got to me. I took a month off of work after filming. I couldn't be who I needed to be for people to empower the because I was so disempowered myself. It was really tough."
Ultimately, it was the public criticism that got her down — opinions from people who weren't there and can't understand the experience. When it comes to her fellow contestants on the show, like Caroline or Bekah Martinez, for example, it sounds like Krystal is much more able to let it roll off her back.
In fact, the controversial contestant told Ashley Iaconetti in a red carpet interview post-taping that Bekah is actually her closest friend coming off of the show. Even though Bekah was one of the most egregious offenders when it came to making fun of Krystal on-set.
But no matter what attitude Krystal has found her way to post-show, it isn't necessarily shared by her fellow contestants. When also speaking to E! Online, Caroline made no effort to walk back her statements, saying:
"People who help us behind the scenes, she wasn't so nice to them either. I feel like I had had all this built up. These people are my friends and you do not speak like that."
And Tia Booth backed her up, emphasizing a "two-faced" aspect that many of the women had complained about when it came to Krystal: "[She] drove me f*cking crazy because she's one person on-camera and one person off-camera." However, she did add that, now that the show has wrapped, she's realized, "That's just Krystal and I've accepted it. Maybe she learned a little bit from watching the show!"
Even Arie Luyendyk himself was eager to throw some shade Krystal's way. He not only sparred with her on the couch during the taping, saying he should've sent her home earlier, but also posted a revealing opinion on Twitter Sunday night.
After all her snide remarks on the show, it's reassuring to see Krystal handling her post-show appearances with a little more maturity. She used inappropriate language on multiple and repeated occasions, which is unacceptable. But she appears to have learned from it.
Now the hope is that those hurt by her actions can learn as well, because throwing around the term "sociopath" in a non-medical setting is not only disrespectful, but a recipe for trouble.