The First 'Celebrity Big Brother' Eviction Is Coming Much Sooner Than You Think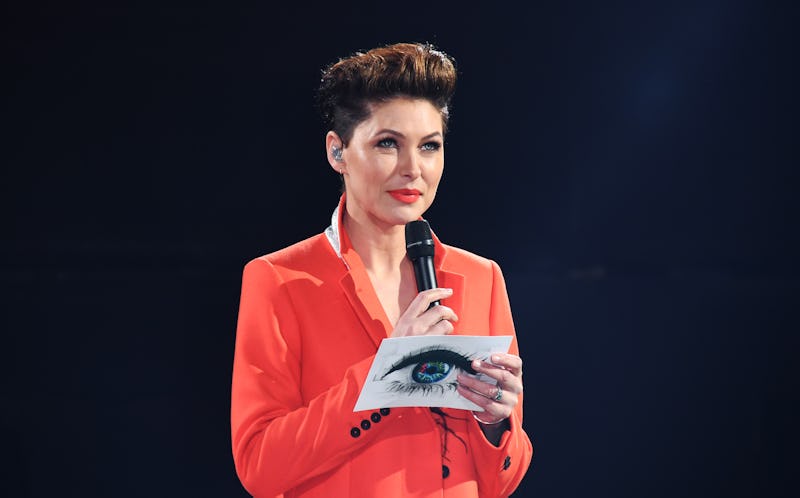 Stuart C. Wilson/Getty Images Entertainment/Getty Images
The housemates may have only been in the house for less than a week, but like viewers, they're probably already wondering when is the first Celebrity Big Brother eviction? Well, CBB host Emma Willis has confirmed that she will return to the Borehamwood stage on Friday night for a live eviction, The Sun reports. The first housemate to be booted off the show will then head straight into the loving arms of CBB Bit on the Side's Rylan Clark-Neal.
Thanks to adult film star Stormy Daniels pulling out of the show hours before it first aired last week, as Bustle reported, it was thought that the first eviction would take place a little later on in the month-long series. The 39-year-old was tipped to be the most explosive housemate ever, but decided not to enter the house due to an ongoing custody battle over her daughter. "Being a mum comes first," she said on Monday's episode of Loose Women, "and I wanted to be able to talk to her with everything going on."
However, CBB bosses appear to have remained on course and are set to kick one housemate out for good just a week after settling in. So who will be up for eviction? Well, on Tuesday night's episode, housemates nominated Natalie Nunn and Hardeep Singh Kohli.
Nunn received eight nominations from her fellow celebrities while Singh Kohli received six. The house's President, actress Kirstie Alley, and Vice President Ryan Thomas were allowed to give immunity to one housemate, choosing footballer Jermaine Pennant to be exempt from the vote.
American reality star Nunn has managed to upset quite a few housemates in recent days. But her statement to Gabby Allen — in which she told the former Love Island star that she "faded into the background" — has backfired, causing the likes of Allen and Dan Osborne to nominate her.
"She was rude to Gabby and made Gabby cry. It's causing a bad atmosphere," Osborne said in the Diary Room. Allen also revealed that Nunn's words made her think she needed to "switch it up, but that's not who I am. I felt intimidated."
Last week, bookmakers revealed who they think will leave the show first. Betfair told the Daily Star that Married At First Sight star Ben Jardine and presenter Singh Kohli are the most likely to be evicted.
"Hardeep and Ben are both 3/1 favourites for the first eviction, with punters and viewers not instantly warming to them so far," Betfair spokesperson Katie Baylis told the paper. "However, things can change quickly in the CBB house." (Well, it seems like the experts may have correctly predicted Singh Kohli's fate.)
Interestingly, Baylis also revealed who the frontrunners are for winning the entire thing. Thanks to "having made the best first impression," Thomas and Roxanne Pallett are currently in the lead.
The public reaction to the nominations has been particularly mixed. Some viewers believe that the show will be "boring" if Nunn is voted out. "I really hope Natalie isn't first out, she's basically the only person making this entertaining," one person tweeted.
A few can't wait to see the back of Singh Kohli while some just feel sorry for him. Others can't quite make up their mind, as seen in one person's tweet: "I'm so torn on Hardeep. My opinion changes about 10 times a night."
I honestly have no idea who will go. Do you?