'The Handmaid's Tale' Season 3 Is In The Works & So Is Season 10, Apparently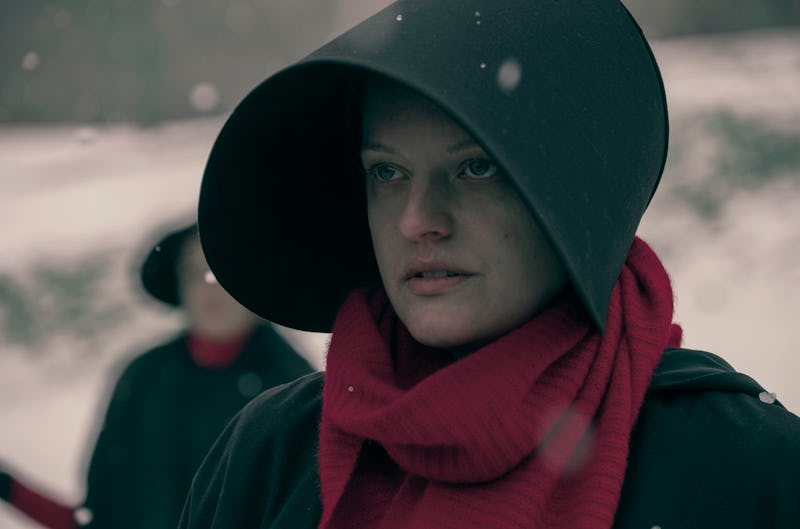 Hulu
It's been a bleak year for fans of The Handmaid's Tale, both within the world of the show itself, and in the ways the real world has eerily reflected some of the show's prescient storylines. But even as the show gets harder to watch, it remains one of the most vital pieces of critical and empowering "entertainment" these days and TV like this is more important than ever. With that in mind, when is The Handmaid's Tale Season 3?
Fortunately, fans can tune into the Season 2 finale, "The Word," on July 11 without stress — or without any extra stress, anyway — that there will be unanswered questions about June's fate. Hulu officially renewed The Handmaid's Tale for Season 3 after the current sophomore season doubled the ratings of the first, according to The Hollywood Reporter. As per The Los Angeles Times, the show also won eight Emmys, two Golden Globes, and a Peabody award, making it a veritable "hit," even if the subject matter can be distressing.
Basically, the show is definitely coming back, and likely around the same time the previous season did, too. Both Seasons 1 and 2 premiered at the exact same time of year: April 26 and April 25, respectively, which means it's reasonable to assume that Season 3 will also premiere on the last Wednesday of April next year, or April 24, 2019, to be exact. Of course, things can always happen to delay production — actors' schedules, an increased episode order, a longer post-production period — but fans can expect to return to Gilead, however grudgingly, next spring.
Of course, the nagging question on most viewers' minds, especially for fans of the book is likely something along the lines of: How much story is there left to tell? Already, Season 2 expanded far beyond the cliffhanger ending of Margaret Atwood's seminal 1985 dystopian novel. Now that that ambiguous ending was resolved and June's pregnancy has been seen through to its conclusion, what more does everyone need to know about Gilead? It's getting increasingly hard to watch.
Handmaid's Tale showrunner Bruce Miller insists that his series has a lot of gas left in the tank. "People talk about how we're beyond the book, but we're not really," he told The Hollywood Reporter in an interview this past January. "The book starts, then jumps 200 years with an academic discussion at the end of it, about what's happened in those intervening 200 years. It's maybe handled in an outline, but it's still there in Margaret's novel. We're not going beyond the novel; we're just covering territory she covered quickly, a bit more slowly," Miller added.
Does this mean that over the course of its run, The Handmaid's Tale will eventually fill in all 200 years of Gilead history mentioned in passing in the novel's epilogue? Because that's a lot to handle. And more importantly, how long would that even take?
Miller added in the same THR interview, "I roughed it out to about 10 seasons when I was first working on it. I see a world beyond [the current one]. I would watch an episode about the Nuremberg trials after Gilead falls. There are lots of worlds you think of: I would love that season — Seasons 8, 9 or 10, where everything has changed so much.'"
Right now, Miller is focused exclusively on telling June's story, but there's some question about how long even her story will last. Miller said in the same interview, "My arc is still very much the arc of the novel, which is the arc of this one woman's experience in Gilead at this time, and her recollections that paint this picture of what it was like and what the experience of this world was like." But if June story is just an "arc," and there could theoretically be ten seasons, then there might even come a day when The Handmaid's Tale continues but June does not?
Let's not get ahead of ourselves, though. Right now, fans still have Season 3 to look forward to. But it is sort of comforting to know that the demise of Gilead is possible. One day, at least.