These 5 Former Presidents Are Hosting A Benefit Concert For Hurricane Victims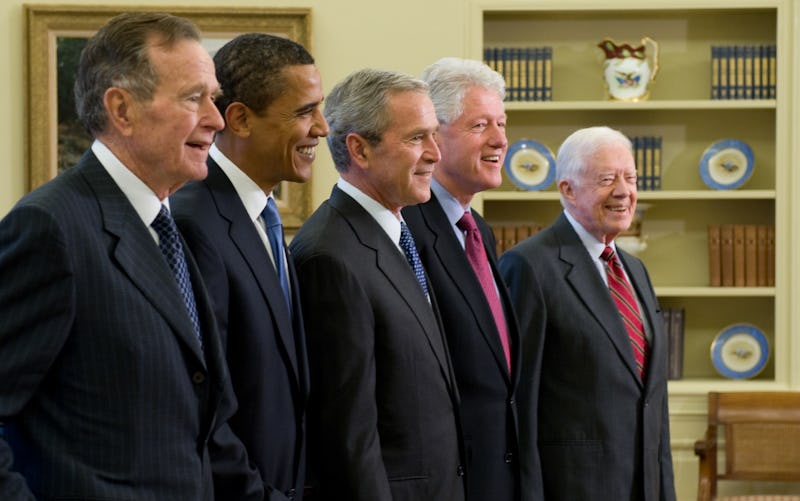 SAUL LOEB/AFP/Getty Images
This hurricane season has left a lot of people in need across a huge swath of the U.S. — and now, it's inspired some of the nation's former leaders to step up in an effort to help those people. The five living former presidents will unite for the One America Appeal Concert, when they and numerous entertainers will gather at Reed Arena on Texas A&M University's campus to raise money for hurricane victims in Texas, Louisiana, Florida, and Puerto Rico.
The event's full name is Deep from the Heart: The One America Appeal Concert, and it will take place on Oct 21. Tickets are already available on the concert's website, and they're retailing for $30-$600, depending on the seat. The concert features several artists from Texas and elsewhere, including Alabama, Lyle Lovett, Cassadee Pope, and others. All of the concert's proceeds will go directly to the One America Appeal, a fund put together by Jimmy Carter, George H.W. Bush, Bill Clinton, George W. Bush, and Barack Obama. They were originally inspired to create One America Appeal after witnessing the damage that Harvey left behind in Texas, but they've now emphasized that any money they receive in the form of donations and ticket sales won't just help Harvey victims.
In a statement put out by the George H.W. Bush Library, the elder Bush spoke about the necessity of providing for the people who lost so much in the storms.
It's important that those affected by these devastating storms know that, even if the path to recovery feels like a road that goes on forever, we're with them for the long haul.
The George H.W. Bush Presidential Library will be officially hosting the event, and all five living former presidents have said that they will attend.
The five presidents released a video about the One America Appeal in early September. "Hurricane Harvey brought terrible destruction," says President Clinton in the video, "but it also brought out the best in humanity."
If you can't to make the concert but would like to help the cause, you can also donate directly to the One America Appeal fund, and your donation will still go to aid hurricane victims. "People are hurting down here," says President Bush Jr., "but as one Texan put it, 'we've got more love in Texas than water.'"
Thanks to this fundraising project, you can prove that Texas isn't the only state that has enough love to outlast the flood waters. And as you know, the three major hurricanes wreaked havoc unlike anything else that a single hurricane season has brought any time in recent memory. As the concert's website says, "the staggering, urgent need is simply beyond the capacity of government alone to address every facet."
The government has struggled to respond to all three hurricanes effectively, with the recovery effort in Puerto Rico after Hurricane Maria still lagging behind efforts in Texas, Louisiana, and Florida after Hurricanes Harvey and Irma, respectively. The Trump administration has received criticism over its response in Puerto Rico, which has only intensified now that Trump has finally visited the storm-ravaged island. Trump's strange behavior in Puerto Rico, including the moment when he began tossing rolls of paper towel into a waiting crowd, has left many bemoaning his lack of sympathy.
Trump is not involved in the One America Appeal project, which is being run out of the George H.W. Bush Presidential Library with the support of all five living former presidents.
The relief effort for the millions of people affected by these storms will likely go on for months, and, even possibly, years, so don't worry if you haven't done it yet — you still have plenty of time to donate. And if you jump on the concert tickets soon, then you'll get to enjoy your donation even more.