The 'RHOBH' Reunion Will Be Packed With Drama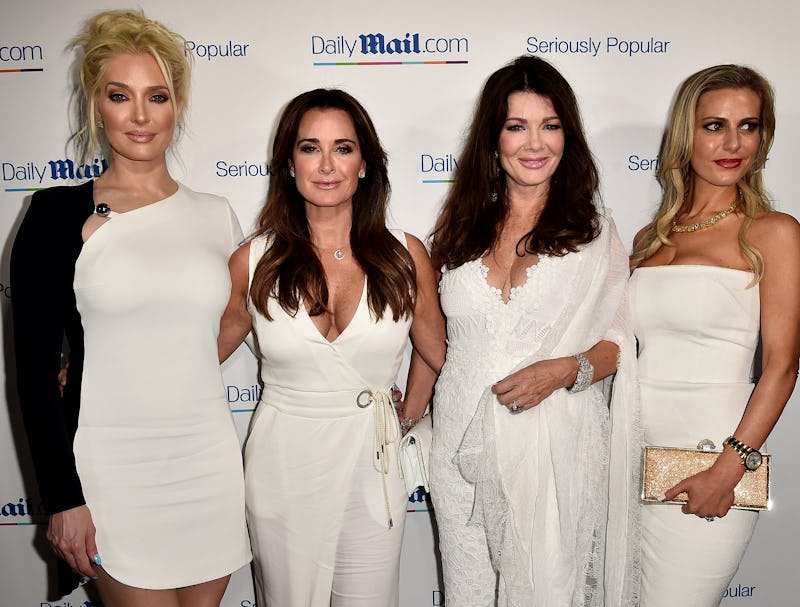 Alberto E. Rodriguez/Getty Images Entertainment/Getty Images
Things are about to kick into high gear, now that Season 7 of Real Housewives of Beverly Hills has officially wrapped. And there's no doubt that the drama is going to completely unravel during the upcoming reunion show. So exactly when does the RHOBH reunion air, you ask?
Well, with the last regular season episode set to air on April 4, Part 1 of the reunion show, which was reportedly taped on March 10, is slated to make its Bravo premiere on April 11. And Part 2 should quickly follow-up on April 18. Yep, you guys, there's seriously going to be that much drama that they couldn't pack it into one show.
According to Bravo, host and executive producer, Andy Cohen, explained to that the RHOBH reunion "went in some bizarre directions," as he revealed that Lisa Rinna will take a lot of heat over her comments about Kim Richards' sobriety during this season's wrap-up.
And, just in case you're wondering, you better believe that the never-ending "pantygate" faux pas will also become a heated topic of conversation between Erika Girardi and Dorit Kemsley. I wouldn't be surprised if the whole Xanax smoothie issue between Kemsley and Rinna happens to resurface during the meeting either.
And if all of that drama-on-top-of-drama is not enough to keep you intrigued about this reunion special, Cohen recently shared a little hint with fans. According to Bravo, he also said,
"There's an item from this season that was brought back to the reunion in a surprising way."
Although the special has yet to air, it's safe to say that you could probably cut the tension with a knife. This RHOBH reunion seating chart alone is a good indication of where the ladies stand with one another — so this should certainly be interesting, to say the least.
The drama on set reportedly got so nasty that quite a few of the ladies decided to indulge in a bit of frivolous behavior in an effort to recover from the tumultuous taping, Bravo also reported.
Rinna revealed that she ultimately needed a whole weekend to recover, deciding to eat cake and stay in bed the following day, while Eileen Davidson says she and her hubby drove to Vegas for the weekend to unwind. But Lisa Vanderpump and Kyle Richards, perhaps, had the best de-stress method of them all. LVP revealed that she purchased jewelry, and Richards treated herself to a Hermès Birkin bag as a consolation.
Hey, I'm not hatin'. Retail therapy is a real thing and I suppose that's just how it goes down in the 90210.
I'm not going to lie, though. I really can't wait to see how all of this season's drama is going to play out at this reunion.