'RHOBH's Reunion Seating Chart Smells Like Drama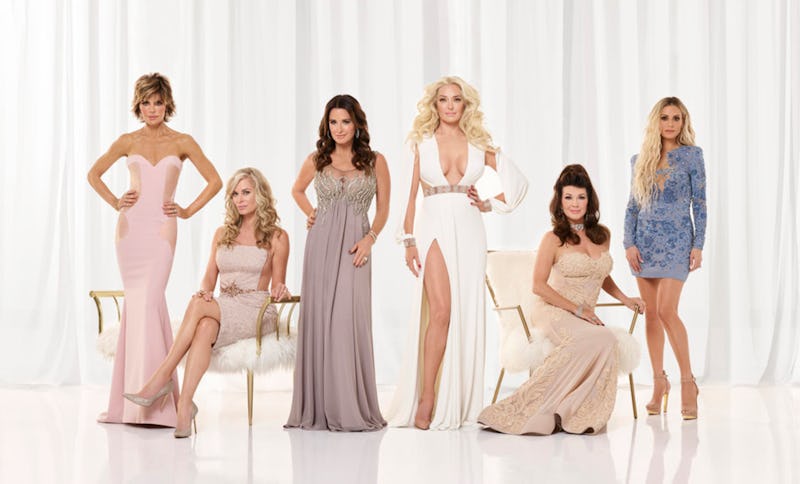 Richie Knapp/Bravo
Earlier this week, Bravo put The Real Housewives of Beverly Hills Season 7 reunion seating chart in a rose gold Bentley, buckled its seat belt, and drove onto the internet, waving to every fan it zoomed past. We may not know everything that happened at the RHOBH reunion when it taped on Thursday, but at the very least, we know who sat next to each other. And that is something. To Cohen's right: Lisa Rinna, then Erika Girardi, and then Eileen Davidson. To the emcee's left is Kyle Richards, then Lisa Vanderpump, and then Dorit Kemsley. (Friend of Housewives Eden Sassoon is not listed on the main seating chart, but she did Instagram about going to the reunion.)
So, what might this seating chart tell us about the reunion? What can be deduced from this configuration? What does any of it mean? In a 2014 episode of Bravo web series Ask Andy, Cohen pulled back the curtain and revealed the secrets behind the reunion seating chart:
"Usually, we put two women next to me who had big stories that year or who have a lot to say or who are in, you know, any kind of conflict with each other and have a lot going on and we're going to be coming to them during the show. We talk about it a lot. We tinker with it a lot. And it's one of my favorite conversations, by the way."
The chairs aren't assigned randomly; Bravo has the reunion setup down to a reality TV science. So, why are Kyle and Rinna in the spots closest to Cohen? My guess: the reunion devotes a good chunk of time digging into Rinna's wobbly relationship with Kyle's sister, Kim Richards. Sure, the hatchet seemed good and buried after their reconciliation at Carnie Wilson's cheesecake party, but that doesn't mean Cohen won't grab a shovel and dig it up for the post-season chat.
As stoked as I am to potentially watch Rinna duke it out with a Richards sister for the 800th time (that sound you just heard was my eyes rolling around in my sockets at an aggressive speed), I would've welcomed a break from that messy, never-ending fight. I realize it was this year's The Big Storyline; the Kim vs. Rinna battle basically drove Season 7, so of course the cast is going to talk about it at the reunion. But at this point, I'd rather listen to Davidson ask Vanderpump for that dang apology again.
...Then again, I could be getting ahead of myself. For all I know, Rinna and Kyle might not argue at the reunion. For all I know, Rinna and Kyle could resolve all of their issues in the first five minutes. For all I know, Rinna and Kyle could be as peachy as a mini peach butter cake.
Is there a part of me that's disappointed Kemsley and Girardi are not in the seats next to Cohen? As a matter of fact, there is. I know it isn't exactly The Issue of the season, but the weird, occasionally gross Girardi and Kemsley drama has really been something else. I would've loved a reunion that was just an hours-long debate over whether or not Girardi's T-shirt dress was an appropriate thing to wear to Kemsley's birthday party.
My vote: Duh, of course it was appropriate. That T-shirt dress was fire. Erika Jayne can do no wrong.