Topshop's Latest Collab Will Have You Head To Toe In Sequins For Party Season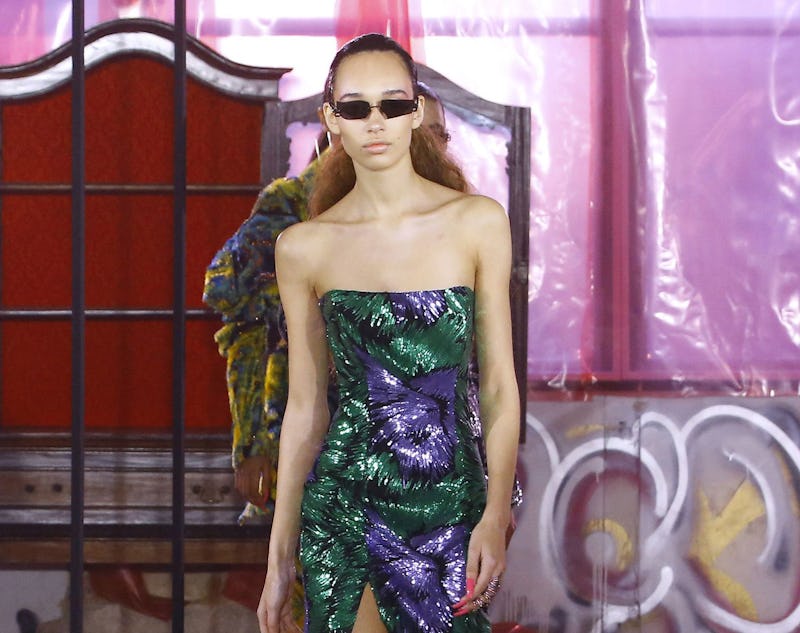 Pixelformula/SIPA/Shutterstock
Some people may still be trying to make the most out of their summer wardrobe but personally, I've moved on and am already looking forward to Christmas party season. Sorry to mention the C word, but it's true. My forward-thinking attitude hasn't been helped by some rather glam news from Topshop, stating that the high street brand will be partnering with up-and-coming talent Michael Halpern. So when is the Topshop x Halpern collaboration out?
Well, you'll have to wait a few more months, I'm afraid. Topshop said that the 28-piece collection (which will focus on party wear) won't be available until November. However, this does mean that you should be able to find a few things that will take you right through the winter party season.
If you're unfamiliar with the work of Halpern, here's a little teaser. Michael Halpern is a 30-year-old designer who has taken over the industry since starting his eponymous label at the beginning of 2017. Although he's American, he studied at London's Central Saint Martins, graduating from the prestigious fashion school in 2016.
The talent is known for reworking '70s glamour for the modern age, sending out sequinned look after sequinned look on the catwalk. Think flared trousers, flamboyant bustiers, and zebra print, and you're on the right disco track.
The designer — who was awarded the British Emerging Talent for Womenswear trophy at the Fashion Awards in December 2017 — has already garnered a few celebrity fans. Amal Clooney wore one of his sequinned gowns for a '70s Halloween party last year, while Lupita Nyong'o stunned in a sparkly green creation for a recent Star Wars premiere.
Considering he only graduated two years ago, it's a pretty big deal that Halpern has already been chosen to collaborate with Topshop. And the news is a godsend for any fashion fan dreaming of a Halpern creation. Due to his unique aesthetic, the designer's pieces don't come cheap with some of the most expensive retailing for over £3,500.
Thankfully, high prices is one of the reasons that Halpern decided to accept the offer. "I think it's fabulous that as a younger brand we're able to work with Topshop, making the type of clothing we do for the main Halpern collection in an accessible way so more people can really feel the glamour," Halpern said in a press release. "I want the whole world to feel as glam as possible, and this type of collaboration is a fantastic way to accomplish that."
So what can you expect from his over-the-top high street debut? Well, Topshop has released an incredibly short trailer revealing a snippet of the collection. It's seven seconds long so you can barely catch a glimpse of the clothes but the brand has promised a mixture of neon velvet, camouflage print mini dresses, and, of course, lots and lots of sequins.
The entire price list hasn't been released yet but the cheapest item will be just £35. Thanks to previous Topshop collab experience, I'd expect dresses and jumpsuits to cost no more than £200. It sounds a lot but remember that it's way off of £3,500.
And if you're the type of person who likes to wear something that no one else will, this collection will be right up your street — especially because Topshop collaborations are known for selling out extremely quickly.
This isn't the first young talent that Topshop has chosen to work with. Last year, the brand teamed up with Molly Goddard for a footwear range. And in 2014, Portuguese duo Marques'Almeida were asked to translate their designer denim into affordable high street pieces.
Just like the others, Halpern has already developed a bit of a cult following. So if you're liking the sound of all of this, you might want to set a reminder asap.
Topshop x Halpern will be available online and in select stores from November 2018.