Why 'Better Things' Fans Should Still Expect A Season 3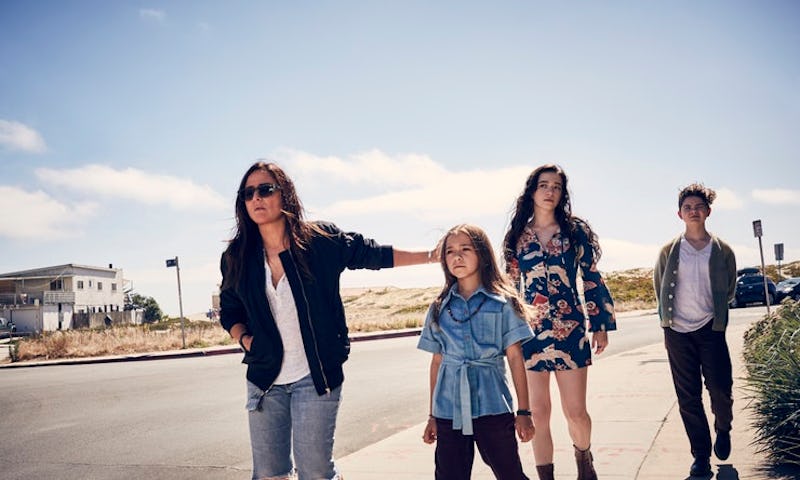 FX/Pamela Littky
FX's Better Things is closing out its second season with acclaim that reached the same heights as its first. After the rapturous praise from critics, and creator Pamela Adlon's steady hand behind the camera (she directed all 10 episodes), it's already time to wonder when Better Things Season 3 will return. FX renewed Better Things for Season 3 on Oct. 18, according to Deadline, just a few weeks into the second season. In the announcement that the series would be returning in 2018, FX programmer Eric Schrier called the show's success "testament to the creative genius of Pamela Adlon as a writer, director and actor." Until recently, it seemed natural that the third season would be arriving on FX sometime next fall, just about a year after Season 2. Unfortunately, things have recently become more complicated with this original series.
The show's executive producer, comedian Louis C.K., was recently implicated in a series of sexual harassment accusations in a report in the New York Times. In the wake of the allegations from five women that the comedian masturbated in front of them or around them in a professional setting or without their consent, C.K. released a statement saying, in part,
"I want to address the stories told to The New York Times by five women named Abby, Rebecca, Dana, Julia who felt able to name themselves and one who did not. These stories are true.... The power I had over these women is that they admired me. And I wielded that power irresponsibly. I have been remorseful of my actions. And I've tried to learn from them."
In the wake of the allegations and the comedian's statement, FX has officially cut ties with C.K., saying that he will no longer financially benefit from his collaborations with the network, and presumably ending any chances of his original, semi-autobiographical series Louie returning.
In addition, Adlon has released her own statement about the situation, saying,
"My family and I are devastated and in shock after the admission of abhorrent behavior by my friend and partner, Louis C.K. I feel deep sorrow and empathy for the women who have come forward. I am asking for privacy at this time for myself and my family. I am processing and grieving and hope to say more as soon as I am able."
Several days after her statement, it was reported that Adlon fired Dave Becky, the manager she and C.K. once shared, according to Deadline.
Clearly, Adlon is no longer interested in collaborating and working with C.K., and neither is FX, but neither party has said anything about whether or not this will affect the future of Better Things. However, there's a chance that it might not. After all, Better Things is smart, original, well-received series from a female auteur, and it seems unlikely to be canceled as a result of a man who is not directly involved in the show's production and will no longer financially benefit from the show's continuation. In their statement formally cutting ties with C.K., FX wrote,
"FX Networks [are] doing everything we can to ensure that all people work in an environment that is safe, respectful and fair, and we will continue our review of all of these productions to ensure that was and is the case."
That certainly sounds as though they are prepared to cancel any series that is revealed to have similar misconduct behind the scenes, but are still planning to move forward without C.K.'s involvement. And, in that case, Better Things is still slated to produce and air a third season in 2018. But if, in the intervening year, something changes, hopefully it will be Adlon's choice.