Here's When To Expect Chris & Krystal To Tie The Knot After 'BiP'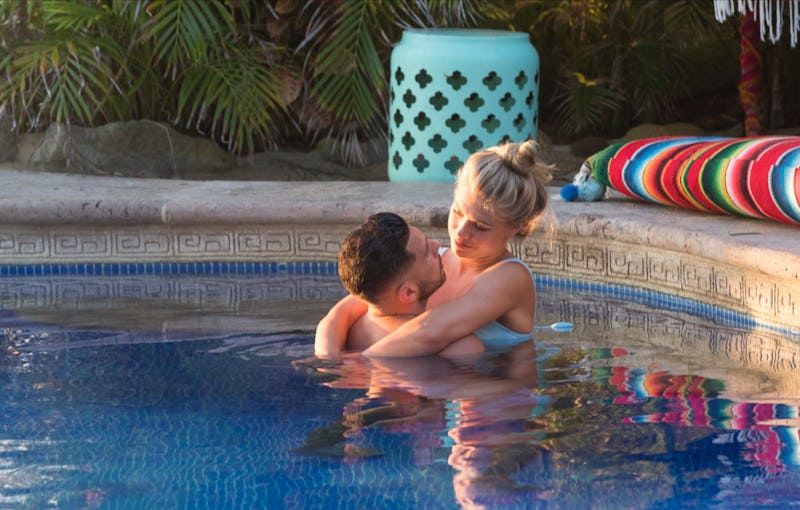 ABC/Paul Hebert
Chris and Krystal were a Bachelor in Paradise couple that few people expected. They both were known for their abrasive personalities on their respective seasons of The Bachelorette and The Bachelor, but somehow when they got together in Paradise, they didn't butt heads. In fact, it was the direct opposite. They clicked. And now, it seems like they're ready to take it to the next step. Spoilers ahead for the Bachelor In Paradise two-night finale. As the finale aired, it was only natural to wonder if Chris and Krystal would get married after BIP, and they didn't disappoint.
"Ever since I came to this beach, I honestly did not know what to expect. It wasn't smooth sailing," he told Krystal during the finale. "I mean, to be honest, there was a moment where I wanted to give up a few weeks ago, but it was you that came to, me and I listened. Honestly Krystal, you've changed my life. You've changed me. You've helped me become a better version of myself."
It was a pretty predictable speech until Chris decided to get risky, faking out Krystal, and the audience. "I have to be honest with myself. And I have to be honest with you. And I'm so sorry, Krystal, but it would be unfair to the both of us if I left here today holding your hand," he continued, dramatically pausing between phrases. "Because I wanna leave here holding your heart." Oh boy, what a line. He used that corny moment as the preface to his proposal, and Krystal was soon accepting his hand in marriage.
Honestly, who among us could have predicted this development before the season started? Earlier in the season, Chris seemed all in on Tia, and Krystal was very intrigued by Connor's arrival in Paradise, signaling that either could have theoretically gone a vastly different direction. But no dice.
It's becoming more and more apparent that the tides of Paradise can change in the blink of an eye, bringing along developments so swift they give you whiplash. In that spirit, instead of seeing proposals of other couples that perhaps make more sense on paper, we're seeing Chris drop to one knee.
This all, of course, comes after their initial dramas on the franchise's other shows. Chris definitely hasn't make a good impression among a hefty portion of viewers with his tactics interacting with women. In case you've forgotten, he went a little off the deep end with Becca, deeming himself her front-runner and getting unreasonably angry when he felt she didn't treat him as such.
And earlier this season, after he had a fresh start, he went back on his words to Tia, claimed to say things he didn't say, and was accused of gaslighting her. As for Krystal, though fans found her much more harmless when she was on The Bachelor, she still rubbed a lot of people the wrong way with her comments about Arie and her fellow contestants, and her overall behavior in the house.
Despite all of this, and their history of stirring the pot, they were not the dominant drama this season, and have even come out with the ultimate prize — an engagement.More power to them if they're happy, and they certainly seem to be. After the Connor and Tia dramas were sorted out, Krystal and Chris somehow became one of the more solid romances of this BIP season, at least on the surface.
But despite their outward appearances, fans have been equal parts supportive and confused. Some feel like the duo is being a little performative, putting on a show of manufactured happiness and peace to redeem themselves from their past "villain edits." Others are convinced that the entire thing is genuine, and that sometimes the most unlikely couples are the most successful ones. And the most complicated of all — a few fans are sure that Krystal's feelings are real, but remain skeptical of Chris, especially after he flubbed basically all interactions with Becca and Tia this year. "Chris R and Krystal [will get engaged] because she literally glows when she's with him and because he desperately wants a redemption story," wrote one Reddit user, iamjustjenna.
It's really difficult to say where this relationship goes from here. No one knows what the true nature of Chris and Krystal's relationship is except for the two of them. As we've seen in the past, BiP couples definitely aren't always built to last, but Chris and Krystal have surprised viewers this season. They might have found true partners in one another — someone they can grow with and love for years to come. No matter what you think about the two of them, Bachelor In Paradise promises a shot at real love, and in Chris and Krystal, they may have succeeded.