Here's When Beyonce & JAY-Z's Surprise Album 'Everything Is Love' Could Be On Spotify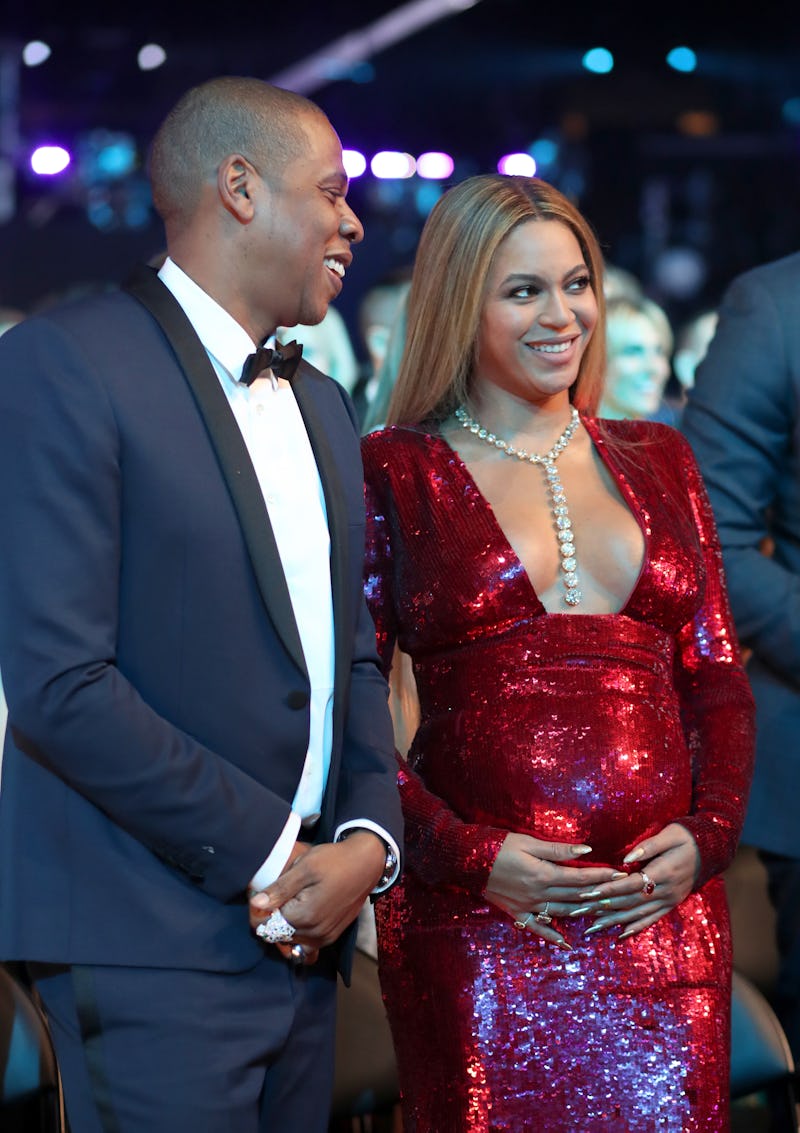 Christopher Polk/Getty Images Entertainment/Getty Images
UPDATE: Everything Is Love was released on iTunes, Apple Music, Amazon Music, and Spotify on Monday, June 18.
EARLIER: It's all happening. On Saturday, June 16, Beyoncé and JAY-Z dropped a surprise album titled Everything is Love on TIDAL. But if you're not subscriber to the music service, you may be wondering when Beyoncé and JAY-Z's Everything is Love will be on Spotify. For now, it looks like Everything is Love by The Carters is exclusively TIDAL for now, but the surprise album could definitely make it to Spotify eventually. (Bustle reached out to Spotify for comment, but did not receive an immediate response.)
Much like the release of Beyoncé's 2016 album Lemonade and JAY-Z's 2017 album 4:44, Everything is Love dropped as an exclusive offering for TIDAL subscribers first. And Lemonade still isn't on Spotify, which is referenced by Beyoncé herself in the track "NICE" on Everything is Love. On the track, she raps:
"Patiently waiting for my demise 'cause my success can't be quantified
If I gave two f*cks about streaming numbers woulda put Lemonade up on Spotify."
Yup, she mentioned the service by name. Due to this lyric, it doesn't sound likely that Beyoncé will stream her recent music on Spotify, but you never know what the future might hold. (Bustle reached out to Spotify for comment on the lyric, but did not immediately receive a response.)
The most recent Beyoncé album on Spotify is the Platinum edition of her 2014 self titled album. Her "Perfect" duet with Ed Sheeran is also available on the streaming platform. As for JAY-Z, he does not currently have any albums available through Spotify.
Everything is Love is a 9-track joint effort between the husband and wife duo on TIDAL, also featuring a cameo from Blue Ivy (who has a shoutout to her twin siblings Rumi and Sir on the song "Boss") and the track "NICE" features Pharrell Williams.
In addition to dropping Everything is Love, Beyoncé and JAY-Z also premiered a music video for the song "Apesh*t" which can be streamed via YouTube. The music video was filmed inside the famous Louvre museum in Paris — yup, that Louvre.
The Carters did make clear that one of their songs is very much a TIDAL exclusive. The Carters' song "Salud!" is listed separately on the TIDAL album page and clearly states that this is one track that is for the streaming service.
Beyoncé and JAY-Z announced their joint tour in March, which was then followed by rumors of the couple collaborating on a release together. The OTR II Stadium Tour is currently in London, with Beyoncé and JAY-Z performing at London Statium on June 16, where the couple announced the release of Everything is Love. Next, the tour will visit Amsterdam, Copenhagen, Stockholm, and Berlin, Rome, Barcelona, Nice, and Paris.
The OTR II tour will make its first stop in the United States on July 25 in Cleveland, Ohio, at First Energy Stadium. After that, the tour schedule will take the Carters to Washington, DC, Philadelphia, East Rutherford, Boston, Minneapolis, Atlanta, Miami, and many, many more cities across the U.S.
According to People, Beyoncé took a moment during the couple's June 13 performance at the Etihad Stadium in Manchester, England, to wish their twins Rumi and Sir Carter a happy birthday. People reported that Beyoncé said into the microphone, "Happy birthday to Sir and Rumi. We love you," during the concert.
Love seems to be a theme of the tour. According to People, several messages with the word "love" have been projected throughout the performances, including "THIS IS REAL LOVE," "LOVE IS UNIVERSAL," and "LOVE NEVER CHANGES."
And it was all leading up to the release of their joint album, Everything is Love.