Glossier's New Zit Stick Is Here But There's Bad News For UK-Based Beauty Fans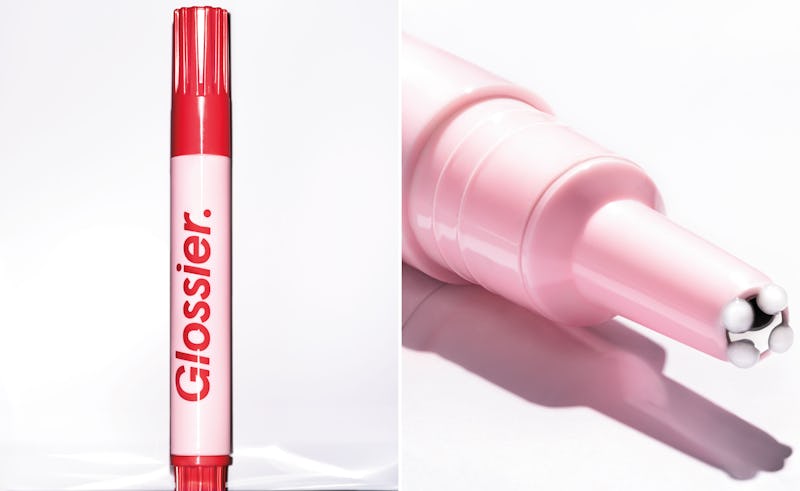 Glossier
I have to be honest: I'm a little (scratch that, a lot) bitter about the fact that our American cousins across the pond seem to have access to the hottest beauty releases before we do. So when I heard a new Glossier product would be dropping, but fans over here in the UK would not be allowed access to it, yes, I blew my lid a little. The good news is, an adapted version of the latest product will be coming to British shores, just not yet. So, when will Glossier's Zit Stick come to the UK?
Well, it sounds like we still have a while to go. The official line from the brand's reps is that an alternative Zit Stick will "launch in Europe early next year." OK, this doesn't sound too bad. Well, that's until you consider the fact that it already dropped in the U.S. on Thursday Sept. 6 (and for a purse-friendly $14). How is that fair? Meh.
So just why are we having to wait so long? Well, it all comes down to ingredients. There are certain ingredients that are allowed over in America, but are banned here in the UK due to our stricter European laws. The Glossier Zit Stick's primary ingredient is Benzoyl Peroxide, which is not available over the counter in Europe [as explained in Glossier's press release about the UK receiving the Zit Stick] hence, it cannot be sold in a mass-produced beauty product.
We're not the only ones who won't have access to the product. As well as the UK, Ireland, Sweden, and Denmark are also going to be missing out for now due to current regulations.
In a statement, Glossier's rep wrote: "Our priority is always to create the best products that are efficacious, safe, and suited for customers no matter where they are."
"We're working on a Benzoyl Peroxide-free version that will launch in Europe early next year," they added. Hurrah!
While I'm cray jealous of my American friends, I do have to say the product looks pretty incredible (It's Glossier, I can't imagine anything other than top notch perfection, TBH). The product is being marketed as a "portable, fast-acting spot treatment you can wear everywhere and apply anytime." It's packaged in a handy tube in cult Glossier pink and red colours.
Allure reports that the American version has a translucent formula and contains soothing ingredients such as tea tree oil and cucumber extract to calm spots. You apparently click it three to six times to release the perfect amount of product, and can apply at any point throughout the day on breakouts.
While I wait patiently for its release, I'll be using the following spot treatments to ease the Glossier-shaped hole in my heart.
First, Murad's Rapid Relief Spot Treatment is a favourite. It contains fast-acting salicylic acid, as do two of my other spot hero: Origins Super Spot Remover. Another classic, and one that recently hit UK shores is Kate Somerville's EradiKate Acne Treatment, which features alpha hydroxy acids and sulphur to target nasty breakouts.