Gus Fring Will Be On 'Better Call Saul' So Soon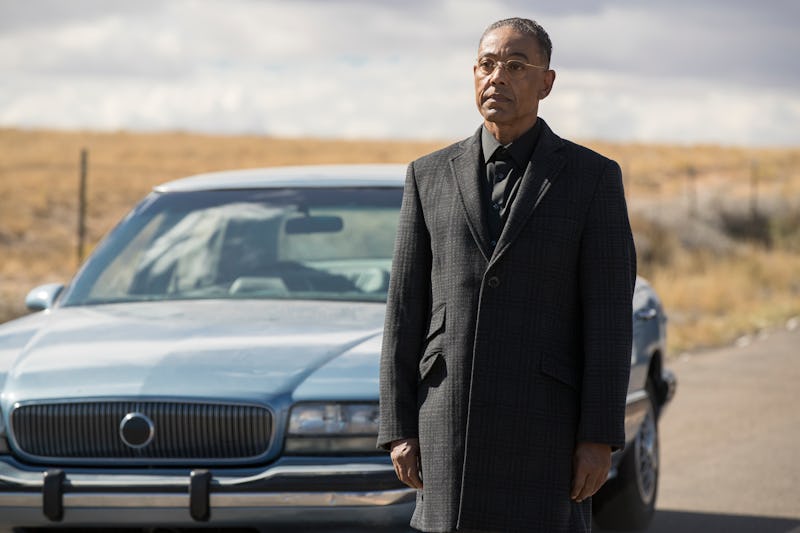 Michele K. Short/AMC/Sony Pictures Television
Ever since Better Call Saul fans figured out that the first letter of each Season 2 episode title spelled out "Fring's Back," viewers have been eagerly awaiting Gus Fring's return to the Breaking Bad universe. With Season 3 of the prequel series premiering on April 10 at 10 p.m., Gus will be on Better Call Saul before you know it. And with the appearance of Giancarlo Esposito's character, the Better Call Saul and Breaking Bad worlds will most certainly be colliding in some major ways — especially regarding Gustavo Fring's relationship with Mike Ehrmantraut.
Although the showrunners and actors are not revealing when or in what capacity Gus will be in Season 3 of Better Call Saul, he will be appearing in at least some of the 10 episodes that make up this latest season. Yet, despite the mystery surrounding the circumstances of Gus on the TV series, it's beyond safe to assume that he will be a part of Better Call Saul due to his relationship with Mike. As co-creator Vince Gilligan said in an interview with AMC:
"If you're going to tell the story of Mike transforming from more or less a law-abiding citizen into the coldblooded assassin he's eventually going to become, it stands to reason that at a certain point we have to introduce Gustavo Fring, his employer."
In another interview with AMC, Esposito discussed the dynamic between Mike and Gus and said about Season 3:
"I think one of the big excitements of the season is for the fans to see the connections between Mike and Gus. To see how Mike becomes an intrinsic part of the operation and to see a younger and more spry Hector Salamanca, where the hatred for Hector grew and how Gus gained the favor of Juan Bolsa possibly over Hector. I think those are fascinating relationships and elements that the fans will be really excited about because when we get into the whole world of the cartel and the intricate business with which they operate, I think the fans are going to be really excited to see how great a manipulator, and how grateful and stealth a businessman Gus is. And they're going to be really excited to see how he starts to take things over."
Even though Esposito was speaking about Gus' leadership in the drug business, Gus also owns another business — his fast food restaurant, Los Pollos Hermanos. Based on the advertising that AMC has been doing with Esposito for Season 3 of Better Call Saul, it seems that the iconic restaurant will also be making a comeback.
Perhaps Gus' appearance will even be tied into his connections to the fast food chain rather than the drug dealing world at first. After all, Mike probably won't know exactly how Gus is involved with Hector Salamanca when he first interacts with Gus since Gilligan said in an interview with USA Today, "Part of [Gus'] power comes from his mystery, so we want to take our time and not give away the secrets of Gus too quickly, if at all."
As for the other major question of whether or not Gus was the one who left Mike the "Don't" note on his car during the Season 2 finale, the creators are still keeping quiet about that too. But Esposito said in the same USA Today article that, when "the note got left on the car, they were putting out into the universe, 'We want this guy back.'" So it's not out of the realm of possibility to think that Mike will encounter Gus because of his desire to kill Hector.
Regardless if Gus will show up in Better Call Saul as the smiling representative of Los Pollos Hermanos or as the serious drug dealing kingpin, Fring is indeed back. That means that Better Call Saul Season 3 is edging ever closer to the events that occurred in Breaking Bad. And although Breaking Bad fans already know the fates of Mike and Gus, they are certainly happy to go along for the ride with these characters again.