Here's When You Can Expect Pics Of Kim Kardashian's New Baby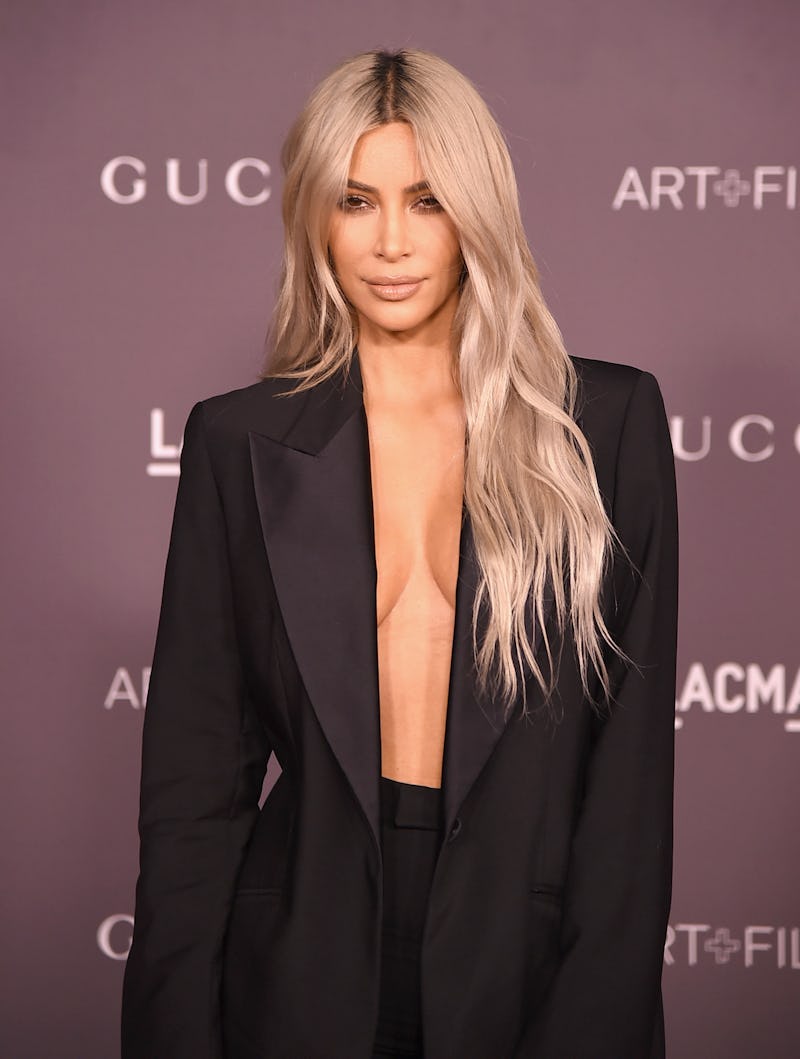 Kevin Winter/Getty Images Entertainment/Getty Images
Now that Kim Kardashian and Kanye West have officially welcomed their third child via surrogate, everyone is probably wondering when photos of Kardashian's new baby will be released? As Kardashian announced on her website in a post titled "She's here!" the baby arrived on January 15. Kardashian and West are clearly over the moon that the new baby is here, but they didn't share her name or any photos just yet. She wrote in her message:
Kanye and I are happy to announce the arrival of our healthy, beautiful baby girl. We are incredibly grateful to our surrogate who made our dreams come true with the greatest gift one could give and to our wonderful doctors and nurses for their special care. North and Saint are especially thrilled to welcome their baby sister.
It's no secret that the Keeping Up With the Kardashians star loves to share pictures of herself and her family on social media. However, when it comes to posting her babies' first photos, well, the story is a little different. North West was born on June 15, 2013, but her first photo wasn't revealed until over two months later. While appearing on Kris Jenner's now defunct talk show, Kris, on Aug. 23, 2013, West released an image of baby Nori. If you can't recall, it was the sweetest image. It's hard to believe she was once so small and now North is even cuter with so much personality.
When it comes to the first public photo shared of Saint West, who was born on Dec. 5, 2015, his hand was revealed before his actual face. On Jan. 2, 2016, Kardashian posted an image of Saint's tiny hand wrapped around North's finger and captioned it, "She said, 'He's my best friend.'" How adorable is that? Since that moment, a lot has changed, because North doesn't seem to really get along with her baby brother.
As Kardashian revealed on Live With Kelly & Ryan in August about North's relationship with Saint, "I mean, I don't know if it's because she's the older sister. I don't know what it is. I thought it was a phase, [but] she does not like her brother. It's so hard for me. And I thought it was, like, OK, a couple months, like, you know? She's just warming up to it, she gets so jealous when I would breastfeed and all that kind of stuff. And now, the phase isn't going away."
It wasn't until Feb. 22, 2016 (over two months after his birth) that the Selfish author shared Saint's cute face with the entire world via her app. The image showed a sleeping Saint with both of his arms extended up and resting next to his head. During the photo reveal, she wrote on her app (via People), "Today is my dad's birthday. I know there's nothing more in the world he would have wanted than to meet his grandchildren. So I wanted to share this pic of Saint with you all." Like North, Saint has grown up a lot since his debut — and, duh, he is still as adorable as ever.
Kimye didn't let the world see their kids for at least two months after they were born, which could very be how long they wait until they show their new baby girl. The good news is that Kardashian will most likely post an image somewhere on social media for her fans. It's what she's done since she gave birth to North and will probably continue to do until she decides she's done with social media (yeah, right).
As you can see below, she loves sharing images of her family, but especially her kids. In a September interview with T Singapore, she talked about her children and how she chooses to spend even more time with now since her October 2016 Paris robbery. "My whole world is my kids, it's all I care about." Kardashian continued, "From literally every last thing that they do, to what they wear, to all their activities. I love being their mom. I definitely don't hang out with my friends as much just because I have to be with my kids."
Yeah, she loves her kids just a little bit — and can't help but spread her love for them across social media. Even though she hasn't shared an image of her new baby just yet, don't get too impatient, because it should happen soon enough.