This Is When The New Season Of 'RuPaul's Drag Race' Will Sashay Onto Netflix UK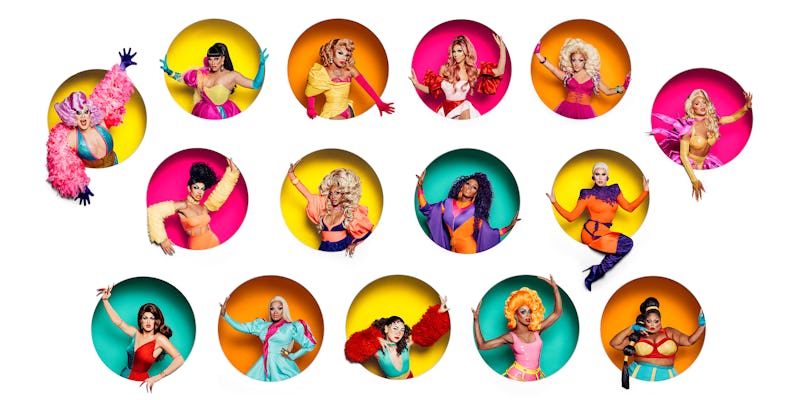 VH1
As much as I adore Netflix, the waiting game that ensues between different series of shows I'm obsessed with can be absolutely excruciating. And that, of course, includes RuPaul's Drag Race. While a number of sources have now confirmed that the iconic drag queen competition will be returning to the U.S. on Feb. 28, I'm desperate to know when it will be available for us Brits to watch and stream. So, when will RuPaul's Drag Race Season 11 be on Netflix UK?
Update: RuPaul's Drag Race Season 11 will be coming to Netflix UK on March 1, 2019.
Earlier: I've reached out to representatives of both Netflix and VH1 to confirm a UK release, but I have yet to hear anything. However, it seems fairly likely that Drag Race will be available for Brits to watch very soon. In an article about the new series, Digital Spy reported: "RuPaul's Drag Race will air on Thursday, February 28 on VH1 in the U.S., with new episodes available on Netflix in the UK." While that doesn't pin down an exact time, the Gay Times has said: "[I]t is presumed to debut on Netflix the morning after [it's VHI airing], just like the ninth and 10th seasons."
While none of the runaway challenges have been revealed just yet, the contestants sure have. VH1 has released an extensive list of the contestants, which features familiar face Vanessa Vanjie Mateo, who appeared in Season 10 and was the first to be eliminated. Mateo became an internet sensation after her memorable exit. Who can forget "Miss Vaaaaanjiiieee"?
Described as "the most sickening season of all time" by RuPaul himself, Season 11 is set to be full of drama and jaw-dropping outfits and I for one cannot wait to see it.
In the meantime, there is plenty of RuPaul content for British fans to sink their teeth into. Firstly, all 10 of the previous seasons are currently available on Netflix UK, if you're looking to brush up on your knowledge.
Then there's the spin-off series, RuPaul's Drag Race: All Stars, in which previous contestants compete for a place in the Hall of Fame. The fourth series of the show began airing in the UK last Saturday (Feb. 9) on Comedy Central UK, and is also available to stream via Now TV.
And that's not all UK Drag Race fans have to be excited about, because there will be an eight-part UK version of the show airing on BBC Three this year, as BBC reported in December 2018. It looks like the British version will pretty much mirror the current one, with 10 contestants competing to become champion in front of a panel of judges, which will include Michelle Visage, who is a judge on the U.S. version. Visage confirmed her place on the show via Twitter: "guys. yes. of COURSE i am a judge.....i am THE judge!!" she wrote.
"It is a dream come true to extend our royal family to the United Kingdom with our partners at BBC Three," RuPaul said in a press release about the show, before continuing:
"I am beyond excited to celebrate the massive charisma, uniqueness, nerve and talent of the Queen's queens. And before anyone asks, yes, we would be thrilled to have Meghan Markle join us, as we are already preparing a 'Royal-Mother-To-Be' runway challenge."
Let's face it. The UK version of Drag Race is going to be absolutely phenomenal.
Looks like 2019 is going to be the year of Drag Race, and I am so here for it.