How To Watch Selena Gomez's New Video Is Leaving Fans A Little Frustrated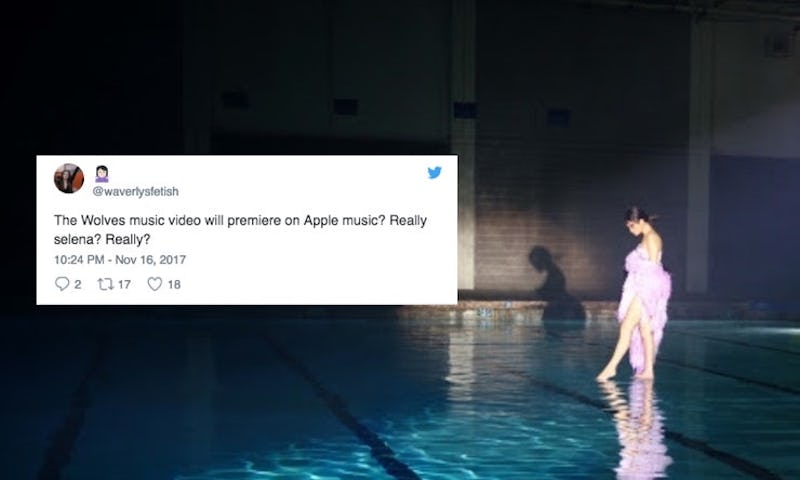 Apple Music; waverlysfetish/Twitter
If you're one of the many fans who've been anxiously awaiting its release, you might be wondering when Selena Gomez's "Wolves" video will be available. The music video for the hit track was released Friday, but only in one location — Apple Music. It's a bummer for those of us who already blew our three-month free trial on Drake's Views or Frank Ocean's Blonde, but don't despair, because this isn't forever. The "Wolves" video will only be Apple Music-exclusive for the first 24 hours of its release. So as of Nov. 18, all bets are off; the project will hit streaming sites on Saturday, Nov. 19, so you can spend the weekend enjoying the video sans-subscription.
In the meantime, you can soothe your sadness by journeying over to Twitter, where you are in very good company. Selenators far and wide are shaking their heads at Interscope's decision to limit the video's release, and they aren't shy about sharing their opinions. But it's worth noting that this is hardly a new move for the 25-year-old artist. She's released material in this very arrangement before, like 2015's "Hands to Myself" video, which began as an Apple Music-exclusive, and the "Bad Liar" video, which was released in May and could initially only be watched on Spotify's mobile app.
Maybe the Disney alum is trying to provide a variety of ways for fans to catch her videos, or seeing how willing they are to download different streaming platforms. Regardless, fans should probably be used to this method of dropping music by now; we just forget because we love her so dang much.
But instead of spending too much time sitting and commiserating about fans not being able to watch the video, let's talk about what you have to look forward to when you do get to watch. Because the video is gorgeous and there's a lot to unpack.
The video appears to be entirely focused on Gomez as she explores a deserted pool area in heels, impeccable makeup, and a truly dazzling string of couture gowns. (You know, as you do at the county pool when you pop in for a casual dip and it turns out nobody else is there.) The video has an almost-voyeuristic quality to it, as the camera follows the singer through the abandoned structure; some shots even appear to be from security camera footage as Gomez struts the hall, gazes into the water, and writhes on the floor of the shower. (It's kind of a go-to move of hers, if you haven't noticed. Here it is now in the video for "Fetish.")
Combined with the lyrics, the way the video is shot makes it feel like the Revival singer is giving us a peek inside her most personal thoughts as she sings:
"I've been running through the jungle
I've been running with the wolves
To get to you, to get to you
I've been down the darkest alleys
Saw the dark side of the moon
To get to you, to get to you
I've looked for love in every stranger
Took too much to ease the anger
All for you, yeah, all for you"
The lyrics are incredibly reflective, as if the singer is going through all the steps in her life that brought her to where she is now, in this moment. She stands on a diving board in a sparkling, floor-length gown, and even walks atop the surface of the water, both of which actions lend the video a surreal quality. In fact, there's a case to be made that the entire video is intended to be a reflection of what's going on in the singer's own brain.
Sometimes she mouths along with the words, and sometimes she gazes reflectively downward, lost in thought, but at all times she is the sole focus. Sometimes we see her up close, and sometimes removed, through the distancing lens of the security cameras, almost the same way you might look at your own thoughts. She's deep in thought imagining the paths that brought her here, and she seems to be weighing whether the journey was worth it. Or even whether it's brought her where she wants to be.
It suggests some seriously deep thoughts, and you'll have to parse through some important decisions of your own. Will your journey bring you to an Apple Music account, so you can see the video early? Or will it lead you into the weekend, where your patience will be rewarded when the "Wolves" video is released to all platforms? Only time and an empty public pool will tell.