When Will Rihanna & Lupita's Masterpiece Come Out?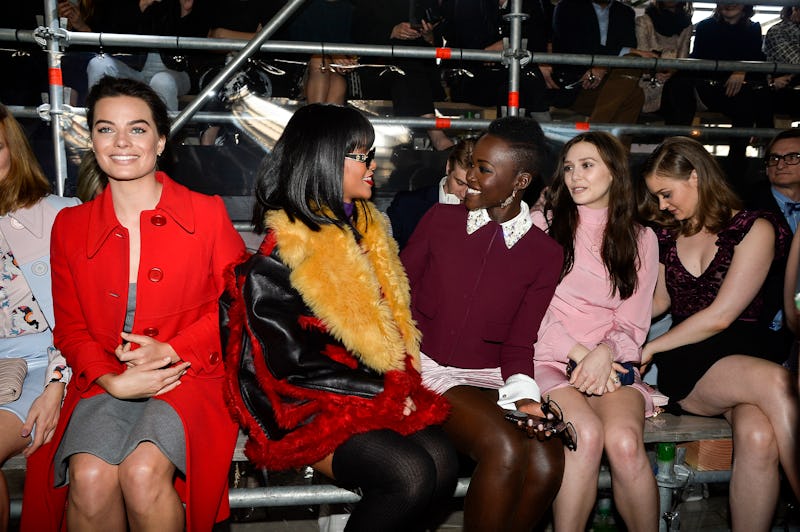 Pascal Le Segretain/Getty Images Entertainment/Getty Images
An idea seed that was planted in the social media gardens of Tumblr and Twitter has bloomed into the most beautiful heist flick flower. On Monday, Entertainment Weekly reported that the Rihanna and Lupita Nyong'o buddy movie is happening. And Ava DuVernay will direct. And Issa Rae is working on the screenplay. And Netflix scooped it up. And, according to EW's sources, the company wants to start production on it in 2018. So, when will the Rihanna and Nyong'o movie come out? Uh, not soon enough, that's for darn sure.
I'm kidding, I'm kidding. I would never ask these heroes to rush while working on this surefire masterpiece. I mean, yeah, I am beyond stoked for this feature film, but I won't be disrespectful. Here's something I rarely say: I will be patient. I will politely wait while they make this perfect idea a reality.
Bustle has reached out to the originators of the idea, Twitter user @1800SADGAL and Tumblr user elizabitchtaylor for comment, but has yet to hear back. Rae's reps told Vanity Fair that "the original Twitter users who imagined the concept for this film will be credited and included in some form."
So, what do we know about this majestic work of art? Take it away, EW:
After dramatic negotiation session at the Cannes Film Festival, Netflix has nabbed a film project pairing Grammy winner Rihanna with Oscar winner Lupita Nyong'o, in a concept that began as a Twitter sensation. Ava DuVernay (Selma) will direct, and Issa Rae (Insecure) is in talks to write the screenplay.
Bless that string of tweets that all but knocked the roof right off Twitter back in April. Care to look at those tweets again? Of course you would. First, this happened:
And then, this happened:
And then, Rih replied to Pit'z:
And then, another great idea happened:
And then, Rae signed off on that great idea:
And Rih gave us a pun:
And DuVernay kept the magic going:
My goodness, these posts will never get old.
I am eternally grateful to all parties involved. Eternally grateful and eternally patient.